BADASS Dash in Stone Mountain, Georgia opens 2014 season with a splash.
– Devin
When I signed up in early January for the BADASS Dash on March 15th, I will admit I was skeptical. The series didn't get the best reviews in 2013, drawing statements such as "too easy" and "not much of a challenge". The directors for the series clearly took notice, knowing they would have to change this reputation in 2014 if the event was to thrive, or even survive, in the sea of OCRs available today.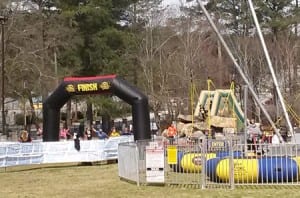 How would they overcome this reputation, though? How about an opening event with a full 30+ obstacles? Check. The four and a half mile course through Stone Mountain eased us in with warm-up obstacles at the beginning, with a push up station followed by some 5 foot pine straw mounds before graduating to mid-shin to mid-thigh deep water for a short stretch. The course then started getting into the man-made obstacles with some fence and wall climbs and a fast net crawl, followed by a sudden stretch in which a couple of volunteers shared their mean aim with dodge balls (if you know what I mean, OUCH).  Next was a quick three-tube tunnel crawl and shortly after one of the signature obstacles for BADASS Dash, the "Australian Back Crawl" which is a reverse cargo net climb where you lie on your back to climb up the hill, then slide back down the steep grade, and finally go back up again on your back (for Elites). Each section was a solid 15 yards and really got tough if you caught a dry patch of the tarp while climbing! And least the lower body should be forgotten after this test of mostly upper body strength, immediately after the climb was a large pavilion with picnic tables spread apart the entire length, with a winding effect taking you three total stretches of the pavilion before moving along.  The course continued up a road with a dozen hurdles and some tricky off-road downhill movement through some trees and rocks on a tumultuous grade, and a large cargo net climb before finally reaching the halfway point. As the course continued toward the end the consistency of obstacles never let up, with a fun quarter mile stretch requiring somersault rolls (10 for elites, 5 for recreation divisions), a set of inflatable through/over/through obstacles, pull ups, monkey bars, and a low crawl which left me running a little off-balance from using a fast side-roll approach. The final leg contained the human car wash, a set of stretched bungee cords with water being sprayed as you maneuvered through, then a tall inflatable slide with a cargo net to get to the top.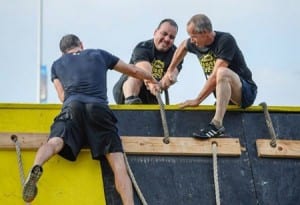 The race concluded with the "Raucous Rock Pile," a set of huge stones about 5 feet high just before the finish line. The map for the course had 34 obstacles marked and named in the key, and I can honestly say there were only two from the list I wasn't particularly familiar with by the end. Also worth noting is how the race alternated terrains, ranging from multiple paved roads and parking lots to wooded areas with no defined trail or path for that matter.
The course was challenging, but what I loved most about it is that it was FUN! And I don't mean fun thinking back on the course once crossing the finish line after having looks of anguish on my face for 40 minutes to an hour plus like I usually do. I'm pretty sure that if somebody caught a couple of action pics of me on the course, you would see a rare smile from me in the middle of the sideways slalom or diving through the inflatable obstacles!  After the race I got to chat with a couple of the directors, and they told me that last year they didn't start setting up the course until shortly before the event and didn't get clearance to build some of the obstacles that they wanted to, and made sure to get started well in advance to avoid the same issue this year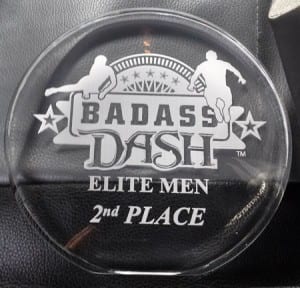 As for the whole event atmosphere, I would say it had a good vibe. The gates didn't open for registration until about ten minutes after the advertised time, but it didn't delay any of the heats. It wasn't the largest event with regard to participants, as the results page only listed about 620 finishers, including the K-9 division. They had some quality tents with merchandisers and enjoyable distractions for the children in the festival area, to go along with a warm bonfire. Finishers received a quality medal, a nice tech t-shirt, and fancy glass plaques for the podium finishers along with a sweet grab bag that included some sample gear from Athletics8. The top 3 males and females also won free entry to their big event in June at the Eddie Bauer GoPro Mountain Games! With my second place finish, I can guarantee I'm going to do my best to make it out to Vail, Colorado for it!
On a scale of worth your money to not, I definitely say worth it!
One quick disclaimer: NO FREE BEER at the finish! But they don't advertise it if you pay attention to their site, so you can't hold it against them too much.