HARD CHARGE® obstacle course racing event was held at MC Motorsports Park and airs on Fox Sports Arizona
TUCSON, Ariz. (Apr. 2, 2014)—HARD CHARGE™ national television show and premier obstacle course racing series, kicked off its season and crowned two new CHARGE Champions at the Tucson event this past Saturday, Mar. 29. Brian Gowiski of San Diego, CA won the Men's CHARGE Championship and KK Paul of Phoenix took the Women's title.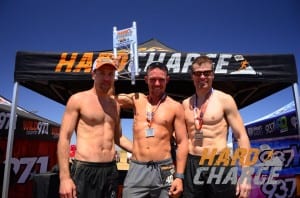 The closest race in HARD CHARGE history, the Men's CHARGE for Glory came down to a photo finish. Maintaining an average pace of 7:05 min/mile, Gowiski finished the 4.3-mile course in 29:45, the same time as LeEarl Rugland of Roseau, MN. The photo and video review showed Gowiski crossing the finish line less than a body length ahead of former CHARGE Champion, Rugland, earning Gowiski the title and Truss. Fellow HARD CHARGE veteran, Kevin Stankiewicz of Bismarck, ND came in third with a time of 30:55.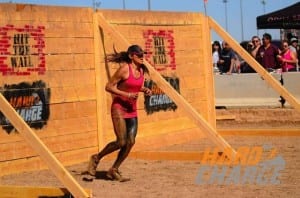 Heavy female favorite, KK Paul, won the Women's CHARGE Championship in 37:07. She maintained a pace per mile of 8:51, easily beating out second-place finisher, Alyssa Freeman, who finished in a time of 41:49. Laura Messner of Bloomfield, CT crossed the finish line third, recording a time of 44:00.
The first-year event in Tucson hosted thousands of participants, volunteers, spectators and local vendors. Two episodes were filmed for HARD CHARGE, the first and only obstacle course racing television series. It focuses on the world's fastest-growing adventure sport and the athletes who compete for the title of CHARGE Champion. The series airs nationally on Comcast Sports Net, Fox Sports and various local affiliates across the country. Locally, episodes can be seen on Fox Sports Arizona every Sunday night at 10.
Tucson marked the kickoff of HARD CHARGE events across the country. The next stop is Park City (Wichita) Apr. 26, followed by Minneapolis on May 17. Viewers can watch the series, then decide if they'll CHARGE a HARD CHARGE course for Fun or CHARGE for Glory to earn a spot to race on TV. See a full list of upcoming events and register at HardCharge.com/events.
A full list of top placers can be found on the HARD CHARGE Facebook page, while complete race results, and event photos and videos are available at HardCharge.com/tucson.
In addition to the strong turnout, the event benefitted Children's Miracle Network Hospitals at Tucson Medical Center for Children. Also, hundreds of shoes were collected and donated to national charitable organization, Barrel Aid.
HARD CHARGE® is a world-class obstacle course racing (OCR) series, and the first and only national OCR television show. Designed to challenge every fitness level, HARD CHARGE courses are four to five miles, feature military-inspired obstacles and are divided into CHARGE for Fun and CHARGE for Glory heats. Participants may navigate the CHARGE for Fun course at their own pace, or compete in the CHARGE for Glory heats where top racers earn the chance to be featured on HARD CHARGE, a national OCR TV series that airs in more than 60 million homes through Comcast SportsNet, Fox Sports and local affiliates across the country. HARD CHARGE is a proud national partner of Children's Miracle Network Hospitals, with every event benefitting the local CMN Hospital.
Top Photo: Men's CHARGE Champion, Brian Gowiski (center). Also pictured are second-place finisher, LeEarl Rugland (right) and third-place finisher, Kevin Stankiewicz (left). Rugland is a former CHARGE Champion & Stankiewicz a top 5 finisher in multiple HARD CHARGE events last year.
Second Photo: Women's CHARGE Champion, KK Paul, after completing Hit the WallTM one of the final obstacles on the HARD CHARGE course.
Did you do the Hard Charge Tucson Arizona Race? Share your own rating & review about the event today!