by Kevin LaPlatney – The Mudman Report
Flushing NY, 4/12/14 – It's strange to say that my first three obstacle course races of the year (Spartan's Tampa Sprint in February and now both days of the CitiField race) have all been inside sports ballparks.  The unique type of venue has been quite popular for OCR runners, and it's surprising that only Spartan has really ventured into this style of race course (so far).  Back for it's second year in the NY Met's stadium, they made it a two day event this time, likely due to the many complaints that racers had from the logistical nightmares that happened in 2013.
1. COURSE-  Not much changed other than the placement or order of some of the obstacles, but a few things of note did disappear from this race (and maybe future Spartan's?) as we've known them before.  The stadium series courses have always relied heavily on fitness obstacle stations, and to the delight of many but my disappointment, the rowing ergometer didn't make it into this race.  I know that last year the roughly 30 or so machines they had available just wasn't close to being enough for the masses that went through the race, so it might have been ditched for that reason.  But even bigger news was that the staple, or even trademark, of Spartan Race "gladiators" at the finish line was now replaced with a row of heavy punching bags to weave through instead.  Granted, this aspect of the race never really meant much as far as being any real test of strength or fitness, and it certainly became softer in the last year or so… but, it no doubt was the definitive ending and last battle before Spartan victory (and medal) were obtained.  My next SR isn't until late May, but their other races around the country before that will show if this obstacle is truly history, or was just on a road trip, like the Mets.  Grade = B
2. FESTIVAL-  There never really is one at a stadium, so I shouldn't explain it all again.  I said to a friend as we were looking out from the upper levels, "Why not have these adjacent empty parking lots filled with picnic tables, a DJ, and some contests to make THAT the afterparty?" But no, the only option is field level ballpark seats or to walk around the hollows of the ballpark.  Tampa did it better for sure. Grade = C
3. SWAG-  The one thing you can be sure is a winner at the stadium series are the unique medals, as Spartan once again did a great job with giving everyone a commemorative CitiField one (redesigned- orange instead of last year's blue- the Mets colors), as well as an attached Trifecta piece which was of course the same red pie slice as any other Sprint race.  SR is sticking with the headband bibs again, but did also give everyone a paper version with no safety pins, as they did not want those littered throughout the stadium. I'm not sure which way they are going with shirts (reverse shown in picture), as this one was the same exact look as the one I picked up in Tampa but a different material that was lighter and stretchier.  Overall, I'd say it is an improvement though I wish the shirt also could have been race specific like their medal (as they had done in 2012 Fenway). Grade = A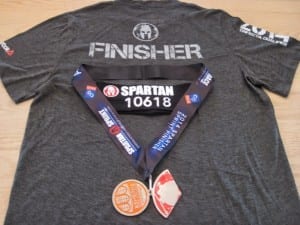 OVERALL GRADE = B
—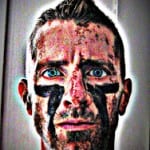 The Mudman Report is written by veteran OCR athlete Kevin 'Mudman' LaPlatney, who reviews all of the races he enters as a way of providing ideas to improve events and help the race community choose which to sign up for.
Did you do the Spartan Race Citi Field? Share your own rating & review about the event today!