Review by Mike Matter
I had the privilege of getting an early copy of Obstacle Race Training – How To Beat Any Course, Compete Like a Champion and Change Your Life – the latest book to cover my favorite topic (the OCR lifestyle) and is brought to us by one of the most knowledgeable people in obstacle racing, Margaret Schlachter.  This timing of this book's release is spot on, as obstacle racing continues to grow exponentially and has fully entrenched itself as a major athletic pastime worldwide. If you're one of those people that may be on the fence about doing your first mud run or complete an obstacle course, this book is a great guide to not only become more at ease with tackling a race, it will also give them the guidance of training, nutrition and the ability to actually build some of their own obstacles at home to be part of their training routine for their future in OCR.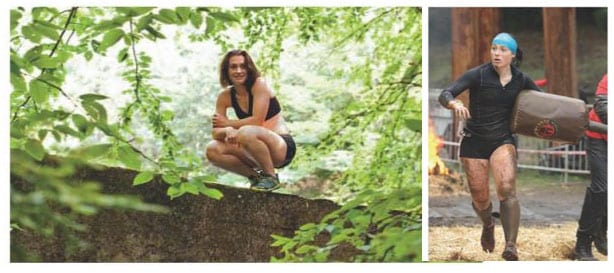 The creator of the award-winning blog, Dirt in Your Skirt, Margaret has done a fabulous job of giving the novice to the sport a great introduction to her 'initiation' into the sport, and shows how even those that are considered the elite of the sport have had to learn from mistakes made in not only training but basic preparation for their races.  Margaret gives the reader a logical and thorough path of thinking with every step she takes as part of her racing training and planning.  From avoiding cotton clothing, to nutrition tips (I am following her donut eating pre-race step – sorry Margaret, I had to throw that one in!) to showing great tips for stretching to use for pre and post-race.  Margaret has also shown the best steps for beginners since many do not really have any type of racing experience, and she has given really great basic guidelines for racers to follow for every phase of their pre-race preparation to their post-race recovery.  As every experienced racer knows, it takes time to figure out what you need for your own training and racing regimen. So it is a big relief to see Margaret cover so much in such a short amount of reading with her book.  She provides such a great overview of training to get a racer prepped for whatever obstacles they may encounter out there on one of the many obstacle courses available.  She lists the expected obstacles, and gives tips on training (or if there is not real training tools available) or if needed the mental preparation for the racer to be fully capable of handling anything the courses may throw at them.
The book also does a great overview of the types of races that are out there for the person who is not sure what race they want to do.  From covering a mud run, Zombie Run, Spartan Race, or any other race out there Margaret does exactly what is needed for many, to understand the differences between the races, timed or not timed, and being chased or clubbed in some cases.  The explanation of the races differences can sway many people towards the race that best fits what they are wanting as their next challenge.  With this type of breakdown, it gets more people interested and researching everything they can about the races and will better prepare them for the race they decide to tackle and conquer.
One of my favorite parts of the book is the quick overviews of some elite and non-elite racers that have been part of the racing community, but I especially enjoyed reading about some the racers I personally have met and knew a bit about their racing history.  Reading more about racers like Andi Hardy and Chris Davis will motivate so many more people to take on the challenges that our OCR racing community has experienced. Knowing there are regular people racing, not only elite racers is always a huge motivator to new racers.
For me, the best section of the book was the 'Turning You Backyard into a Training Center". I am always looking at ways to build or provide ways to get more of an actual race experience at home, and this section of the book gave me a ton of tools to get my training above and beyond what I thought it could be.  I will be working on my own wall very shortly with the easy steps provided in this book.
I have to put this book as a 'MUST' for anyone starting out in the Obstacle Racing community. With everything that is provided, it is not a month long read that people will lose interest in but will be a research tool to anyone that has become part of the OCR circuit and will be an easy and quick guide for every new person you introduce to the our racing community.  The book provides so much information in every area that I think it needs to be a required read for any new racer that joins the ranks.
Thank you Margaret Schlachter for giving the racing community a new racing 'job requirements' checklist that will give our community something to use as one of our basic research tools that will be of great use for years to come!!
Book Rating – A+
Ppick up a copy: Obstacle Race Training – How To Beat Any Course, Compete Like a Champion and Change Your Life