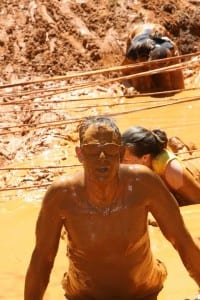 This past Saturday I must say I was practically spoiled: there was FINALLY a local obstacle race to go! No waking up at 4 am to hit the road toward Atlanta or Columbia, no need to drive 3 hours the night before to stay in a cheap hotel before a race, racking up a pretty penny for the weekend when it's all said and done. The Fort Gordon Marine Mud Challenge took place right here in my backyard of Augusta, GA, right smack dab in the middle of the namesake Army Post.
As I learned from the lead for this great event Gunnery Sergeant Kelly, this was the 7th year of the race put on by the Marine Detachment in coordination with Fort Gordon Morale, Welfare and Recreation, or better known simply as MWR. Funds raised go to MWR, which as the name suggestions, is focused on service members and their families, from keeping the post gymnasiums up and running to coordinating family day festivals for the Post. Each year the course has grown, this year with two additional half-mile sections added into the course making it a total of 5.2 miles with 4500 feet of elevation change and 30 obstacles, which I will cover in more detail shortly.
The Event
The Marine Mud Challenge is a team obstacle course race, with 3 categories to choose to race: non-competitive with 4 or 5 teammates, competitive with 4, or hardcore competitive, which is a 4 member team requiring all participants to wear "boots and utes" (that means t-shirt, military uniform cargo pants, and combat boots). They also host a children's challenge, with a one mile course including 7 obstacles. Teams took off starting at 0800 in 20 second intervals, two teams at a time. The two hardcore competitive teams were the first to take off on the course, one Marine and one Navy, followed by the multiple competitive teams, then all of the non-competitive participants. In order to be eligible for a podium spot, all members of the team must successfully complete all of the obstacles, and the team must finish the race together. Team captains were in charge of the only bib and timing chip for the team. Multiple sponsors ranging from Dick's Sporting Goods and Red Bull as well as local radio stations made for a great festival area and grab bags for all competitors.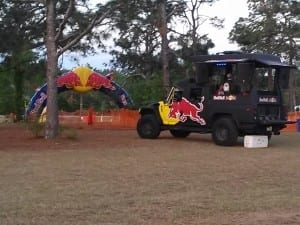 There were two large tents for reasonably priced food and beverages, a DJ in a Red Bull Monster Truck, and various small tents for other sponsors/advertisers to keep people from any boredom. Safety was never an issue, with the entire Marine detachment as well as Army trainee volunteers spread out across the entire course at every obstacle, a full medical tent as would be seen on a deployment, and multiple flags to not only keep competitors on the course but also to identify small tree stumps that they were unable to grind down and posed a hazard. The only complaint that could have been made was the check-in confusion, which wound up being a three-step process all at different tents to get your team checked in, get your bib/timing chip, and then your grab bag and shirt. They also had forgotten the waivers at an office causing a slight delay at check-in, but it didn't delay the start time so no harm, no foul.
The Course
As I mentioned earlier, the 5.2 mile course contained 30 obstacles through a challenging trail run. Some of the obstacles took advantage of the diverse terrain as natural obstacles, while the majority were man-made obstacles built to military standards. Within twenty yards of the toe line competitors reached the accurately-named "Welcome Mat" a large mud pit with culver pipes to crawl through in the middle, then leading immediately to a wood ramp with ropes to help climb to the top of the 15 foot platform, and finally climb the ladder wall down the opposite side to continue on.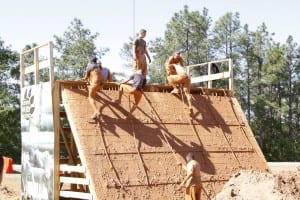 After a shallow slosh through an old empty pond that they had a fire hose spraying across, just in case the "Welcome Mat" didn't fully soak you, teams then moved on to a series of suspended cables and ropes in which you stood on the lower cable then tried to keep balance with the (quite loose) chest high rope and worked your way across. The only thing using speed on this obstacle would do is ensure you took another mud bath as you would almost certainly lose balance and fall. Teams then reached various climb over obstacles, ranging from orange barricades and enormous tractor tires to the military signature cargo net and a series of horizontal beam climb-over's which is where teams began having to work together to successfully complete obstacles. Teamwork wasn't only a regulation for the event, it was a necessity to make it to the end. Shortly after a fast, winding downhill trail run runners were then directed down into a creek where they had to charge through the water upstream for twenty meters before popping out on the other side then climbing up a very steep hill with an 8 foot wall at the top. The course took advantage of the terrain again with some steep up/down/up/down zigzag running before opening up into an area in which they utilized the training obstacle course, with some tough additions by the Marines. There was a tower climb with a ten foot jump onto jumbo landing mats, a separated set of angled walls shaping a V to climb over, and a rather tricky set of incline/decline monkey bars.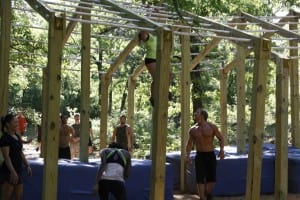 Once your hands were on the bars they weren't too difficult; the fact that the first bar to reach was at least nine and a half feet from the ground definitely was though! The course continued on with more technical terrain trail running with some crawling and various smaller obstacles, before reaching another opening which led to telephone pole sized balance beams followed by "The Chicken Wing", a set of double pull up bars with one about 18" above the other, which required climbing over the top bar in order to complete. From this point the course finally started making its way back toward the festival area, with a set of large rolling dirt mounds to navigate before a rope swing over a small mud pit. "The Mud Box" was a surprise as you approached the end, not realizing that there would be any significant difficulty when going over the 6 foot wall into it, but then landing in some extremely thick red Georgia clay mud which didn't want to let your feet go as you tried climbing over the wall on the other side.
From this point it was mostly a sprint to the end, running across a long set of dirt mound moguls then a fast low crawl through some more mud before finally going over the last obstacle, an 8 foot wall with a large painting of the race logo across it.
Overall, I give the Marine Mud Challenge 4 mud splats out of 5. Racers definitely get their money's worth with a solid course and fun atmosphere for the whole family.
—Devin—
PS: Call it the friendly inter-service rivalry, but I had to mention my Air Force team, Rage Against the Marine, took home first place in the competitive category, while the Navy team finally took the hardcore competitive title from the Marines for the first time in the race's seven-year history. I'd hate to be a Marine at any of their PT sessions for the foreseeable future!