Here I am, a little over a week after the Indiana Spartan Sprint and finally sitting down to put my experience into words.  I have mulled over even writing down the day's events but ultimately you can't document a journey toward a goal without also including the low points.
It had been roughly a month and a half since I took on two days of racing in Georgia for the start of my 2014 season and quest to be in the top 50 elite season points. (https://www.mudrunguide.com/2014/03/spartan-sprint-ga-double-dip-race-recaps/). I had used that event as a learning experience and left with a lot of knowledge on where I was already strong and where I needed improvements. When I got back home to Indiana, I built myself a spear throw to practice with and contacted a trainer to develop my upper body and grip so I would not have to be so reliant on my legs to carry me past opposition.
I kept telling myself, "Indiana will be my race." It was supposed to be the race where I took my knowledge from past races and new training, used my new strength, and rode on the hometown support to a top 25 placing (My whole family was there as spectators and participants, along with cousins, friends, and former coworkers) .
Then event day came, I lined up in the coral with the other elites and felt the rush of excitement coming over me. As soon as we were sent on our way, something felt off in my stride and that was coupled with one of the more aggressive starts I've ever been a part of in any race with elbows wide and everyone making their presence felt.  We approached the first obstacle, standard under-over walls and the pack of racers started to allow for some breathing room. I took the opportunity to try to establish myself in both my position and my rhythm and carried on through the first bit of trails. We started to run down a rocky slope and I could feel it again, something was wrong but I wasn't willing to give in. Now back up the hill, early in the race and we were presented with a steep climb a quarter mile long, and that's where it was undeniable that my shins were going to let me down. Each time I placed my foot and tried to power up the terrain it felt like a hammer was hitting my bone, I was forced to walk most of the uphill sections for the first 3 miles before finally my body ended its protest. I did manage to make some ground back up in the last 2 miles when I was eventually able to maintain a run and I hit the obstacle-heavy festival/spectator area and my recent training was able to come to light. I crossed the finish line in a disappointing 1:19.24 for 122nd in the elite field, worse than my first race of the season.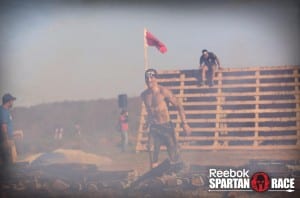 On the positive side this day wasn't just about me, I still had two more laps to look forward to and can honestly say they would have been the highlight of the weekend regardless of my competitive results. For my second lap I was joined by my mother (celebrating her 51st on the same day), my girlfriend, my brother, a longtime friend, a cousin and his friend (who both felt good enough to break away from the rest of us). All of which, except my girlfriend were first time Spartans. And on the third lap I joined a group of former coworkers and the trainer who has helped me develop since starting this mission, also all of which were first time Spartans. It was an incredible feeling to be out there with these people and helping others along the course. Totals for the day came to 14.91 miles, 2,160 ft elevation gain, and only 4 failed obstacles between all three laps (missed one spear and still have not made it across a traverse wall).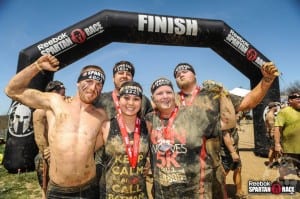 My next Spartan event looks to be a long way away with Virginia in August followed then by the World Championship Beast in Vermont in September. In the meantime I'll be continuing my efforts to improve my upon the obstacles and staying sharp by running various other OCRs; next up is Mud, Guts, and Glory just outside of Cincinnati and Mudocalypse back to back in a few weeks!
Spartan did a great job for a 5 out of 5 rating.
—–Kevin Parrish—–
Did you do the Indiana Spartan Sprint? Share your own rating & review about the event today!