The Spartan Death Race. Just the name is enough to scare most away. However on June 27th, 300 elite athletes will arrive in the small town of Pittsfield, VT to prove their might. So, just what is the Spartan Death Race (SDR)? The SDR is a true test of endurance in that the race will last anywhere from 24-72 hours. The competitors are not given a map beforehand, nor are the aware of what challenges await. Challenges range from physical (chopping wood, 30 mile hike with rocks, etc) to mental (memorizing the names of the first 10 U.S. presidents or bible verse and then hike to the top of a mountain and recite them back in order). Perhaps the most aggravating challenge of all is the mental anguish of not knowing when this event will end. Last year only 10% were able to finish the SDR. So, why is it so appealing for so many? To answer that question I'll introduce you to two of this year's competitors. Both are first time SDRs however that's where the similarity ends. Each has their own unique background and reason for attempting this challenge. One thing that remains in both is that desire to be one of the last men standing at the end.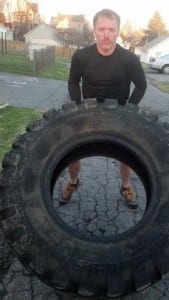 DJ Ferguson is a 41 year old Fulfillment Operations Lead at a major consulting firm. When not at work, he's a busy single father to four children ages 8-14. He's done a few Tough Mudders, a couple Ragnar Relays and the LA Marathon. This will be his first taste of the Spartan Race series and he's decided to jump right in. DJ grew up in Oklahoma, but has since moved all over the country. DJ is coming into the SDR for the sake of the unknown. Every other race has predefined requirements and a set end time. DJ is looking forward to getting out of his comfort zone and pushing himself as a result. When running 5ks, DJ thought marathons would be impossible because "only elite athletes could do that". Since pushing himself, and realizing "I can do that", DJ has continued to look for ways to push his limits. What better way than the SDR?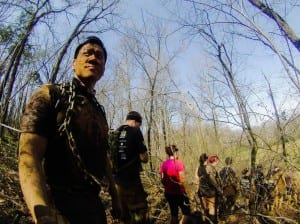 Mathieu Lo is a 32 year old Automation Engineer at a musical instrument accessories company. He's also best known around the OCR world for his chains. Mathieu has competed in 11 Spartan Races, 11 Tough Mudders, a Warrior Dash and a half marathon. He was born and raised in Brooklyn, where he still resides. Mathieu has served as a friend's crew for last year's Summer SDR as well as the Winter's SDR. Seeing the bonds that were formed there, as well hearing stories from other SDRs, Mathieu's curiosity was piqued. Mathieu finally gave into the peer pressure that was the World's Toughest Mudder community on Facebook. Through an SDR post in that group, as well as coercion from friends, Mathieu is joining the SDR purely as a result of peer pressure.
Both competitors are preparing mentally for this event. Mathieu's biggest fear right now is quitting. While his excitement and anxiety is hard to hide from friends and coworkers, that fear is there. He is preparing himself in ways to finish. He doesn't need to be the fastest, but knows that the mental tasks will take their toll on each competitor. His plan is to embrace the tasks, carry them out and finish. DJ is preparing for the mental and physical exhaustion to come. While he says he's not afraid of anything the course will bring, he is developing his strategy. He will continue to move forward, dig deeper and remember that the little voice that says "I can't" is a total liar.
DJ is also coming off an injury and surgery. This past February DJ broke his foot while snowboarding. After being off his feet completely for five weeks, herbal treatments and bone regeneration stimulation DJ is back and ready to go. He's not able to run yet, however he has been swimming and biking.

We couldn't have an article without asking Mathieu about his chains. The chains have become Mathieu's trademark and lead to plenty of questions. About six months after his half marathon, Mathieu saw an ad for Tough Mudder (TM). It sounded like fun, while being physically demanding. However, the high of the half marathon was still there and Mathieu decided he needed to further his challenge. Wrapped in 12 pounds of chains, Mathieu completed his first TM. It was harder than he expected but, after being called out at his 3rd OCR (Staten Island Super Spartan) he realized that the chains were a part of his identity. Mathieu has worn them since and they range in weight from 12-27 pounds. He promises that at least some will make an appearance at the SDR. Side note – He also brings fabulous baked goods to his races (I will attest to the chocolate chip cookies). If you have a solid sweet tooth, find him before the event.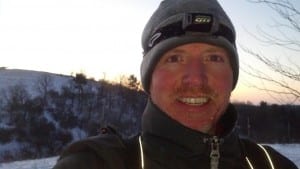 While both competitors seem to be opposite, they have that drive. The want to attack the SDR with all they have. Neither is lacking in physical or mental agility. Both have the heart and the drive to take on this challenge while refusing to back down. They will be forces to be reckoned with and we wish them both the best of luck this summer!
Interview by: Rebecca Crump