I know there have been lots of articles this year about Tough Mudder getting easy. I won't say that Tough Mudder as a whole is getting easy, TMHQ has some new awesome obstacles, both for everyone and legion members, but this is about a single event right now so let's focus on Tough Mudder Nashville.
Let me begin be saying that this article does contain a spoiler alert, I will flag it well so you can skip over it if you want to, not that I think anyone will, but someone might not want to know more about the TM Legionnaires Loop.
First things first let me discuss parking. Tough Mudder faced a challenge themselves with this event in that rain for a week before made a mess of the planned parking area. It was handled well, by clearing a path for everyone to follow so I did not see anyone get stuck, other than a few who got their early and parked on the course without knowing it.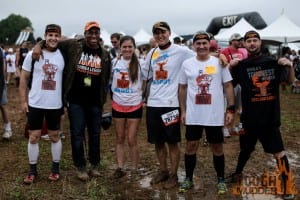 Registration, TM has made a huge step forward with the check-in process this year, get in any line get up to the front, they check you death waiver and ID, then scan your confirmation email, then scan a bit. You are set to go. If you forgot your email, they have the ability to quickly look it up and proceed forward with the process. Then IF you are a repeat mudder, you proceed right over to the Legionnaires check-in, verify your event count, get your wrist band and maybe a headband of the events you have ALREADY completed then go. If there is an issue with your event counts, and let me make this clear, it is the number of event days you have done, not the number of laps. There were several people you were upset because they were getting a lower count headband then they expected because they had completed multiple laps at other events, the volunteers have the ability to correct it in the TM database so going forward it will be right.
If you are interested in World's Toughest Mudder, there are now WTM volunteers at events to help promote WTM and answer questions. I had my picture taken with a lot of people while filing this roll Saturday morning. There were at least 15 people who had competed in WTM 2013 on Saturday.
The vendor area, Tough Mudder has made a lot of improvements in this area, in that there is a nice selection of food items, yes they might be a little pricey, but that is no different than any other event I have been to. The showers and changing area still leave a little to be desired but it is better than it has been, with actual changing tents, one big room for men and another for the ladies, but still better than nothing.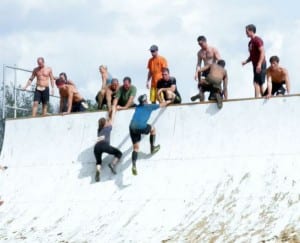 My first complaint though comes with bag check, how is it some events have free bag check with security and a very structured setup, but TM charges $10 for you to go place your bag on a table under a tent. Now they mostly check to make sure you only have your bag when you leave.
Now to the event itself, to help avoid crowding at the starting line and pre-staging area was setup with an announcer to help get participants fired up. While this sounds like a good idea, it did not work out well, everyone was packed in then only so many got to go forward. It was hot and humid already, people were getting fired up but not in a good way.
Once you actually got to start, TMHQ did their usually thing now of a long run to help spread out the crowd, but this time it was a little too long before the first obstacle. When I passed the mile 1 marker before any obstacles I was not happy, then finally a little before mile 2 was Glory Blades, nothing overly exciting, a set of inverted walls to climb over, but an obstacle none the less.
Next was another long run in the hot fields until got to Ha Ha Ditch, a nice muddy ditch that will slow just about anyone down to jump into and climb out of. The next real obstacle was Funky Monkey. The metal framed Funky Monkey is here to stay, get used to the small fixed bars that seem to be eating a lot of people's hands. After that it was on to Mud Mile, TM did a nice one this time in that Mud Mile was hit twice so there were lots of people in and around the mud.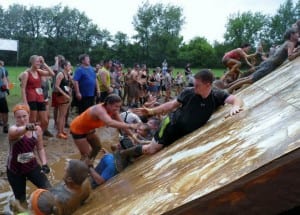 After a short run you hit Devil's Beard, followed by the Wounded Warrior Carry and a mudder wheel barrel. Killa Gorilla was a bit of a letdown, up and down a short hill a couple of times is not an obstacle, either is the multiple stream crossings that were there. Arctic Enema was a fun one this time, the ice bath was a refreshing dip after the heat of the fields, but I like the ice bath, so it is always good to me. TM had the standard obstacles, Everest, Walk the Plank, and Balls to the Wall. The first new obstacle of this event was Pyramid Scheme, this obstacle setup hurt the lone runners, with the more than knee deep mud puddle at the bottom, no one was getting up without some help. After Pyramid Scheme it was the second trip in Mud Mile. The clouds and storm was rolling in so my groups pace quickened so that we could do Fire In Your Hole before they closed it because of lightning. We proceeded into the Legionnaire's Loop showing our wrist and headbands.
If you don't want to know about the Legionnaire's Loop skip to you see the spoil over, otherwise read on.
———HERE IS THE SPOILER ALERT ——–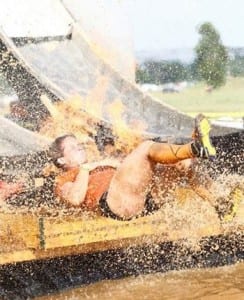 The Legionnaire's Loop, while I really like the idea of the Mudder Legion and I proudly display/wear my 10X band, I am very disappointed in what I have seen in the last two loops I have done. TMHQ if you are going to promise 3 obstacles, put 3 obstacles, not a 10 foot Devil's Beard followed by a 10 foot Electro Shock that isn't even connected. That said Fire In Your Hole is AWESOME. If it wasn't for the lightning after my first slide I would have done it a couple of more times. If you want a really good ride, you must keep your form tight and use the overhead board at the start to launch yourself. I was able to hit the water at the rope marking 25 feet. My goal next time is the 30 feet mark or the far bank.
————–SPOILER ALERT OVER——————
Electro Shock Therapy was the usually finish, but after doing it so many times, I took the beer me now path.
There were a lot of people that missed out on a number of obstacles because of the storm that rolled in. I heard a lot of people whining and complaining because Tough Mudder closed down because of the storm , if you were one of them, it was done with your safety in mind first and second, I DO NOT WHINE, KIDS WHINE.
I give Tough Mudder Nashville 3 out of 5 stars, but Fire In Your Hole gets 5 out of 5.
—–Paul Mitas—–
Did you do the Nashville Tough Mudder? Share your own rating & review about the event today!