Spartan Sprint – Uncasville, CT
Preface:
I am just an average Joe. I can run 3 miles on a good day. I don't lift weights, use the machines at the gym or otherwise train seriously. But I love a challenge and fell in love with OCR immediately. My philosophy is: I may not be the best runner, but I WILL do all the obstacles.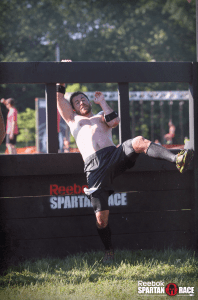 The Spartan Sprint was held at the Mohegan Sun Casino. There was plenty of parking, picturesque views and a challenging course. The obstacles were well spaced out of the course, with an exciting pile up of six obstacles right at the end. Due to the venue, the course itself was a combination of trail, grass and road. There was definitely more road than many were used to seeing at an obstacle course race, which usually tend towards trail.
The Spartan race has a special penalty for any failures to complete and obstacle: 30 burpees. I was rather proud to make it through the day with only 2 failed obstacles, totaling 60 burpees. After the elite wave, there wasn't much enforcement of burpees and many people skipped the punishment all together. I struggled through my burpees, but I refused to cheat. I felt that I wouldn't have an accurate gauge of the race if I skipped even a single burpee.
The race started off with climbing over hay bales, then on to the six foot wall. Then we had some mud to run through and the inverted wall. The rule was, no using the support posts, but you can help one another. I got a boost onto the wall, then was able to scale it myself, which I was quite proud of. Next came the barbed wire crawl. It was a huge, grassy field with the wire nice and low. There were also obstacles, like hay bales, set in the course so you had to pay attention. This was the longest low crawl I have ever seen. With my military experience, I breezed through the first half of the crawl, then realized I was only half way through! Usually, I use proper military form for the barbed wire crawls and finish them in short order, but this one was so long that my arms and legs got tired.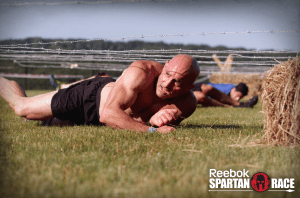 Moving on, there were the two obstacles that I failed to complete: the spear throw and the rope climb. I missed the spear throw, like most other people, and did my burpees. As the main burpee obstacle, there was someone here telling you how many to do and to count out loud. After your arms are tired from burpees, you get to the rope climb. Set in a pool of water, the rope is knotted every few feet and soaking wet. I gave it a couple tries and went to my burpees. I dipped back into the water after burpeeing in the hot sun, though.
There was an atlas stone carry, followed by a sandbag carry and a tire flip, all strength obstacles which are a challenge for me, being petite, but I made it through. I was especially happy to complete the traverse wall, as I had practiced and anticipated this obstacle, which is another one crowded with burpees.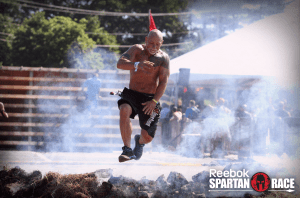 Along with some standard 8' walls, over and under walls, and other OCR staples, we reached the end of the course, where the fire jump was. The fire was not a simple line of fire to jump over, but rather a U shaped tunnel that you had to run through and then jump over the bottom of the U. It was HOT and shortly after I jumped over it, a course safety ran to the finish line to urgently grab a 5 gallon of water and run back to the fire area. My guess is that someone caught on fire, but I can't imagine why they wouldn't use the fire hose.
The finish line had water, bananas and protein bars, and then you had to go over to a different area to get your T-shirt, which I found strange, but it worked. The festival area was lively and the food choices plentiful.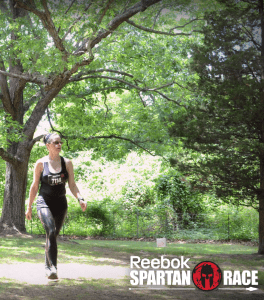 This race was definitely the toughest I have done so far, though it lacked the ingenuity that I appreciate about the smaller, local races. However, it was well put together, and I will definitely do more of the Spartan series. The only thing I didn't like about the race was the cameramen, or lack thereof. Post-race photos are part of the excitement of the race, and when an event advertises free photos, you expect to see more cameramen. There was only one photo of me from the entire event, and I believe that was caught by a camera setup, not a human being. Go me! See me walk!!
In all, I clocked this race at 5.1 miles, confirmed by several other racers' watches, and it took me 2 ½ hours. I give this race 4.5 out of 5 stars. It was well organized, challenging and fun. A little more mud would have been a perfect 5 stars.
–==Caryn DeCrisanti==–
Did you do the Connecticut Spartan Race? Share your own rating & review about the event today!