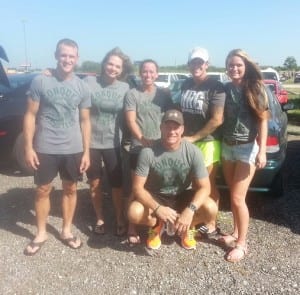 Once again CTG delivers!! For those of you who have not read my race recap from the Kansas City race you must do so because it was just the warm up to what CTG brought to the table in Tulsa, Oklahoma this past weekend. On top of the obstacles they had before, they made them longer, deeper, higher, slicker (I'll get to that), and added 4 new ones. This race was 4.15 miles, 30+ obstacles, and had 12 mud/water pits. The Mainprize brothers definitely made this race their toughest event yet.
This race was not set up for time purposes but completion purposes. The Tiger Trap on this course was the deepest mud pit I've been in so far. It was at least 10 feet deep with another 5 feet of dirt piled up on top of that at the top. There was no way you could have completed this obstacle solo. There was no sure footing and the mud was like quick sand in the bottom. It took TEAMWORK!! I was a little disappointed to see quite a few racers bypass this obstacle and go around due to the difficulty, or how long it would have taken them to do it and how that might have affected their "time". Everybody who finishes gets a time but what I want to know is how many truly conquered the gauntlet?? Mainprize brothers, I think you're still UNDEFEATED!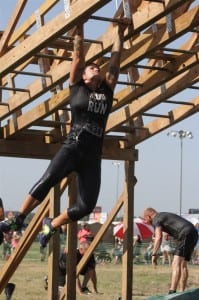 The Swamp Crawl was another obstacle they expounded upon with deep, thick mud under barbwire for about 50 yards, and Barb Wire Boulevard was at least 30 yards before you hit the incline to crawl out, and the Flying Flames you hurdled over was put in a sand pit. Like I said, all the obstacles were taken to the next level which leaves me to the "surprise", CTG left on 4 of their obstacles for us. The Dead Man's Drop, the 15 foot rope climb on the More Cowbell, the Stairway to Heaven that took me to Hell again, and the Cliffhanger of monkey bars were greased up!!! Thanks Stephen that was pretty "slick".
OCR is growing and I enjoyed getting the chance to connect again with Mid America Obstacle Course Racers out of Wichita, Kansas (Nikki, Bex, Sheila, Troy, Nathan, Greg) and meet another OCRWC Competitor, Tonya Stogsdill from Joplin, MO. Character, Commitment, and Community, that's what these races are all about. Every race your meeting, helping, or picking up a new or old friend.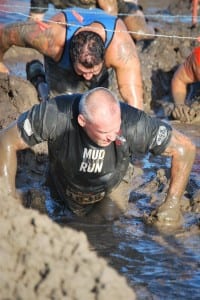 Read the race reviews given by the racers on mudrunguide.com, nothing but 5 stars. It was the highlight of the summer. I'm starting to think that CTG is giving Tough Mudder a run for their money when it comes to the difficulty of their obstacles!! What do you think? If you don't know, then check out CTG in Little Rock, Arkansas on September 20th. I guarantee if you do it once, you'll do it again, and again, and again. I've already added them to my race schedule for next year….. April 1, 2015 in Wichita, Kansas. GET SIGNED UP!!
5 out of 5 stars
—–Lucy White—-
Did you do the Tulsa Oklahoma Conquer the Gauntlet? Share your own rating & review about the event today!