Race Recap: Special Ops Series Green Beret Challenge tests endurance, limits.
"Are you ready for the suck?" was a question posed almost half a dozen times to me within the first 30 minutes of arriving to the venue at Fort Yargo State Park in North Georgia. As a solid obstacle racer I was thinking "yeah, yeah, I've heard this phrase all too often lately" but I must admit I was in for a rude awakening! The Special Ops Series Green Beret Challenge was an endurance event to test both the physical and mental strength of even the strongest competitors.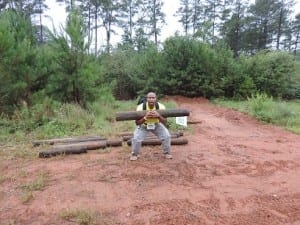 The event was admittedly small, with only about 50 competitors for the SOS' fourth race since starting in 2012. Special Ops Series hosts two different events, the Green Beret Challenge race and their Trek event, which is a day of instruction and physical/mental conditioning led by a qualified member from the Special Operations community. "This is not to be confused with an OCR. This is a terrain/endurance event that essentially contains approximately eight 'events' within the race, bringing an appeal to obstacle racers" according to Mark Ballas, Co-Founder and Race Director for SOS Green Beret Challenge. "The race originally started as strictly a team-oriented event, and this was the first one welcoming individual racers," recognizing the often difficult task of eager individuals convincing a few of their friends to commit and show up on their weekend for a day of pain, admitted Ballas.
The Course
The course meandered around Fort Yargo's lake area, never stretching farther than a half-mile from the water's banks from my approximation, and making sure to let us experience its refreshing temperatures along the way. The first station, a mere half-mile in on the course, consisted of some calisthenics to warm up the body. There was a circuit of 10 push-ups, 15 overhead log presses (male/female/team sizes), and 20 log squats. I found out afterward that apparently competitors were supposed to do this circuit three times but there was a miscommunication with the volunteer at the start and for consistency's sake kept it at one time through. Due to what eventually followed this otherwise simple station, I say THANK YOU for the lighter load! Next up was the first long distance haul, which consisted of a steel pipe to put on your shoulders and each end had a sandbag of at least 25 lbs hanging from a rope. The total weight of this carry wasn't the problem for it; the struggle came from the momentum brought about by the loose-swinging sandbags, forcing short steps to keep from losing control on the .8 mile loop that took you up and down a steady hill.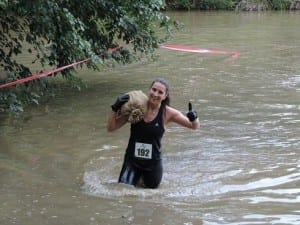 After returning the swinging pipe of evil to its starting point, the trail continued on through some woods and did lead to the only time on the course that there was a true opportunity to get lost on the otherwise well-marked and instructed path, when we came up to two flags four feet apart along a path that had only single flags to keep on your right "unless needed to guide you onto a trail", and the flags just happened to be able to point straight at a trail that meandered off course for a bit, fortunately still leading us in the right direction to pick back up on the course. The next obstacle was, to put it simply, a pain in the BUTT! Our task was to take old burlap bags, "probably from the Vietnam-era" as one racer suggested, fill them with gravel from a big mound using just a small gardening shovel, and hauling four of them through a 200+ yard stretching of water, meandering and wading in water from ankle-to mid-thigh deep, not including the logs and suctioning mud in the way. The mental aspect of the event made itself present at this time, since this task required two separate trips with two sand bags at a time to drop off at the designated end zone before you could move on. As an added bonus, the burlap bags weren't exactly perfect and I personally had to transfer a half-full bag that tore in the middle into a new bag during this struggle. After the fight with those bags and that uneven lake floor I was expecting a lighter challenge at the next "obstacle". WRONG! The absolute most physically taxing and near soul-crushing part of the race came as I reached the Skedco drag, a piece of military equipment used as an emergency stretcher in which an individual can drag a casualty out of a battlefield without the help of others. They had each Skedco loaded with four sandbags (approximately 200 lbs for individual men) and directed us up a technical trail scattered with large rocks, tree roots, and pine cones for over ¾ of a mile before reaching the end of the loop. How to drag this sled was quite the challenge, in which I cycled through three different techniques to keep pulling it along (hands behind the back and leaning forward, hands in front leaning back walking in reverse, and an improvised rowing technique for quick tugs over difficult sections). A fun technical trail led to the most "OCR" part of the course: a low crawl uphill to the top of a dam, then a section of man-made obstacles along the top which they referred to as the "assault" (inverted wall, three hurdles 2-ft high carrying a 25 lb sandbag, a balance beam, and a through wall). Checking my GPS watch I knew I was getting close to the end at this point and continued on the trail trying to anticipate the next task, only with the knowledge that there was still an obstacle in which a shirt was recommended. It made sense when I finally popped out of a trail head and saw the line of camouflage ruck sacks next to buckets with water.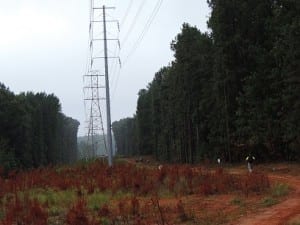 The final official task of the race had you strap the 50 lb ruck on to your back, then pick up two 5-gallon buckets each with about two gallons of water in them, and haul it all on yet another ¾ mile (at least) loop around. The course finally hit the home stretch, letting me really get a stride going to run along some beautiful lakeside scenery, including across a 50 yard wooden bridge, before finally getting one last turn from the trail leading straight down into the lake for a 50 yard swim/wade right up to the finish line. My watch had the end distance at 8.92 miles (take away my extra wandering time and it would be safe to say a full 8.5).
Talking with Mark Ballas along with Rod Cruce, Chief Operator of Special Ops Series, I learned how they strategize to create their courses. They use their own personal experiences to create the "obstacles" (Mark prefers calling them "mini events") and really want to ensure that not only is there a good mix of work for a full body workout, but critical thinking and problem solving are consistently tested during the race. They also keep a wide arsenal of "mini events" so don't be surprised if you don't see any of the listed tasks from above at their next event in Richmond, Virginia. One of their biggest challenges they face is making sure that it is a course that will test the will of even elite racers, while still making the finish attainable for the normal weekend warrior.
This isn't a fancy spectacle of an event.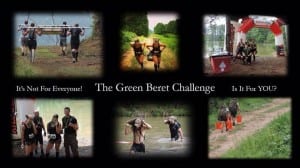 There isn't a post-race festival with music and a beer tent (state park = no alcohol), and no awards ceremony. What you walk away with from this event, besides a really cool medal and t-shirt, is pride. Pride in knowing you kept going, didn't give up, and made it to the finish, no matter how many hours it took (3-4+ hrs for the majority of racers). You don't need everything on their packing list, but make sure to bring a hydration source and at least a small amount of nutrition or else you are going to really struggle. I'm absolutely keeping the Special Ops Series Race Schedule on my calendar for future events!
4 out of 5 stars overall, 5 out of 5 for the course itself
—–Devin Caster—–
Did you do the Georgia Special Ops Series Green Beret Challenge? Share your own rating & review about the event today!