The only easy day was yesterday, this is the Navy SEAL's motto/creed and this is the basis of how I now live my life. I won't bore you too much but I do want to give some background to my past.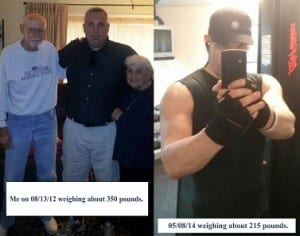 About fourteen years ago while working in law enforcement I had an incident and ended up tearing my labrum completely off the bone. To put it in simple words, my shoulder was shot and useless to me. Over the next 2 years I had several surgeries followed by physical therapy and the final diagnosis was my shoulder would probably not get better. At this point the Sheriff's department I worked for filed retirement papers for me and like it or not I was forced to take a disability retirement. The surgeries and forced retirement where not good for me mentally or physically, I spent over 2 years on hardcore pain killers and ballooned to a weight of over 420 pounds. Times were tough and I didn't handle it the best and it was a major part of what caused me to divorce my first wife. During the divorce I spent a lot of time working on myself and body and was able to get my shoulder to a point I could do a normal desk job. I was able to trim down to less than 260 pounds and ended up marrying my second wife pretty quickly. Prior to my second marriage I had to have yet another surgery on the shoulder but only to clean it up. While married to wife # 2 my other shoulder developed extreme pain (due to being over used for years) and required two surgeries to get it manageable. I stayed married to wife # 2 for about 8 years but it was always a struggle and we separated several times before we finally ended up in divorce proceedings. While my first divorce was not a friendly one the second one wasn't nasty at all, we even shared a lawyer. To sum this part of my story up, I ended up in a small two bedroom apartment and alone most of the time and ended up ballooning to a weight of well over 350 pounds. It was fall of 2012 and I was living a life I hated, I would go to work and then come home and do nothing other than watch TV. I was grossly overweight and extremely depressed and unhappy and I knew I had to make a choice about what I wanted to do with my life. Writing this article only a few days after Robin Williams committed suicide I think it's okay to be completely honest, I sat in my apartment and only could see two logical choices to pick. The one was to just say screw it and end my life or the other was to say screw it and embrace hard work and insane focus and change who I was. When I thought about it that day it was pretty easy from a selfish perspective to decide to call it quits and figure out the easiest way to end things but I have a son (my best friend) from my first marriage (Brandon) and four former step children I played a large part of raising and I just couldn't bear the thought of hurting any of them. So it made my choice a simple one, I decided I was going to embrace hard work and become insanely focused on a life change. I started slow and I took baby steps and I started to see change right away. My son Brandon would come spend every weekend with me and he too was seeing the change in my body and most of all my mind and spirit and he has always been my # 1 supporter and person that made sure I knew someone was proud of me.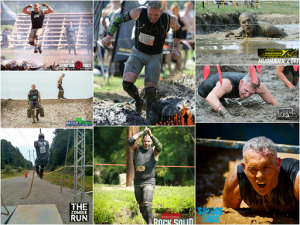 One of the decisions I made when I first started working out was I wanted to run an OCR event or two once I felt ready. So I won't bore you with my 18 months of cardio, weight training and the ups and downs but do know I embraced several sayings and made them the fabric of how I live my new life: "The only easy day was yesterday", "embrace your beast", and "insanely focused".
Fast forward to June 7th of this year, my son and I got up early and we drove to my first scheduled OCR event: Tri-State Spartan Sprint @ Tuxedo NY. We got there early and I was all ready to go for my 9:15 start. My son wasn't running the OCR, he only came for support. I stood stretching with about 5 minutes until start time and for the first time I really took a good look at the mountain and visible obstacles and thought what the heck did I get myself in to? At this point I looked at my son Brandon and said "I think your dad made a big mistake" and he looked at me and said dad you got this.
The DJ did his thing and before I knew it we are off and running. I started out with a really decent sprinting speed and I was passing a fair amount of people. I started thinking yeah I got this I am going to kill this and then boom the grade of the mountain changed for the worse and all of a sudden I am thinking okay this is not going to be a walk in the park. I ran the first mile or so of the course on my own and at some point realized I was running the same pace as a couple. I can't remember which one of us suggested it but we decided we would run the rest of the course as a 3 person team. Ric Maust, Rachel Faith and I ran the rest of the course as a team and helped each other whenever we needed it. We also helped others on the way. I cannot put in words how lucky I was to make friends on the course with such an amazing couple and I am so grateful for meeting them and still being friends with them. Speed wise I didn't do amazing (took 2:16:52) and I didn't get up the darn rope climb (I consider that my nemesis) and also failed at the nylon monkey bars. The only other obstacle I failed was the spear toss but my spear went in and stuck for over 10 seconds and then fell out and the volunteer said that was a miss (I hate that volunteer!). After the race I exchanged information with Ric and Rachel and them my son and I went to his high school graduation party. I felt like a billion dollars being able to hang out at that party with both my x-wife's and my family rocking my Spartan shirt!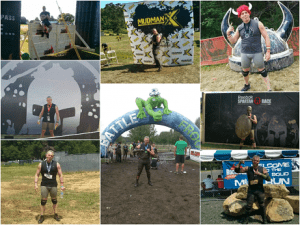 I had already pre-paid for Warrior Dash and was looking forward to do doing that next. After doing the Spartan and talking to some of the Spartan regulars they told me I would have no problems with Warrior Dash. A few days after the Spartan race I get this email from Spartan saying how I should sign up for another Spartan event, my first thought was no way and forget that, I now had it crossed off my list and I didn't want to do that again! Something strange started to happen a few days later, I was missing OCR and I was craving to do another one so at the last moment I signed up for Savage Race in Pennsylvania and my friend Kelly and I drove down so I could run that OCR. I won't go into great details about the course but I again didn't have an amazing finishing time (1:35:12) but yet again I made friends with two people running the course together. Eric Faisetty, Laura Anne Taylor, and I ran the majority of the course as a 3 person team and we helped each other and also several others on the way. This time the only obstacle I failed was the monkey bars. I again exchanged information with them and remain in contact with both. I went home really happy and proud of myself.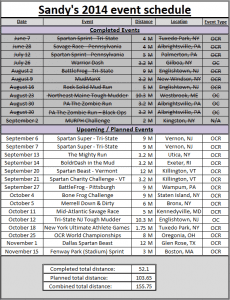 Well now I was hooked and I was looking on MRG to see what I could do next in four states. I decided I wanted to do try another Spartan Sprint so I again at the last moment signed up for the Spartan Sprint in Pennsylvania. This time life would play a cruel game on me, I was cliff jumping at a local water hole a few days before the event and while climbing back up the rocks I felt an odd and painful discomfort in my left leg. I hoped it was nothing and would go away with a good night's sleep but it just got worse and I was two days away from Spartan. I tried everything, massage, Arnica gel, anti-inflammatories, ice, rest and the darn leg was not getting better. But even with the pain I did not want to not run the course so my friend Kelly and I drove to Pennsylvania with the plan that if I was able to run the course I was going to run it. Funny story, we were in the main lodge at Blue Mountain Ski Area and I noticed they had a section closed off with large curtain so I asked someone on staff if it was okay for us to go back to that area for my friend to massage the leg and they said it was fine. So we are behind this curtain and I figured it's okay to take my shorts down and let her massage the leg with my underwear (superman) exposed. Of course as soon as we start doing this some kid comes down the stairs to see me laying on my stomach with superman underwear on and a woman giving me a massage. The leg/hip was really hurting but I was determined to start and finish the course. We get up to the starting gate and I am getting as mentally ready as I can with about five minutes to go and I look up at the mountain and surveyed the view-able obstacles and I started thinking how am I going to do this. All I heard in my head was embrace your beast the only easy day was yesterday. I must have had a pretty insane/intense look on my face because Kelly looked at me and said one of two things are going to happen today: you will either finish the course or be taken off the mountain in a stretcher and ambulance.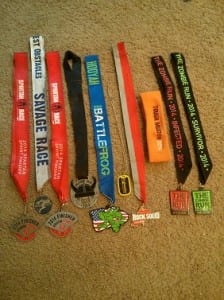 The DJ then says it's time to rock and roll and boom I was off. It wasn't easy and I was never able to run at full speed but I completed the whole course (in 2:58:02) and the only obstacle I didn't complete (fell in the water) was the darn nylon monkey bars again! I was so proud of myself and my choices I made less than two years ago and I was now 9000000% hooked to OCR events. I went on to run the Warrior Dash in NY on 07/26/14 and then the very next weekend I did BattleFrog 15K in NJ and the next weekend I did MudManX in NY and this coming weekend I am doing Rock Solid Mud Run in NJ. The leg/hip is still messed up as I have bursitis in it and without rest it won't go away but I am having to good a time loving my new life at 45 and I won't stop anytime soon this year. I am going to be doing the NJ super and the Vermont Beast and have already pre-paid for an additional five more OCR events this year. I also know due to all my shoulder surgeries things like the rope climbs and monkey bars are my nemesis so I built a set of monkey bars in my apartment (yes I know I probably won't get my deposit back when I leave and I am okay with that).
I hope my being completely honest can help even just one person that reads this, I truly know what it feels like to feel hopeless and helpless and not want to live life that way anymore but I promise you its better spend every day killing yourself a little than to call it quits and remember… The only easy day was yesterday, embrace your beast and always be insanely focused.