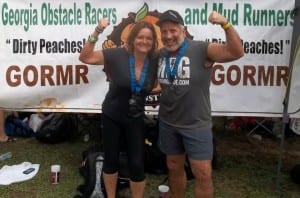 The Bi-annual running of Savage Race Georgia is rapidly becoming a tradition for OCR athletes who want to run in a truly fun and challenging race that seems to test all facets of a person's athletic abilities and mental toughness. This past race did not disappoint anyone who was lucky enough to be there.
Having a permanent race venue where events can be staged in both the Spring and the Fall every year is a nice way to run a race series, and Savage does a good job of mixing things up from race to race so that there always seem to be changes in the course, the obstacles, and even the festival area so even though we were just there a little over 5 months ago, there was no "boredom" factor since things were changed around well.
Saturday's temperatures promised to be in the low 80's, and there was a slight amount of rain at the very beginning, but nothing like the muddy mess and constant rain of the last race. Footing out on the trails was vastly improved and it was a nice day to be running in the woods and through the fields with your friends. There were 3 water stations set up on the course and hydration packs weren't necessary for most racers.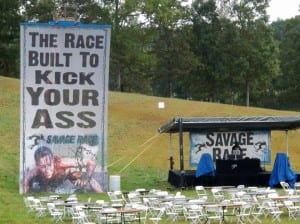 Parking and check in is really very easy and quick at this venue, and your cars are parked close enough that you can forego bag check if you wanted to. People are also allowed to bring pop up tents into the venue which is a really great thing for Teams and families who want to make a day out of it and have a central gathering space throughout the day.
The volunteers were given an option for a limited number of them to race early and work later which is also an improvement over the past events where all running volunteers had to run the last heat of the day, and this left very few volunteers on the course to help them when they were running.
The Competitive Heat stepped off at 9am under cloudy skies and slight rain, but their spirits weren't dampened one bit. The announcer did a great job of getting everyone in the starting corral whipped into a frenzy, and most of the racers had their eyes on trying to win the fantastic Savage Battle Axes for the first place Men's and Women's Champions, or larger medals for the Age Group podium winners.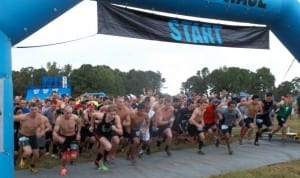 The course is laid out in the woods and fields of a horse park, so there are some pretty steep hills, beautiful views, and the wonderful odors involved with being out in nature and having the mud you're crawling through reeking of horse poop. The race is listed as a 10k (6.2 miles) and my GPS had it at just under 6.5 miles, so the course is pretty well laid out as advertised.
The obstacles at Savage are well built and very inventive. There are a lot of the same obstacles that are offered at other races, but there are also signature obstacles that set this race apart because there is such nice mixture of obstacles that are seen at other races. And Savage has a slightly demented sense of humor too which you realize once you hear the names they've given some of the obstacles.
Fresh out of the starting gate you run about a quarter of a mile, just long enough to warm up, then you hit "Shriveled Richard". An ice bath with a wall at the mid-point so that you have to get fully submerged. If you're not concentrating on deep breathing it's very easy to panic and literally have your breath taken away. Water temperatures in the 30's any time of the year can be a challenge.
Savage changed the course a bit here and instead of running off through the woods and the hills they had us go to the right and head straight to the second obstacle, "Colon Blow 5000". Stinky horse poop mud to crawl through before inserting yourself into a fairly steep sewer pipe that was a tight, dark, and airless tube that you struggled upwards through like a gerbil in a habitrail, then another pipe that slid you down back into more mud under barbed wire. People with breathing and/or claustrophobia problems might need to consider burpee'ing out of this one. Putting this obstacle so close to the beginning before the pack has had a chance to spread out caused pretty substantial bottlenecks here too, especially in the Open heats. It might be worth reconsidering having this obstacle so soon in the race.
Then you ran around and hit "Big Ass Cargo Net", "Blazed" (the fire jump), "Mud n Guts" (barbed wire crawl), "Missionary Impossible" (uphill cargo net on your back under the net on wet plastic), "Low Crawl" (another barbed wire crawl but uphill on grass), then there no longer was the missing "Tazed" which used to be a Savage Staple Obstacle. While many people lament on Tazed being removed from Savage, there are many more who are glad that they no longer have to crawl through an electric shock obstacle.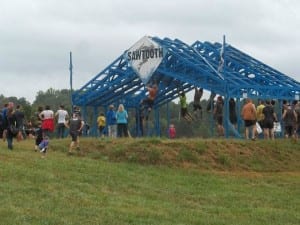 After a little more trail running came "Sawtooth". This monkey bar obstacle goes up, down, back up, and back down again, with a substantial drop into the water at some points. The Failure rate on this obstacle is pretty high, and there's always the possibility of people falling and landing on the folks who are already in the water. But Savage does a great job of having medics, lifeguards, and volunteers helping out on this so no one gets hurt. The only things I saw here were hurt feelings from failure.
There were some "Mud Walls" to negotiate, then "Kiss My Walls". A very challenging set of traverse walls that are virtually impossible for short people to negotiate because the upper and lower blocks are so far apart. Even in the open heats where we tried to help one another, failure on these was pretty high.
Then if failing on the walls didn't feel so bad, you immediately came up on "Davy Jones Locker". If you can't swim, don't do this. If you can, never pass this. Taking the leap off a platform into deep water is a truly thrilling thing to do, especially if you have a fear of heights. Plenty of folks will volunteer to jump with you, and there are once again a good number of volunteers, medics, lifeguards, and divers to rescue you. Completing this obstacle is practically a Rite of Passage for some folks who've never been able to muster up this kind of courage before.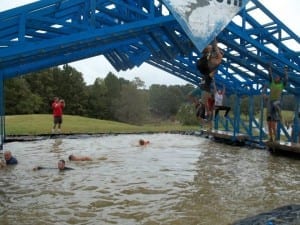 The balance beam obstacle, "Nutt Smasher" is just that because the beams are not only narrow, but they're warped and wobbly. This is a tough one over water.
The course took runners through previously unexplored fields and up and down some pretty tough hills. There were more obstacles that involved crawling and climbing and general tests of your total body strength. "Pipe Dream" is a really good obstacle that has you on one long pipe across water sort of like monkey bars.
Some of the walls like the "96 inch Stiffie" and the Slippery Incline Wall required assistance for a lot of people, but the log carry wasn't very challenging because the 4×4's were so light. People added to the challenge by carrying multiple logs. 4, 5, even 6 – 4x4s can be harder when they become cumbersome to carry.
The end of the course holds "Colossus", pretty much Savage's signature obstacle. It's a 25' quarter pipe with ropes that is very challenging and fun to do. Even if it required 4 strong backs and arms from people waiting at the top to lift you up over the edge, you feel like you accomplished something remarkable. A short climb up put you at the top of a long and fun water slide that does a great job of cleaning you up for your Finish Line photos.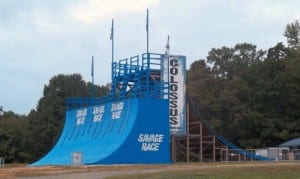 After crossing the finish line volunteers hung a redesigned medal over your neck and you immediately collected your finisher's shirt and a bottle of water. The shower and clean off area was adequate, and it was easy to get out of your dirty wet clothes and into something drier and more comfortable.
The Post-race free beer was from Blue Moon and it even came in a collectible plastic cup. This is inventive and a good way for the beer sponsor to further their advertising. There was a good variety of food trucks available and a DJ that played good music throughout the day. Many folks stuck around for hours after they ran and just hung out with their friends.
Overall this is a very good race and I would recommend Savage Race for everyone who loves OCRs and wants a top quality challenge.
5 out of 5 stars
—–Tony Ferrante—–
Did you do the Georgia Fall Savage Race? Share your own rating & review about the event today!