Race Recap – Tough Mudder North Carolina
Foil Farms – Mt. Pleasant, NC
Sunday, October 26, 2014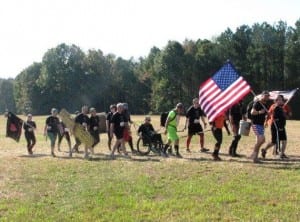 The Tough Mudder in North Carolina was a 2 day Event and I was pleased to be able to race on Sunday. Saturday's Event was the most heavily populated and went the entire day, while Sunday's held fewer runners so the day was much shorter for everyone involved with the race. But there was no atmosphere of a "let down" or "hurry up so we can go home". Like the people at Disney who are committed to making every day magical for their customers, Tough Mudder makes sure that you have an incredible race experience no matter what day or what wave you run.
I'm going to supply an overall Race Recap of what Tough Mudder has to offer to a racer, then I'm going to add my personal story about my race experience.
Sunday was a glorious and sunny day with mild temperatures. The sun rose over the beautiful farm and showed the racers some of the closer obstacles, helping to build the excitement as you walked up to register. Parking was close and it was a comfortable stroll to the festival area. Checking in and registration was a breeze and there were plenty of activities to get you ready for racing. A warm up zone where you were led through organized exercises was rather fun, and the laughter became infectious.
All of the staff and volunteers were extremely helpful and as you worked your way to the starting corral the announcer began to pump you up for a teamwork style run through a tough obstacle course where you were responsible for the people running with you, not competing against them.
Once you started running through the fields it was actually pretty enough to look around and enjoy the scenery. If you have the chance to enjoy the sensation of being out there and running in nature with your friends you need to realize the blessings that you have.
The course was laid out to be 10.2 miles with an additional ½ mile or so of extra added obstacles for "Legionnaires" – folks who have run multiple Tough Mudders. It's longer than a 5 or 10k, but doesn't feel impossible to even a casual runner like myself. Legionnaires also have their accomplishments set up for all to see by the provision of multicolored headbands that they wear while racing, each color signifying a different level of Tough Mudders finished.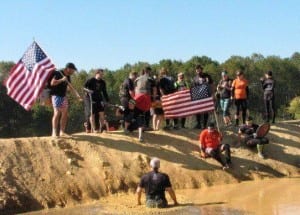 The Tough Mudder Obstacles are well built and sturdy. There is no fear of collapse when you're on top of one of their walls. There are many obstacles that echo similar ones at other races like the muddy barbed wire crawl, an ice bath, a tall plunge into water, and wooden walls. Others have slight twists that make them unique. A vertical rope climb up a wall with slats to help you with your footing, Funky Monkey is both an up and down set of monkey bars with added lanes for rings and pipes. Everest is a quarter pipe obstacle with no ropes. Extremely agile people try this solo, the rest of us rely on help once we've run as far up as we can then willing helpers get you the rest of the way up to the platform.
I particularly liked 2 different variations of angled sewer pipes. One had a rope inside that you could climb for assistance. As someone who struggles with "pure" rope climbs I liked being able to assist myself with my legs in the pipe. I plan to add something like this at my home training grounds. Another cool one was a downward pipe that wasn't steep enough or slick enough to just slide down. You had to scoot through using your legs and your core strength. It was a pretty cool workout.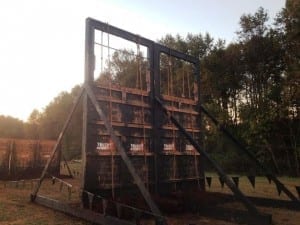 The Mud Mile is a series of rolling mud hills with stretches of thick mud trenches between them. Quite a physical challenge as you're nearing the end of the course, but awesome to complete.
The final obstacle is the Electroshock Therapy obstacle where you run through mud, over hay bales and pipes, all the while trying to avoid being shocked by the wires hanging down from above. The faster someone runs, the greater the chances are that they will get shocked and go tumbling head over heels into the mud and hay and pipes. This is always a crowd pleaser.
When you crossed the Finish Line you were given your coveted headband and a token to redeem for your very cool Tough Mudder dri-fit finisher's t-shirt, along with a cold Dos Equis Beer. There was good food and merchandise available, and the water pressure at the community hose off area was very good. It was easy to get adequately clean to change into dry clothes and either hang out in the festival or drive off without worrying about ruining your car's upholstery.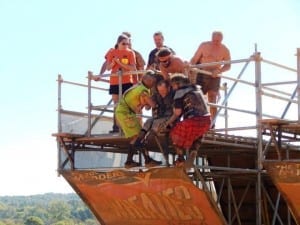 This Tough Mudder Event was highly enjoyable and I would recommend it to anyone wanting to get out there and try it.
My personal story of the race involves being blessed to run with some amazing Adaptive Athletes and the Teams that support them in their quest to get out there and get dirty and experience life to its fullest. More Heart Than Scars is a 501(c)(3) Charity that works with anyone who has challenges in their life. Whether you have physical, emotional, or mental scars they do not define you. It is your Heart, and courage, and determination that defines you as a person. For this race, More Heart Than Scars teamed with The Dirtbags and Team Chaos to run with Justin Falls, a beautiful young man who races in a wheelchair because he was injured in a fall years ago. We were a group that included a disabled veteran who crutched the entire race, a man with partial amputations of his hands, older folks who have lost a lot of weight, and others who want to make sure that they take advantage of everything life has to offer.
Tough Mudder's Staff, Volunteers, and other racers bent over backwards to help us achieve our goal of crossing that Finish Line as a Team.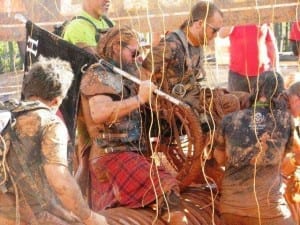 "If you want to go fast, go alone. If you want to go far, go together". We hold that as a motto and that's how we completed this event. Justin got to go through the mud under the barbed wire, over the walls, through the pipes, into the ice bath at "Arctic Enema", and "Walked the Plank" with a 15 foot drop into the water. Our people confronted their fears by doing these obstacles too, and there were tears of joy and gratitude as some leapt into space to hit that water. We helped one another get up Everest and the pictures from the top with us muddy and tired while holding a wheelchair and crutches aloft toward the heavens are priceless beyond compare.
We ran slow. We took a lot of time. We were afraid that we'd miss the cutoff and be removed from the course, but the folks from Tough Mudder assured us that they were there with us until the triumphant end. As we worked our way toward Electroshock Therapy we were dumbfounded to see a vast array of Staff people, volunteers, and fellow racers who hung around and waited on us so that they could cheer us on and encourage us as we crossed that Finish Line. It was a beautiful and moving experience.
I involve myself in these types of journeys because everyone knows someone who suffers from some type of scarring in their life. Most people do. Most people have limitations. To do something remarkable like this hopefully inspires someone to get off the couch, or put down that drink, or start eating better, or seek out counseling, or whatever it takes to regain control over your life and realize that we're all in this thing called Life together and folks are out there who really care and want to help in any way.
5 out of 5 stars
By Tony Ferrante
Did you do the Charlotte North Carolina Tough Mudder? Share your own rating & review about the event today!