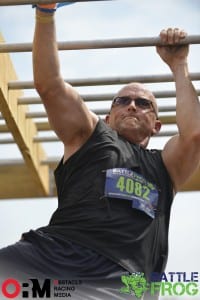 I've never done things the way other people do them. I was never one to follow the beaten path. I never did things in the order that other people do them, that's just not me. After graduating college and starting my career in business, I then decided to enlist in the Army at the age of 25. My family thought I was nuts, but I did it. Throughout basic training, which in general I hated, I fell in love with the confidence courses and the obstacle courses. While enduring all of the other training, I looked forward to the next thing we would get to climb, crawl under, or run through.
Fast forward almost a decade and I got the news that the Army wanted me to be a Drill Sergeant. With mixed emotions I took on the assignment and for the better part of the next three years I got to teach soldiers in training how to conquer those very same obstacles I fell in love with back when I was a raw recruit on the fields of Fort Jackson, SC. I had come full circle.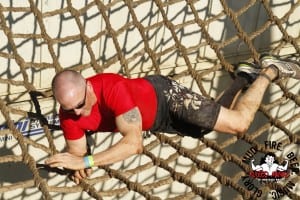 When it was time for me to leave the Army in 2004, a church group I belonged to at the time decided to try the Marine Corps Mud Run and asked me to be a part of it. Even though I went into the race injured, I still loved diving under tanks, climbing the ropes, and swimming under floating bridges on my way to the finish line. Although I didn't know it at the time, my OCR journey had begun.
With all that said, I was really never a "runner". When I got out of the Army in early 2005, I swore I would never run again. Fast forward not even a year later and I'd gone from 6'1" 205lbs to almost 250lbs. It was time to start running again. It took me almost another year to lose the weight I had gained, but I got back down to and continue to maintain my "Army weight". Over the next several years I competed in too many road and trail 5k's to count, a few 10k's, one 15k, and a half marathon. I even finished top 3 in my age group in a couple of them. This time I was running for me, not for Uncle Sam or anyone else, and I was enjoying it. But at some point, running started to get old, and so was I.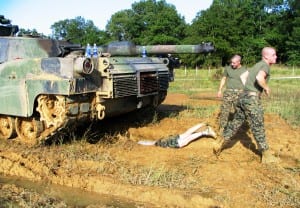 In early 2013 I was driving by a local farm that was hosting something called the Rugged Maniac. I didn't really have a clue what this was at the time but the billboard looked cool and I wanted to find out more. I ended up doing this event with a couple friends that year and we had a blast. We didn't break any world records but we built friendships and I got the OCR bug. Since then I have run a handful of other OCR's and trail races and I did the Rugged Maniac again this year.
Rugged Maniac seems to be my catalyst for all things to come in OCR. Since doing the race for the second year in a row this past March I have been more or less OCR addicted. My wife thinks I'm nuts and she has been surreptitiously taking pictures of me as I weed whack the lawn while wearing a 50 pound backpack full of sand, treating an old swing set like a traverse wall without foot holds, or deciding to go for a run in a torrential downpour. Every workout is geared toward the next OCR. Gone are the days when I go out for a run or simply go to the gym. Almost every run has burpees involved. I eagerly await each Spartan 30 day challenge. I now have a finger board designed for rock climbing mounted above a doorway in my daughter's playroom upstairs.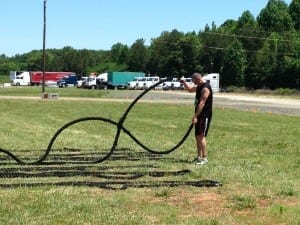 Since Maniac '14 I have been competing in "training events" like The Fitathalon Challenge (came in 2nd in my heat) and Battlefrog (came in 5th in my age group) with several more OCR's to come before the ultimate goal of the Spartan Beast in October. I'm doing a Spartan Super in August prior to the Beast but I didn't learn of the Trifecta until all of the Sprints had already come and gone in my area of the country – but that's my 2015 goal, to join the Trifecta Tribe.
OCR's are great for the challenge, the camaraderie, the team building, and the pure fun of climbing, crawling, and getting dirty. But for me it has evolved to more than that, OCR is a lifestyle and OCR is about family. At first my family thought it was a phase I was going through. Then it was "that's my crazy Daddy" out there carrying a sandbag down the street. Now we watch American Ninja Warrior together as a family and my 9 year old daughter asks me if I am going to try out for next season (highly unlikely, although flattering). Now my wife is joining me for a fun Warrior Dash while we vacation in New York in July. Now my daughter occasionally does burpees and bear crawls with me in our back yard and she is doing the kids Spartan Race just before I conquer the Beast in October. My dream is that once my daughter is old enough, we can all do OCR's together as a family.
My name is Brian Tallmadge, and I am OCR.