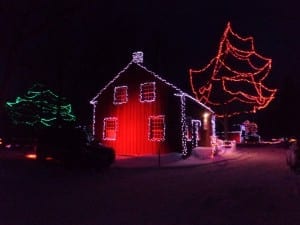 As soon as the first snowflake falls, I begin to look for activities that will last me through the tough winter training months. I was fortunate enough to have heard of the Dion Snowshoe Race Series and thought that our group would participate in the recent Ignite the Night race at Upper Canada Village. It was advertised as a 5K or 10K route at night through the festive lights of the historic village. We packed up the car and made the 90 minute trek east.
Location
Upper Canada Village is located in Morrisburg, Ontario and is easy to get to from Highway 401. We enjoyed the opportunity to see the beautiful Christmas lights that adorned the village and were an added bonus to light our path and keep us on course during the dark and snowy trekking.
Headlamps were mandatory and racers could get warm and change in the main barn while waiting for the start of the event. Many chose to leave theirs bags at the tables to save a seat for groups to gather for the meal after the race.
Registration/Race Kit Pick-up
Racers had the option to register online in advance of the event to save money and the first 75 would receive a free Dion Snowshoe Race Series ceramic mug. The other option was to sign up the day of the race and pay an additional $5.00. The main registration area was a bit chaotic on race day due to the numerous late registrations but the overall process was quick and fairly well implemented.
According to Race Director Gilles Parisien they had been expecting between 70-90 participants and had planned for that number. To his surprise, there were 144 racers registered with 130 of those completing the course. Mr. Parisien noted "that walk ups were the biggest yet for any snowshoe race and became unmanageable for the timing person from an administrative perspective." He said "I had a timing company on hold; however by the time the numbers were confirmed it was too late to book." For a first time event, these numbers are quite impressive and anticipate this positive trend for the remaining events in this series. At previous races buffs were given out to participants in a variety of colors depicting that event.
Race Details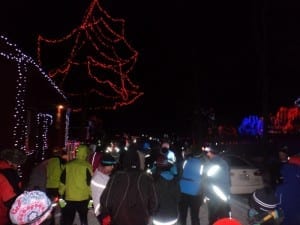 There were a few delays with the start of the race and the children's race took off about 10 minutes later than planned. The adult race was to commence at 6 p.m. but one of the challenges with winter racing is that technology often rebels in the cold weather. With temperatures averaging -20 with the wind chill, the clock was not functioning properly and volunteers were frantically trying to enter in late registrants manually into the system. When I last spoke with Mr. Parisien there were still issues with the overall times and he was working on getting them posted as soon as possible. He mentioned that going forward he would hire a company to monitor the timing to avoid any future delays for racers.
After one false start, and returning back to the building, we were sent on our way with the Elite athletes blazing a trail ahead of us. It was a nice blend of athletes ranging in age and athletic ability.
The route was well marked and had ample flags to guide you along the looped trail. The waterfront section was extremely windy and it made the quiet sections feel warm and comfortable. It was beautiful seeing your crisp breath roll up past your headlamp as the Christmas lights blurred to a distant glow. By the time we were at the 4K point, the 10K leaders began to pass us, and we cheered them on with enthusiasm. It is always quite impressive to see how simple they make it look as they glide past you with a steady breath and pace.
Prizes/Awards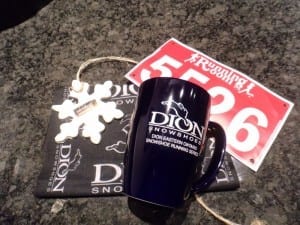 This race had many great door prizes and gave out medals for the following categories:
Top 3 male/female under 40;
Top male/female Masters (over 40)
This 10K race also provided points towards the snowshoe series.
The medals received by the top performers were custom made by Upper Canada Village blacksmiths and were appreciated by the winners for their creativity. One winner even tweeted out her medal to her followers with pride.
Vendors/Entertainment etc…
Of course there were discount opportunities to purchase Dion snowshoes at this location and there were many great sponsors including: Bula Headwear, Beyond 21 and Spafford Health and Adventures. There was also an interesting table where the 'Freeze the Industry" campaign had set up and those willing to sign the petition to stop flavoured tobacco would receive a gift of their choice.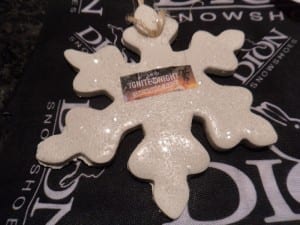 Volunteers
10 volunteers helped out at this event, and as with many events, more volunteers could have been used at some of the more distant points of the course.
Communications
Overall this race had good communications via email, Facebook and Twitter. The website was easy to navigate and correspondence was responded to in a reasonable amount of time.
To summarize, this was a fun winter outing and provided a family friendly environment for snowshoe enthusiast.
Thank you to Gilles, Derrick and their volunteers for their hard work putting together this event!
---
Have you tried a snowshoe race?
What did you think? 
Share what activities you are up to in the winter when there are no OCR's in your area…