Fuego y Agua is just days away with the start of the race Wednesday afternoon. While we might not know what is in store for the racers we can look at some of the top competitors in each of the three races. Today we focus on the men's race and a few of the top men. While nothing is certain in a Survival Run these men have proved in the past that they are strong, tough, and mentally ready to take on this year's Survival Run.
Johnson Cruz
Johnson Cruz, 28, is coming to FYA Survival Run for the third year in a row. Cruz is the only person to have two Survival Run finishes on his resume. He won in 2013, and finished 3rd in 2014. Cruz is a native of the island of Ometepe where the race is held and trains on the trails, trees and volcanos. He will rely once again on his knowledge of the island and the environment as he preps for this years race.  Cruz is right at home in the environment and is primed to take on a third installment of FYA Survival Run. He is easily the local favorite for most on the island.
Chris Shanks
Chris Shanks, 38, is another local taking on Survival Run for the second year in a row. Shanks is the Agricultural Director for Project Bona Fide, a 43-acre educational farm on Isla de Ometepe. Project Bona Fide's goal is to promote food sovereignty locally and regionally. Shanks also comes into the race this year with a home field advantage, living and training on the island. In 2014, Shanks was part of the lead pack for much of the race but in the end fell short of finishing. Right after the race was over in 2014, Shanks already had plans for this years race. He is trained, prepped and ready to finish what he started in 2014.
Shane McKay
Shane McKay, 54, from Canada is taking on FYA Survival Run for the third time. He is a veteran to the Survival Run and Hunter Gatherer race series. He has conquered the Hunter Gatherer race series but has yet to make it to the end of FYA. This year he amped up his training, even taking a trip to Ometepe a few months ago for some additional training on the island. He is primed for a good race and is another competitor to watch.
Scott Smuin
Scott Smuin, 32, is no stranger to Josue Stephens races. He has taken on Hunter Gatherer, run in the Copper Canyons, but is taking on FYA Survival Run for the first time this year. Smuin, has a strong background in ultra trail running as well as  extensive knowledge of primitive skills and wilderness survival. Smuin is head of operations for Luna Sandals but prior to Luna he taught primitive skills and wilderness survival in Utah. He should excel at any obstacles that require the use of primitive tools (like the slingshot they have been told to practice). Smuin's background in survival skills coupled with his ultra running are a great match for Survival Run. We will see if he has what it takes to get through all the island has to offer.
Alexander Nicholas
Alexander Nicholas, 35, has made a name for himself on the Spartan Race circuit as well as featured on CMT's Steve Austin's Broken Skull Challenge. Nicholas is the owner and founder of EPIC Hybrid Training in New York City. He has been on the podium countless times in obstacle races and is no stranger to pushing himself to the limit. For Nicholas, the jungle and volcanos will be a big change from what he is use to dominating but his mental strength are unwavering and should make him a strong competitor in this year's Survival Run.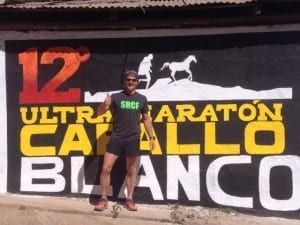 Mark Wheeler
Mark Wheeler, 50, comes into Survival Run from the ultra running world. He is no stranger to running long distances and has serious finishes to his name including Leadville 100. Not only his he a runner but also a CrossFitter who brings his strength and endurance to the island of Ometepe. When we asked race director Josue Stephens about Wheeler his only response was, "a badass dude". Wheeler among others will be attempting the Devil's Double this year which includes finishing the Survival Run on Wednesday-Thursday then running the 100km ultra marathon on Saturday. Wheeler has the running experience and strength to have a good go at this year's Survival Run.
Other men in the race to watch out for are Paco Raptor from Mexico who was the 4th to complete the Survival Run race last year but missed the last time cutoff leaving him with only 3 out of the 4 medals. John Taylor is coming back to Nicaragua for a third go at Survival Run and others will be looking to see just how far they can go. We will watch it all unfold starting on Wednesday. Follow our live updates and feeds from Nicaragua throughout the race on our Exclusive FYA Survival Run Page for the event.