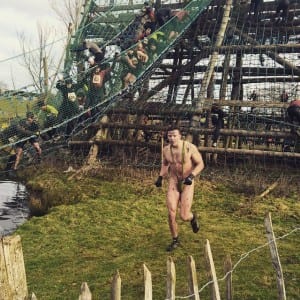 Once I learned about Tough Guy, and it being the first and original obstacle course race ever created, I knew I had to go and do the winter race. I was originally going to stay at a hotel in town, but was invited to stay at Tough Guy HQ and Mr. Mouse's home. I arrived on Thursday to give myself some time to recoup from the travel and time change. From the moment I arrived I was welcomed with open arms into the Mouse family home by both the Tough Guy staff and Mr. Mouse and his entire family. I could see right away that Tough Guy was an entire family business and Mr. Mouse's wife, son and daughter were all very involved.
I was impressed by the enthusiasm everyone had with the event still three days away. Just after arriving, I was introduced to just about everyone and I then was allowed to go walk the Tough Guy course. The first thing that really took me by surprise was the sheer size of some of the obstacles and the amount of water obstacles I would have to enter just in the "Killing Fields" section of the course. I walked the course for about an hour and only saw about 35% of the course.
I was grateful for being allowed to stay with the Mouse family and at Tough Guy HQ, so I tried to help anyway I could. I put myself to work right away with helping get the medals ready for race day. The medals were not like any of the one's I have received in America as this one was brass and no two medals were exactly the same. This only made me more excited to complete the famed course and earn my medal!
Participants arrived a day early to help out and catch up with Mr. Mouse, his family, and staff. I cannot put in words how valuable it was for me to be able to meet and talk with each of these people and learn about the course and how best to deal with the cold water/weather conditions.
The course consisted of thirty five groups of multiple obstacles totaling over three hundred individual tasks and objectives that are designed to break the runner's courage. Talking to Mr. Mouse during my stay it was very clear he created a course that wasn't impossible for just about any level of athletic ability and as well he factored in long lines being created so he didn't put many obstacles that would cause massive delays. The thing that makes Tough Guy one of the hardest obstacle races in the world is a perfect combination of intimidating obstacles, the weather, use of the terrain to break the runners, and most of all having to enter freezing cold water that would break some of the best athletes in the world and cause them to suffer from deadly hypothermia and lose complete control of their fine-tuned racing bodies and motor skills.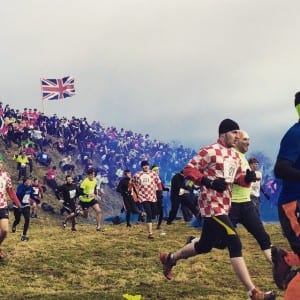 The race starts out and you feel like you are on a battlefield and about to take part in an epic battle. I have raced at the OCR World Championships, the Spartan Vermont World Championships and many other races and the feeling at the start of Tough Guy is nothing like I experienced at any of my previous races. You can feel and sense the history of this epic events past flowing through you and it's like nothing else in the OCR world.
The race starts and you take off running down a hill, racers are full of energy and many running at full speed from the start and the first few minutes of the race have lots of racers bumping into one another trying to get past each other. The first mile of the course is pretty much a trail run before you encounter the first obstacle. The first true challenging obstacle and one that was new for this year was a series of hill crawls under nets (Rabbit Hill). These climbs were a challenge for many as we had been running full speed and now had to stop and actually do something that required using more than just cardio to complete.
The next obstacle that comes up that is a killer is another set of hill climbs (Slalom Fell Running) and this time you have to climb up and down a series of hills that total ten climbs up and ten climbs down. The hills are long and steep and this burns both your cardio and legs the entire time. I was impressed how well the large group of runners worked on this obstacle and the only real delay was on the last hill climb. Immediately after completing the Slalom Fell Running obstacle we came to a net crawl, which I have to admit I enjoyed after the tough hill climbs.
The next obstacle was a trail that had us crawl under nets and then climb over wooden obstacles for what seemed to go on for a while. We were in about knee deep water for a good part of this section and I found it funny how many of the runners were doing everything they could to avoid getting wet. I found this section of the course to work well for me and it allowed me to pass a decent amount of racers as I was crawling under the net sections on all fours and able to move through the nets faster than most others. I enjoyed the chance to also crawl in the knee deep water a few times to test my body and clothing as far as how quickly I would recover from the cold water.
The next obstacle was a large amount of waist deep water/mud (Ghurkha Grand National) trenches to jump in and climb in and out of. In my opinion, this was the first true cold water obstacle challenge of the race. What I noticed was over 90% of the racers took the easy route on this obstacle and just stayed in the trenches and cut through the barricades to finish much faster. Only a handful of us seemed to attack this obstacle the way it was meant to be attacked and climbed in and out of each trench. The combination of energy used to climb in and out of each trench and being in the direct cold wind each time clearly had those very few of us doing it that way using a lot more energy and being exposed to a great deal more cold wind and the potential of hypothermia.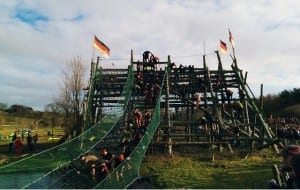 After the long haul through the "Ghurkha Grand National" trenches, it was now time to enter the "Killing Fields" section of the course and the true test of being able to handle the cold water and hypothermia.
The first obstacle you attack in the "Killing Fields" is "The Tiger", this is an imposing and intimidating obstacle. The sides of the obstacle are set up to be an easier and safer climb, but I decided to try the middle, which is the harder/Elite version. I have to admit, I got about half way up the obstacle and I was thinking to myself, this is scary, the distance to each log was far apart and the logs were cold and somewhat frozen which made it hard to hold on to them with your hands and sneaker grip. I took my time and knew my Icebug acceleritas4's sneakers would not let me down. I got the very top of the Tiger and I could see the entire area from the top, which was an amazing view. I noticed the photographer way down on the ground take notice of me, so I gave him a right bicep pose and a smile which got me a thumbs up! I took my time and climbed down, which was much easier than going up!
The next hard core obstacle that I recall was treading through waist deep ice cold water, at this point I started to see the water and cold take its effect on others and you could hear people yelling Marshal often for help. Just in front of me in this water was a very fit twenty year old male who all of a sudden hypothermia took control and he lost all use of his lower body and was going down face first hard and fast. Several of us grabbed on this kid and dragged him out of the water ASAP, yelling for a Marshal to come help. The Marshals were amazing and would come to help each and every time and right away. After dealing with this cold water, it now came time to climb up and down a series of trenches (Wire & Battle Tank Ditches) and then over or under wooden logs. I have to say more than half the runners I saw doing this with me were taking the easy way and just running on the far right side where they didn't have to do the climb and crawl up and down.
I then came to the obstacle called "Behemoth" which is one of the more intimidating looking, physical and mental challenges this course had! You had to deal with several types of climbs and other racers trying to get ahead of you and sometimes pushing you to get by. After some climbing, traversing of ropes you were finally done with this obstacle! We then had to get though a long trail of tires (Tyre Torture) that really were more a mental challenge to stay on your feet and not slip and injure an ankle.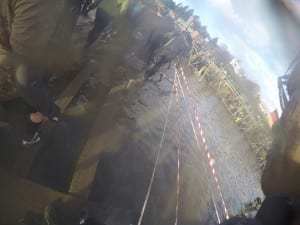 Up next came "Paradise Climb" which was a series of cargo nets to climb and then had me traverse across a rope over a very cold pond. This rope turned out to be a pain; I had two racers cut in front of me to go first and they didn't space them self's that well apart from each other. I waited a little time to give them time to be more than half way across the traverse before I decided to start my traverse. I ended up catching up to them pretty fast, both of them lost control on the ropes and started making it very hard for me to stay on the ropes as well. I ended up just on one rope and traversing myself down the remainder of the way. Note to self: Next time wait for the guy in front of you to be done!
A short time later came the "Underwater Ducks" obstacle which has you in waist deep water for a short time and then you come to an area that requires you to put your head completely under the frigid water to get past several planks. I decided the best way to attack this was taking a big breath and cross all three (pretty sure it was three) sections without coming up for air. I remember exiting the water at this obstacle and thinking I was killing this course when it came to beating the cold and avoiding hypothermia. One of the marshals gave me a strange look as I exited the water, and I later learned the reason for the strange looks was I was the only person that marshal saw all day exit the water with a big smile and looking like I was enjoying myself (lol).
After several more brutally cold obstacles I came to "Titanic Jump", which had me walk a plank and then jump into chest deep water. I took a different approach on this obstacle to everyone else and instead of bolting to the lowest water and being in a very slow line to exit, I stayed in deeper water and used the breast stroke to get across the water and out.
I then came to one last plunge into the water and swam across it with a breaststroke and came to the last true obstacle of the course "The Viagra Electric Slide" which should be called the "The Viagra Electric Climb", after swimming/crossing the water, I had to climb up a hill that had plastic on it and water running down it. The tricky part of this obstacle is that is has electric pulsing strips hanging from above on the climb. Just about everyone I saw climb this obstacle would keep their bodies low to the plastic and use the rope to pull them self-up and try to avoid the electric.  After completing this obstacle, all I had to do was make my way down a small steep drop and then over a few hay bales and the course was complete.
I was feeling so good and the cold and hypothermia were not an issue at all so I went and re-ran the entire killing fields section of the course a second time. Mr. Mouse made me a deal, that if I did the "Killing Fields" section a second time, I would get a second medal.
I think anyone that runs a lot of obstacle courses will come away from reading this article and clearly understand what makes Tough Guy one of the hardest and most mentally challenging OCR's in the world. The course pretty much has nothing that almost any OCR athlete can't complete, but it's when you add all the elements and challenges to one course that you come away with a course that will break almost everyone for one reason or another.
I cannot put it in words how easy the cold water and massive cold winds can cause even the very best athletes in the OCR world to go into major and deadly hypothermia and it is a game ending event. Last year's 2014 Tough Guy champion Charles Franzke did not finish this year's race due to hypothermia and one of America's finest female athletes Stefanie Bishop who has won both the Spartan Winter and Summer DeathRace's was pulled from the course due to severe hypothermia.
Once you have completed/defeated the Tough Guy course you are part of an elite group of men and woman and the pride is something no one can ever take away from you. I suggest anyone that considers them self to be an OCR addict make future plans to come run the Winter Tough Guy race at least once in their life! I would suggest anyone that plans to run Tough Guy in the future give a lot of thought to embracing the cold water and staying away from the cold winds!
I also cannot go without mentioning Jonathan Albon who destroyed the course and competition to win his first Tough Guy, not only did he win the race, but he also stopped about halfway though The Jungle Slalom to fix a fence!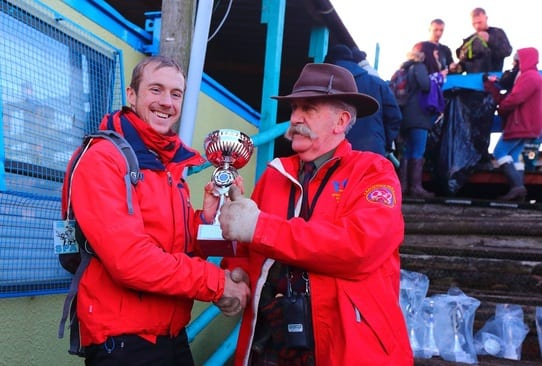 The schwag is a brass medal that is unique to every Tough Guy event and a shirt that is unique to the Tough Guy event it was earned at.
Most people don't know that when Mr. Mouse is not putting on an obstacle course race, his family property is used for a Horse Sanctuary. Mr. Mouse may be internationally known for creating the Tough Guy® Obstacle course, but 38 years ago AKA Billy Wilson, created the very first Horse Sanctuary, as his passion is for Horses selfless contribution to our peaceful satisfactory lives. I would like to ask anyone who can afford it, to please donate to Mr. Mouse's Horse Sanctuary.
I am rating this event on so many levels and it not just being an obstacle course race, but more a mental and physical challenge like nothing else most of us will ever experience. I didn't mention it above, but the second water station ran out of water early on and many of us paid dearly due to the lack of water. Typically I would deduct from the events overall rating for something like that, but with Tough Guy I am convinced it was part of the master plan that Mr. Mouse had as something else for us to overcome and I actually am considering it almost another obstacle. I am giving the event and overall experience of 5 out of 5 stars.
I raced both Saturday and Sunday in England and ended up injuring my lower back really bad, but I would do it all again if I had the chance to change things. I look forward to going back to England for many more future Tough Guy Original races! I have to close this article thanking the entire Mouse family, Mr. Mouse, Mrs. Mouse, his children, and Ingrid, who all where amazing to me for my entire stay at the Mouse home/Tough Guy HQ.
Rating
---
Have you entered onto the hallowed grounds of Tough Guy? Share your experience with us.
---