Most of us in the United States first laid eyes on DryRobe during the OCR World Championships when I saw Lucy Martlew of the UK sporting one around keeping them comfortable and warm in the early morning. It is suffice to say I was a bit jealous of the warmth and comfort it brought her so a few months later when I had a chance to get my hands on my very own for testing I was more than excited.
About Dryrobe:
Dryrobe is a UK based company. Surfer Gideon Bright from North Devon UK, took his 30 years as a surfer and created a cover-up to change in parking lots and other public places. Quickly after the initial designs DryRobe picked up traction with those in the triathlon world and most recently in the obstacle racing world thanks to UK racers like Martlew, Jon Albon and James Appleton all sporting them before and after races.
The design of the Dryrobe features a zip front, soft fleece lined external pockets, large internal storage pocket and MP3 player pocket. It has a waterproof & windproof exterior nylon fabric, lining that dries you, and keeps you warm.  The synthetic lambswool lining helping to pull away water from your skin, which drys you quickly after a muddy race. The Dryrobe is similar in design to what skiers and swimmers have used for years to stay warm between runs or laps but has has an upgrade for us in the outdoor sports industry.
Specs: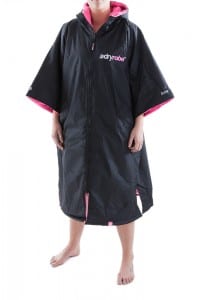 Design:
Waterproof outer shell
Synthetic Lambswool Lining
Full length 2 way reversible YKK® zip
Sealed seams
Internal zip entry iPod, MP3 / wallet pocket
Weight: 1.5 kg or 3.3lbs
Sizes: X-Small (for kids), Small (for kids and short adults), Adult Size (5'1″ – 6'3″), XXL (people over 6 feet
Price: £75.00 or $115.00
In the Field:
My Dryrobe came just in time for me to take it on a recent trip to Vermont for the Shale Hill Polar Bear Challenge. I could not think of a better race or situation to bring and really test out the Dryrobe. As I prepped to pack for my trip the first step was putting the robe in my suitcase. Dryrobe had sent the additional compression sack with the robe (highly recommended addition) and was able to compress down the robe to a smaller size to fit in my bag.
Upon arriving to the east coast, quickly pulled it out of the sack and showed it off to friends and family. It ended up turning into an impromptu blanket for me on the trip when visiting some relatives. A nice additional and unexpected use for the DryRobe. On race day, as I wandered from the house to the start line, the Dryrobe on over my race day kit. I was happy for the extra layer in the 10 degree winter morning. Up until the start of the race I was comfy, warm and moving with ease. At no time did it feel like the Dryrobe was a hinderance, even jokingly told people I planned to race in it.
If I wasn't already smitten with the Dryrobe where it really proved itself was AFTER the race in the changing area.  After the race feeling a bit chilled from the sweat cooling in the cold winter air, I stepped into the gear drop room and changing area. As I pulled the robe over my damp race clothing, I pulled in a change of underwear and layers through the large arm holes and put them into the large inner pocket for easy access. The oversized arm openings gave me room to move around and was able to change in a room with about 15-20 people in it feeling completely comfortable.  A few people didn't even realize I was changing as we chatted about the race and the obstacles. I wore it around for the rest of the day adding an extra layer and warding off those post race chills.
Overall:
Pros: 
Warmth, Comfort, Ease of Use
Cons:
Size – it does take up some space in your bag
If the Brit's hadn't sold me initially on the Dryrobe for sure having it at the Polar Bear Challenge certainly did. No matter the time of year the DryRobe will be in my kit for race day. It is a great addition for the avid racer or outdoor enthusiast. It worked as a blanket on the road, and it offered a private place to change even in the most public of places. For my next one however being 5'4″ I might follow Marlew's suit and go for the small size versus the full adult size as it would be a bit shorter on me. But overall, I love the Dryrobe and give it high marks all around.
---
Have you tried a Dryrobe? 
Share with us your thoughts? 
---