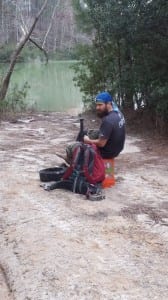 It was only a matter of time; OCR's are just the gateway drug, honestly. You start with a local 5k mud run, and six months later you are planning out a double trifecta. But where do you move onto after doing the Spartan World Championships, or WTM? Extreme Endurance Events are the only logical choice, at least in this writers' warped thought process. We all spend so much time in a community where people are talking about Skulls and "The Suck" and HCL, eventually curiosity is going to pull us in.
When I heard about a new, unknown event in my neck of the woods in the southeast called "The Gauntlet", my attention was immediately drawn. It wasn't a simple decision to sign up by any means, with a rather vague description to the event; and for good reason: the creators didn't want competitors to know what they were getting into. Challenge accepted.
Preparation of the Event:
Upon registering for the event in early January, the mental game already started as they released the packing list over a series of a few emails, adding a couple more items each email. Many items seemed normal for an overnight event, like a headlamp and snap glow sticks; other mandatory items (farm fresh eggs, 1 lb of newspaper, sledgehammer, two oranges) not so much. We were given plenty of advance notice for what we needed, and it was constantly iterated in the emails the check-in time and DON'T BE LATE.
By the time Friday evening rolled around and I showed up with a couple of friends to crew for me at Paradise Offroad Park in Macon, GA, that reason was perfectly clear: the "check-in" time was 5-7 pm, and when I arrived at 6:15 it hit hard for many of us as we saw people already doing burpees and the event director Matthew Waller yelled out "The event already started over an hour ago!" Quickly some of my fellow competitors got all of our gear laid out on the ground per instructions, then waited to answer a secret question to determine how many burpees each person would have to do for the preliminary event.
The maximum number of burpees dealt was 500, and the least 200 (thankfully I was the low guy). After burpees we had to retrieve gender-sized concrete bucket molds and perform a long carry around a large pond and through some woods before getting to start the first official event for scoring purposes.
Event Timeline: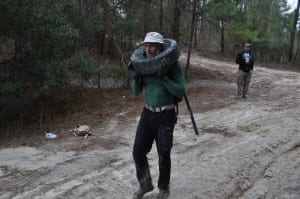 Event 1: Laps on a 1+ mile dirt bike track until midnight. I looked at my watch, 7:30, and went for it. Temperatures quickly dropped to a point where a t-shirt wasn't enough at the pace we were all moving, but we were free to use the basecamp and pit after every lap that we checked back in for. 4-5 hours total.
Eventually time ran out and we were all then sat down for our "Safety Briefing" which included along with the primary rules and instructions to follow the course, a very long, very slow reading of various ailments that can occur from being outdoors. Did I mention it was cold? During the briefing the 14 of us in the event sat in two rows, then were told that each row was a team for the next event.
Event 2: Hike around the big pond, collect a tractor tire for each team (260 and 240 lbs) from the front gates of the property, and carry it back to a specified area and perform laps with the tire around an 1/8 mile mini bike track, then return to base camp. Total time: +/- 3 hrs.
Event 3: Run to a location, do a cycle of "Leg Blasters" (20 of each squats, lunges, jump squats, jump lunges), take all of our gear out into the woods, memorize a quote on a sign, dragging a filled cinderblock a very long distance using a rope from our packing list, returning to our gear with the block, then taking everything and the cinder block back to base camp. At each checkpoint/turn around, another set of "Leg Blasters". Total event time 3-4+ hours. Dawn broke as first competitors finished, and more competitors dropped.
Event 4: Immediately upon returning to the check-in table, we were then handed a test on the "Safety Briefing" we shivered through earlier in the night.
Side event: By 8 am everybody was back in and we were sent off-property for an "unscored, community service" project down the road, which involved 2 hours of hauling heavy rocks from one pile to another after the 45 minute ruck with all of our gear. The men were treated with a gift and we were allowed to unload our 25 lb sand bags into the truck to be taken back to camp while we rucked the rest of our gear back. Total time: 3 hours, 45 minutes.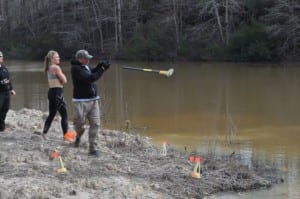 Event 5: All nine competitors remaining in a circle with our sledgehammers (2 people brought mini  3 lb hammers) and all took turns doing 3 minute overhead holds with every hammer, then a 30 second break before moving around the circle. Total time: 30 minutes (27 spent with hammers overhead).
Event 6: Grab  packs, buckets, and hammers, run around the big pond, then wait by a smaller pond until each competitor, in order of arrival, got to go for a swim to collect their sledgehammer as each was tossed in as far as the event director could throw them (the 3 lb hammers were never seen again). If unable to retrieve hammer, a five or ten minute penalty was issued in which you had to stay in the cold water.
Event 7: Grab your remaining gear, go back to basecamp and replenish supplies/packs if inclined, then follow the flags on a long, winding trail hike back 5 miles (distance unknown during). At times the flags led up and down steep climbs off the trails, and went through soupy fields of white mud. At the end of the hike, we were instructed to do 15 burpees, go up a short trail and collect a tire, do 5 burpees with the tire, then pack up everything you brought and return to camp using the same route. At this point instructions were that there was an official time cut off of 10 pm to be back. Total time: 6-9 hours.
(Insider tips: When the option to replenish your gear bag is available before starting an event without description, do it. Running out of food, water, and not having extra layers to put on as the sun dropped was a huge mistake on my part during this event. Also, take your time when told to get a tire; look around for smaller ones than the first tires you see. Carrying a 38 lb tire back with my other gear for 5 miles was killer! Also, don't roll the tire down the trail. Trust me on this.)
The final two competitors made it back to camp with just minutes to spare before the time cutoff, collapsing by the fire for a few minutes before the final challenge….
Event 8: Make a candle using an orange and olive oil! After everybody followed the instructions and had their candle lit, we were tied together and carried our oranges along the 1 mile dirt bike track one final time, giving us all a bit to reflect on all we accomplished over the past 30 hours. When we returned to base camp, the event clock was stopped – 30:10:29. For all but one of us eight finishers (out of 14 that started), this was our first shot at an ultra endurance event. It was a very proud moment for all of us that made it!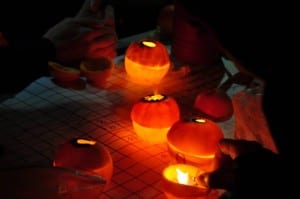 About Event Organizers: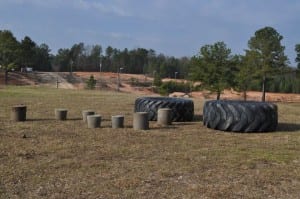 After the event I was able to talk with the Matthew Waller, who along with his partner Tanya Bickham and a handful of others, hosted the event. Waller and Bickham are Certified Spartan SGX coaches that run The Compound, a functional fitness group training gym in Macon. Waller, also known as "Santa", is a 4x Spartan Death Racer with three skulls to his credit, along with dozens of OCR events and a handful of other major endurance events under his belt.
When asked why he decided to put on this event, his response was simple – "Paying it forward. I have done several endurance events and afterwards I gain a new insight within myself. I felt it was a gift I had been given from these events and wanted to share it with others." As far as how the event specifically went, although there were eight events that were completed by the end, he had several other tasks at the ready to be performed if necessary. "The entire event had to be treated like a living creature because anything can happen and when an issue would arise we would just keep going forward. We wanted (the event) between 24 and 30 hours, so we were dead on our goal." Racers who finished completed anywhere from 45-60+ miles by the events' end, with the difference depending primarily on the first scored event, hours worth of laps on the dirt bike track.
Planning for the next Gauntlet is already in the works, and they have assured me that with all of the positive feedback received from the competitors that it will take place. No date has been set, but I highly recommend anyone looking to push farther than they have before to keep The Gauntlet on their radar!