This past weekend Tough Mudder began their new season with new obstacles, sponsors and challenges for participants. Spartan Race set sail on the first obstacle racing cruise/race and also took off just outside of Atlanta.
Tough Mudder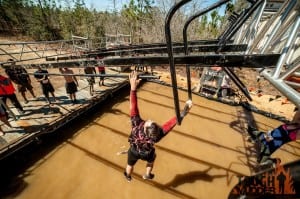 The much anticipated new season of Tough Mudder began this past weekend in the Gulf Coast region of Florida. Tough Mudder, revamped obstacles, brought in new sponsors, and improved the festival area. People took notice over the weekend of the new and positive changes. Many of the obstacles that made their debut at World's Toughest Mudder have now become new staples of the revamped Tough Mudder. Long time obstacle racer, Melissa "Sharkbait" Dugan said,
"Tough Mudder's claims of being "redefined in 2015" was proven this past weekend at the Gulf Coast event, where I earned my 21st headband. They've added more challenging obstacles, like a favorite at 2014 Worlds Toughest Mudder, the King of Swingers, all while emphasizing teamwork and camaraderie with their updated version of the classic Mt. Everest. As usual I made a bunch of new friends all throughout the course and can't wait for the next event!"
Tough Mudder came out with a great event to start the 2015 season. Both new participants and experienced racers all raved about the improvements and updates.
Spartan Race Cruise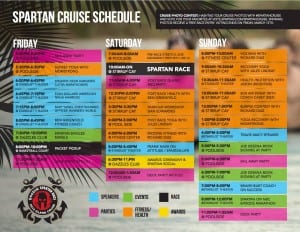 Spartan Race introduced a first in the world of OCR this past weekend, with the Spartan Cruise setting sail for the Bahamas. The cruise was part Spring Break and part race weekend one participant noted. The multi-day event brought together fans and racers from around the globe. Throughout the weekend participants were able to listen to lectures on nutrition, health and training from some of the top minds in sport, as well as race on a private island. Joe De Sena, founder of Spartan Race, led the cruisers on at least one round of burpees as well as Spartan SGX coaches leading workouts throughout the weekend. The race was the highlight with a truly international flair.
For the men the spear throw was the deciding factor in the race. The UK's Jonathon Albon and Ryan Atkins had been leading the race up until that point, Albon made his spear but took a wrong turn in the last kilometer and ended up 4th. Atkins missed his spear opening the door for Isaiah Vidal and Ryan Kent to pass him, placing Atkins in 3rd. In the women's race Deanna Blegg took the win, followed by Cassidy Watton and Karlee Whipple.
Ryan Atkins commented about the experience, "Spartan cruise saw the grouping of top athletes from a wide athletic background. World class parkour, rock climbers, ultra runners and OCR athletes got to show down in a tropical paradise. The race was short and intense, but the friends made, and good times will stick out as a highlight for me."
Race Results:
Elite Men
Elite Women
Name
Team
 
Name
Team
Isaiah Vidal
Spartan Race
Deanna Blegg
Turbo Superfoods/Inov-8
Ryan Kent
Spartan Race/Oral I.V.
Cassidy Watton
Atlas Race
Ryan Atkins
BattleFrog
Karlee Whipple
Epic Training Center
Spartan Race Atlanta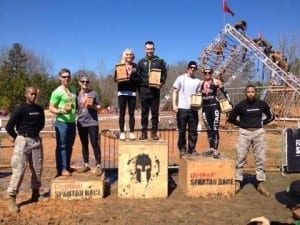 While Spartan Race was setting sail off shore, on the mainland another Spartan Race was also taking place outside of a chilly Atlanta, Georgia. Even with an icy glaze over the water to start the morning athletes battled in harsh conditions. The race is best summed up by Delaine Anderson, Team Leader for Georgia based obstacle race group GORMR,
"I've been doing Spartan Races since the April 29, 2011 GA Sprint. Honestly, this was my favorite Spartan Race of all of the ones I have ever done! Spartan really seemed to "get it" with this race. It was a true obstacle course race with 27 obstacles over 4.5 miles. It was not a trail run with some fun obstacles thrown in; these obstacles were legit, and the distances between were well spaced. This definitely showcased Spartan's mission to make this a recognized sport! I enjoyed seeing some of the new obstacles (the Tarzan swing and the new types of obstacles to climb over), was impressed with the modification of existing obstacles to make them more challenging (the hurdles instead of the 4 ft walls, the steeper slippery wall, the placement of the walls in the first part of the course, the moat after the fire jump at the finish line), and had my fear of heights played by the Thermopylae. Overall, this course was the most challenging Sprint I've ever done, but it was also the most exhilirating! Well done, Spartan!"
On the race side of the event Brian Gowiski and Kate Cramer would take top honors for men and women on Saturday. This is Cramer's second win in a row after the Tampa Sprint a few weeks ago. On Sunday James Norris and Lauren Casavant would take those honors. April Dee, who finished second place on Saturday said, "The temps had effected the race a lot; cold temps, freezing hands and frost on everything made a huge impact on grip factor." The elite racers battled hard to the finish. Brenna Calvert, 3rd female finisher said, "Spartan provided a great challenging sprint course. The freezing weather added a nice element."
Saturday Race Results:
Saturday Elite Men
Saturday Elite Women
Name
Team
 Time
 
Name
Team
 Time
Brian Gowiski
 46:01
Kate Cramer
Spartan Race
 55:29
Yuri Force
 46:43
April Dee
Beet Elite
 59:06
Chris Schapman
Relentless OCR/Vita Coco
 48:38
Brenna Calvert

The Superfood Edge/ The Legion of Stealth

 1:01:03
Saturday Masters Elite Men
Saturday Masters Elite Women
Name
Team
 Time
 
Name
Team
 Time
James Norris
51:25
Robin Fontaine
1:24:59
Andrew Battista
56:29
Jennifer Sanders
1:28:47
Chris McCorkle
57:44
Sunday Race Results:
Sunday Elite Men
 
Sunday Elite Women
Name
Team 
Time
 
Name
Team
Time
James Norris
50:21
Lauren Casavant
 1:05:22
Stephen Vassallo
50:33
Julia Falamas
 1:09:26
David Tate
 51:30
Stephanie Clements
 1:15:02
Sunday Masters Elite Men
Sunday Masters Elite Women
Name
Team
 Time
 
Name
Team
 Time
James Norris
 50:21
Juliana Sproles
Boku
 1:18:57
Kevin Donaghue
 Spartan Race
 55:43
Katy Stryker Greenbauer
 1:50:34
Paul Kitko
 56:12
Where did you race this weekend? Share with us your races in our comments. 
---
Are you a race director and interested in having your results in our Monday Roundup? Email us to find out how to get your results listed.