Warrior Dash started their 2015 season over the past weekend in California and Texas. In Canada, Elite racers Claude Godbout, reigning Spartan Race World Champion, and her BattleFrog teammate Marc-André (Marco) Bédard began their OCR season at Polar Hero in Quebec.
Warrior Dash
Warrior Dash started it's 7th season this past weekend in two locations. The race mostly known for it's after party and turkey legs stepped up the competition this year for those looking to compete. With new obstacles, Warrior Dash offers something for every OCR fan. For those looking to race, once again this year Warrior Dash is holding it's Warrior Dash World Championships. In order to qualify, racers must finish in the top 25 of the first heat of the day. This qualification process brought many top racers out in both California and Texas. Official results are to be released later this week by Warrior Dash and will be included in next week's article.
Polar Hero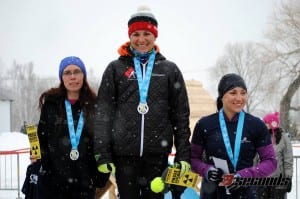 Polar Hero had a chilly and snowy race in Quebec City, Canada over the weekend. The 5k elite race marked the season debut for reigning Spartan Race World Champion Claude Godbout and Marc-André (Marco) Bédard both racing for Team BattleFrog this season. Godbout finished up her Biathlon season racing on the Canadian National Team. Bédard, a former Olympian, spent the winter racing World Cups for Canadian National Team in Biathlon around the world. Both said they were excited to get back to OCR. Godbout commented about the race,
"I couldn't find a better way to kick off my OCR season last Sunday during the Polar Hero race in Quebec City. For me, doing an OCR in the snow is pretty much heaven! I had a blast and I'm super pumped about the upcoming Battlefrog race next weekend in Houston".
The mens race for 2nd and 3rd was tight with less than 10 seconds separating Benjamin Morin Boucher and Sylvain Dion. On the women's side, Geneviève Tardif took 2nd for women followed by Jen Groleau in 3rd.
Race Results:
Elite Men
Elite Women
Name
Team
 Time
 
Name
Team
 Time
Marc-André Bédard
BattleFrog/Platinum Rig
 0:26:38
Claude Godbout
BattleFrog/Platinum Rig
 0:31:41
Benjamin Morin Boucher
3-Seconds/Inov-8 – Platinum Rig
 0:27:22
Geneviève Tardif
3-Seconds/Inov-8
 0:37:08
Sylvain Dion
3-Seconds/Inov-8
 0:27:31
Jen Groleau
Come And Train
 0:43:51