This past weekend the world of OCR was buzzing from coast-to-coast with the relaunch of Atlas Race, the season opener for BattleFrog Race Series as well as the new extreme endurance event The Brutality making it's debut. In case you missed any of the action we have it all here in our recap.
Atlas Race Relaunches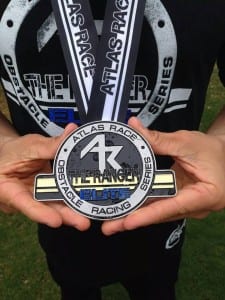 Social media has been flooded with the Atlas Army posts about the much anticipated relaunch of the Atlas Race series. In 2014, after their first race they cancelled events for the rest of the year. While many wrote them off as another casualty to the OCR Graveyard they were quietly seeking new funding and planning their return to the OCR arena. This fall they announced Dwight Freely as an investor. Since then it has been full steam ahead. Atlas Race enlisted many top runners to their pro-team and made waves on social media. Many had doubts about what this past weekend in Temecula, California would look like. Would it be another repeat of last year or would they live up to the hype? One of our founders, Brett Stewart was there watching it all unfold as well as filming for Season 2 of OCR Warrior and told us,
"They get it It's about the sport, with no undue effort on a theme".
Atlas Race unlike other races has no gimmick or theme instead they focus on the sport of OCR and take it seriously, while at the same time want to have fun. Stewart noted, "they took pains to make the course something that would challenge you repeatedly, but also make you (almost) smile. It was great seeing Dwight Freeney on the course supporting Atlas and OCR warrior, and you might see some elite athletes from other sports make cameos on the show."
Race Results:
Saturday Elite Men
Saturday Elite Women
Name
Team
Time
 
Name
Team
Time
Max King
Atlas Race
36:14
Kimber Mattox
Atlas Race
46:45
Hobie Call
Atlas Race
36:45
K.K. Stewart-Paul
Spartan Race
47:42
Cody Moat
Spartan Race
36:52
Alex "Chikorita" De Lego
Independant
48:01
Sunday Elite Men
Sunday Elite Women
Name
Team
Time
 
Name
Team
Time
Max King
Atlas Race
1:09:01
K.K. Stewart-Paul
Spartan Race
1:22:08
John Ricardi
Atlas Race
1:10:40
Alex "Chikorita" De Lego
Independant
1:25:27
Brian Glassey
1:13:59
Lauren Ho
Atlas Race
1:26:22
BattleFrog Season Starts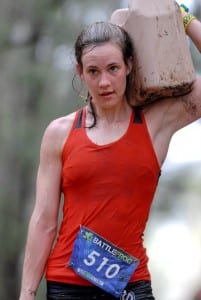 BattleFrog Miami saw a group of strong competitors battling it out through the lake and trails at Amelia Earhart park. The race marked the first of the season for the BattleFrog Series which has received high marks from all who have attended. With lots of prize money on the line this year BattleFrog is drawing some of the best in the sport to compete for their share. We asked BattleFrog Pro-Team member Ryan Atkins about the race,
"I was able to get to the front of the pack after the swim, and ended up running with Brakken for the first 4 miles. After that I accelerated and was able to come in for the win, on the 15k, obstacle heavy, flat course. My fiancé Lindsay Webster was able to take the win for the women's event, making a quiet statement about what I knew she could do all along." 
Below are the results from the elite race on Saturday including the Masters Division.
Race Results: 
Saturday Elite Men
Saturday Elite Women
Name
Team
Time
Name
Team
Time
Ryan Atkins
Team BattleFrog
1:07:21
Lindsay Webster
Independant
1:23:20
Brakken Kraker
Team Apex
1:11:52
Corinna Coffin
Team BattleFrog
1:27:25
Isaiah Vidal
Spartan Race
1:12:58
Angela Cobb
MudRunFun
1:29:24
Elite Masters Men
Elite Masters Women
Name
Time
Name
Time
Glenn Nakamura
1:27:35
Jolene Wilkinson
1:55:51
Joe Rivera
1:29:19
Michelle Delgado
1:59:50
Morgan Wright
1:32:56
Lori Danko
2:46:27
The Brutality Debuts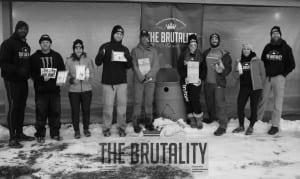 The Brutality is the latest in extreme endurance events to make it's debut to the OCR World. This race is the brain child of three veteran obstacle races; Jason Moss, Heather Moss and Harry Turner. The event lasted for over 12 hours and covered over 22 miles with a variety of physical challenges along the way. Melissa Berke, the 1st place female finisher, stated online after completing the event:
"Wow. What a day. My 1st endurance event at The Brutality. I found myself physically challenged and mentally engaged all day long. So grateful to be able to compete and endure.survive.repeat with new and old friends alike. The Brutality's inaugural event lived up to it name. Jason, Heather, and Harry did one amazing job on this and on my body".
Out of 26 original registrants, 16 brave souls showed up, and only 6 finished within the cutoff time. The top finishers are listed below.
Race Results: 
Men's Top Finishers
Women's Finishers
Name
Team
Name
Team
Mark Jones
Honey Badger CarboPro
Melissa Berke
Mud and Adventure
Brett Rein (tie for 2nd)
Garden of Life
Heather Cammarata
Dirt in Your Skirt
Eryk Romanczak (tie for 2nd)
 Independent
Stephen "Bowtie" Crawford
 Sportsafe Body Markers/FUS
 *Only 2 Women Finished
Other News:
In other sporting news outside of OCR, The Endurance Society held their first snowshoe race in Goshen, Vermont. Participants came from around New England to race in a variety of races and distances. Did you do an obstacle race or mud run this weekend? Share your experience with us.