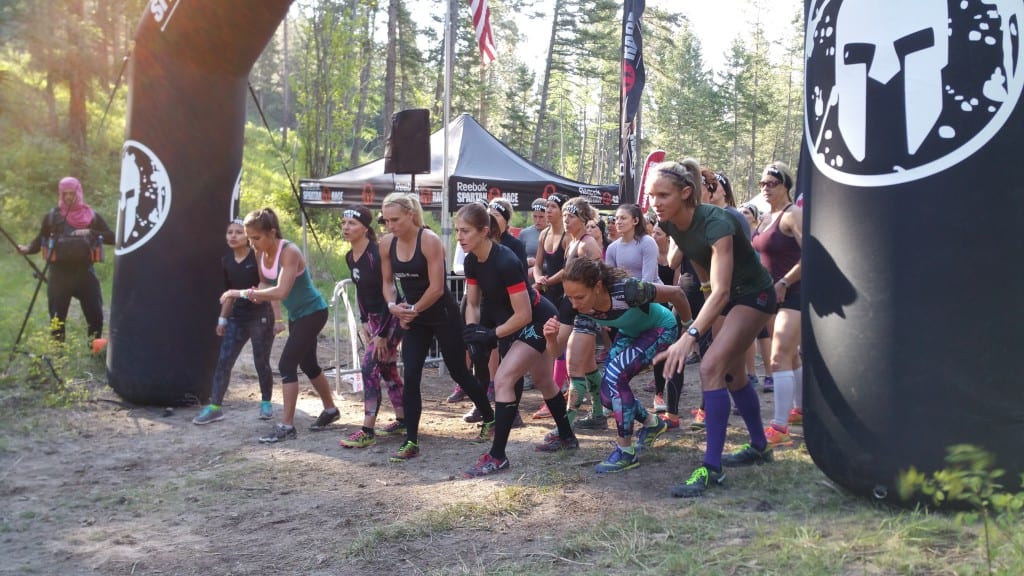 Being my first time in Montana, I was not quite sure what to expect. Needless to say, I was blown away by the natural beauty of Bigfork and the grounds of Averill's Flathead Lake Lodge.  From the snow-capped Rockies to the never-ending Flathead Lake to the pine covered mountains of the course, Mother Nature left me in awe. Spartan picked a great venue to hold both the Beast and Sprint Founders Race.
With such a wonderful setting, it was no wonder Spartan was able to create an all-around good experience. Not to mention the weather, although crisp in the morning, was absolutely perfect this weekend. When searching for the venue on a map, it may have seem remotely located, but it was quite easy to find. The website offered clear instructions on where to park, which was a 10-15 minute car ride down the road.  Near the parking area, a long procession of yellow buses lined the road waiting for all the Spartans to take on Montana. I was impressed by the preparation taken by Spartan.
Festival Area:
Upon being dropped off by the buses, Spartans proceeded to the entrance of the festival area. Tall pine trees, nearby grazing elk and antique fire trucks and carriages spotted the walkway to the registration area. Spartan has done a great job of streamlining their registration process so as not to cause long lines and backups. Once past registration, Spartans proceeded through the awkwardly narrow festival area that was sandwiched between two mountain/hills. I didn't like the long festival area, but given the location, it was laid out as user friendly as possible.
The signature walk-through cargo net bridge was one of the first obstacles you encountered followed by several other popular obstacles for your spectating pleasure.  An impressive Panasonic giant screen TV played live video of Sunday's Sprint, which made the competition that much more exciting. As usual, Spartan offered a huge selection of merchandise, changing tents, "showers" and a bag check.  This venue also offered multiple food trucks and a beer/wine tent. I was particularly happy with the addition of wine as an after-race celebratory drink option. The spectator area focused more on the finish line/final obstacles, with the starting line being located at the far end of the festival area.
Course: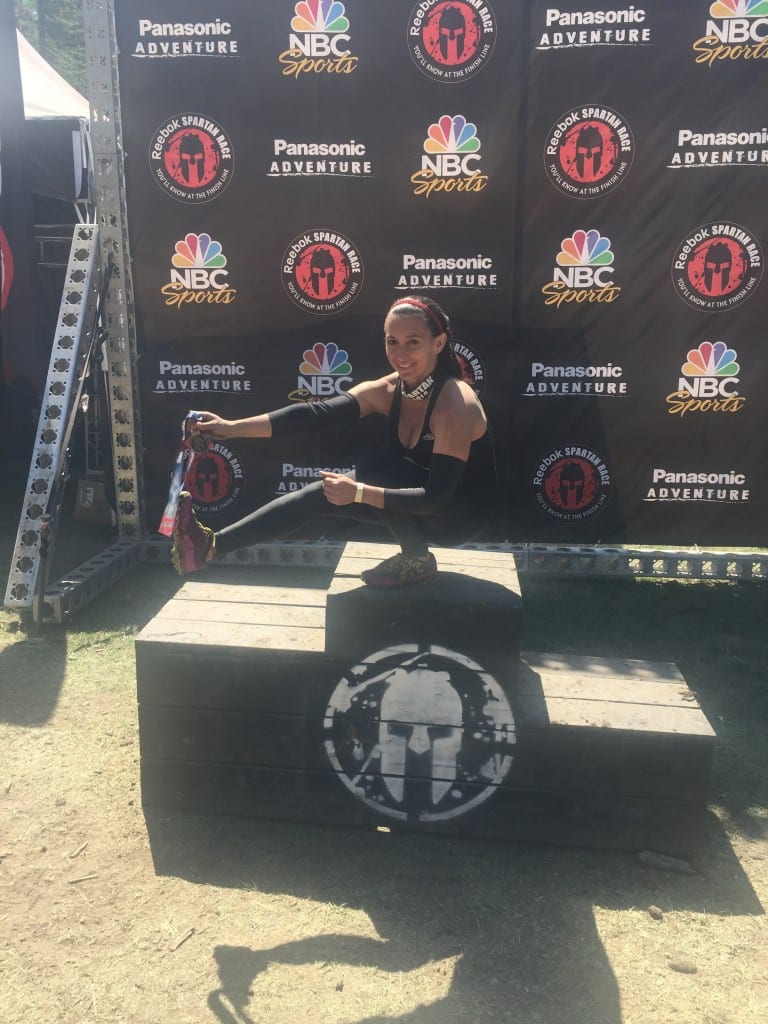 This course was like taking a 5 mile hike through the mountainside of a freshly cut pine forest mixed with small lakes and streams that overlooked breathtaking views of Flathead Lake. I really enjoyed this course, although my knees and back were still screaming from the previous days Beast.  This course winded up and down the mountain sides and took advantage of the variety of terrain that Montana had to offer. 
The course was a good mix of obstacles, uphill/downhill and  technical terrain. Many of the running paths only allowed for single-track racing, but I didn't mind the break in pace on the steep and seemingly endless uphill climbs. On some of the lower portions of the course, there were naturally muddy pits and small lakes that were included as obstacles. For those of you that weren't running for time, I hope you took a minute to stop and look around at the views. One of my favorite was by the A-frame cargo net where the trees opened up and gave a panoramic view of the hillside and Flathead Lake.
I also want to add that the kids course was conveniently designed to zig zag near the festival area making it easy to watch your children run for glory.
Obstacles:
Clif Multi Bar – While I have seen this obstacle at other Spartan races, they seem to change it up a bit. This time it consisted of rings, a horizontal bar and small ropes.  This obstacle, along with the Hercules Hoist, was the main attraction in the spectator area. This was the last major obstacle before jumping the fire and crossing the finish.
Barbed wire low crawl – I'm not sure if Spartan is going for a world record or what, but the barbed wire crawls are getting out of control. Racers were low crawling or rolling for what felt like forever. The upside was that it was in soft, rockless dirt as opposed to deep mud. I know, I know…STFU.
Log carry – There were a couple of log carrying options in the Sprint. There was a normal over the shoulder carry and a double log carry with chain handles. I like how they used Montana's resources.
Atlas Carry – What can I say? Spartans like to lift heavy stuff. I like the Atlas carry because there is no real way to pick it up gracefully.
Overall:
If you have never been to Montana, it would be worth it to make the trip and even extend your stay.  I found this to be an amazing venue and a challenging course. There was a little delay in the heats due to NBC's live filming of the elite heats, but other than that, things went on without a hitch.
I give it a 5 out of 5. 
---
Have you done a Spartan Race? Share and Rate Your Experience with us….