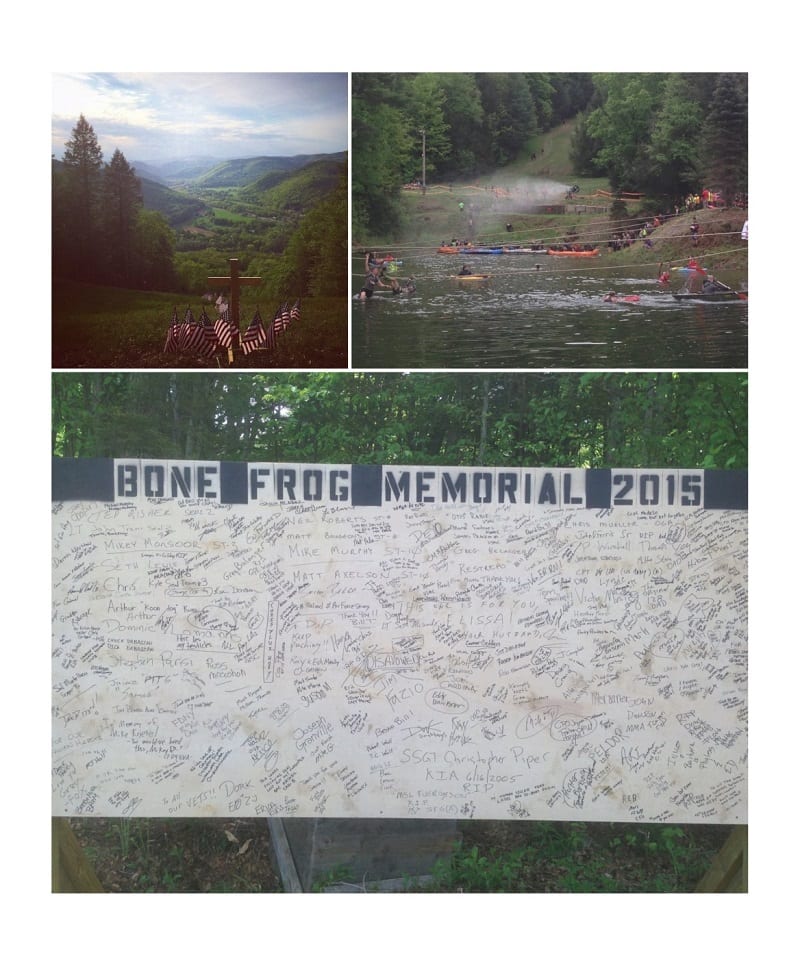 Bone Frog Challenge was one of my most anticipated races on my 2015 race calendar. I drove down to the event which wasn't as far as a drive as I expected from NY. Right away it was easy to tell Bone Frog was going to have a huge turnout and the day would be fun times.
The Course:
The course started out with a trail sprint prior to arriving to obstacle # 1 which was a low mud crawl. I had skipped my warmup and paid for it on the very first obstacle of the course on lap # 1, tweaking my hamstring.
After the first obstacle, the course had a trail run that wasn't very long but still covered some distance.  A short time later, came the obstacle "Re-Supply" which had racers carry a heavy bag of salt. Almost immediately up next was a "Tarzan Swing", which was a challenge, but could have been designed a bit safer.
After a log carry was "Drunken Monkey" which was similar to monkey bars, but more like motorcycle/bicycle handle bars. I then quickly made my way to the "USS Miami Traverse", which was a very challenging rope traverse over a body of deeper water, and my only complaint with this obstacle was the delays. To be fair, they had four rope traverses setup, but still had long delays.
After the traverse, I made my way to "Cliff Hanger" which is one of the more challenging upper body obstacles on the course; unfortunately this obstacle had massive lines. Next up was "Get A Grip", which is a wall crossing, I don't believe this obstacle changed much from the last Bone Frog I did in NY, but I have to point out that one section of the wall was high off the ground and there was nothing laid on the ground to help anyone that fell off from injuring a knee or ankle.
The course had another brief sprint and then came to a cool obstacle called "Grandmas Attic" which started with crossing across almost a jungle gym like structure and then racers crawled into a dark covered crawl. Just after exiting "Grandmas Attic" it was time for "Normandy", but this wasn't the "Normandy" I did at the NY Bone Frog or OCR World Championships, it had no crawl or wire.
"Wall Nut" was another obstacle and then came one of/if not the most cardio bonking obstacle of the course, "Stairway To Valhalla" which was a hike/climb up a mountain that is a double black diamond ski slope and the grade incline (going up) and decline (going down) was steep! This obstacle was breaking racers left and right and I have to take a moment to vent about this one, when I did my second lap of the 5K version of the course I was the only one I saw do this obstacle again, I witnessed a good 15 to 20 racers just skip it. Once at the top of the mountain was a memorial wall, I chose to write the name "Lt. John Connors" who is a Navy SEAL killed on December 19th, 1989 while invading Panama.
After another trail sprint it was time for the next obstacle "Pontoon Playground", which was a set of two large tree logs suspended vertically above the ground with larger car tires placed through the logs so the tires would spin as you tried to climb/get over this obstacle.  After another trail sprint the next obstacle was "Breaking & Entering" and then came another trail run that seemed to go for a while and up next came "Solar Walls" which were two high walls (back to back) with a very minimal slant to them that had a large gauge rope and you climbed up and then down each of them. This part of the course was on the top of the mountain and in a solar panel field and I felt a very surreal feeling while on top of the two obstacle walls.
More trail running brought us to the next obstacle  "I'm up I'm Down", a series of four foot walls to go under and over. It was time for another trail sprint and then came "Filler Up" – a sandbag carry up a hill. As the description of this obstacle suggestion, we had to fill the sand bags up with sand ourselves. The course had another trail run and after a brief distance the next obstacle up was "The Widow Maker" – a rope climb. The rope was pretty high up and my only complaint about this obstacle was there was nothing on the ground to help cushion a racer if they fell from the top of the rope.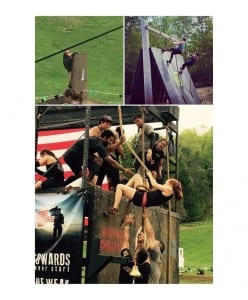 The next section of the course was "Operation Red Wing" which was about 10 obstacles all very close together and then came another cardio killer in "31 Heroes", which was 31 burpees with a wreck bag overhead lift and for each burpee we had to recite the name of one the soldiers killed in Operation Enduring Freedom. The 31 Heroes charity was established to honor the 30 Americans and one working dog killed in action on August 6, 2011.
"Slide For Life" was a climb up a wooden structure and then a traverse down a rope net and rope. Right next to this obstacle was a massive solar fan, which I again had a surreal feeling to be next to it. "Trail Crossing" came after a short trail distance followed by "Brick House" which was a challenging mountain climb carrying either a larger wooden supply box or smaller but heavier military ammo box. After an 8-foot wall was "Rolling Thunder" – a balance log traverse, the log was able to wobble just a little too both the left and right, which made this one a little bit more of a challenge. Almost immediately up next was "Dirty Name" an obstacle taken right off of the Navy SEAL's training course and is a very challenging and intimidating obstacle.
Only a few meters away was "Black OPS" which is one of Bone Frog Challenges signature obstacles, you start by climbing up a wall with a rope and then a monkey bars crossing with the backdrop of the American flag which makes for one of the best OCR photo's in the business. Once across the monkey bars you climb down a wooden ladder and immediately come to "Get Wet" which is a short crawl through water and then last but not least was "Sugar Cookie" which was a sand box we rolled through to get covered head to toe in sand!
After crossing the finish line, the best part of the event race was the opportunity to meet former SEAL team members, which was the highlight of my day. I was covered head to toe with sand and mud but these soldiers didn't care and allowed me to bear hug each one of them. I made sure to thank each and every one of them for their service.
The full version of the course was approximately 10.2 miles long and I also did the Sprint version of the course which was 3.2 miles in distance. The difference in the full versus the Sprint started just after the obstacle "Stairway To Valhalla". The Sprint version of the course at this split had a cargo net climb and its own version of "31 Heroes" and then crossed back to the full version at "Trail Crossing" and both versions of the course stayed the same the remainder of the course.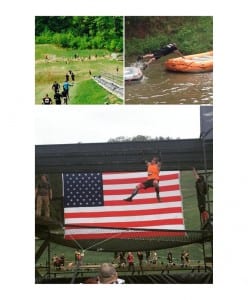 Overall Feelings:
The course and event were awesome, but I have to be honest, based on my pre-race interview and all the Social Media posts I expected more of an obstacle course and less of a trail running course. I personally think the course could have been 9 miles in distance and less spread out to same obstacles and been just as an amazing course and lived up to the expectation I at least had.
The Schwag:
The schwag is the same from last year, but still one of the nicest finisher medals in the OCR business. Both the medal and shirt are unique to the full or Sprint race, which is a nice touch and not even done by some of the bigger OCR's. I am happy to add both the Full and Sprint medals/shirts to my 2015 collection.
Final Thoughts:
This was a big event for Bone Frog Challenge and they really needed to hit a home run with registration/participants, which they clearly did and this is good for Bone Frog Challenge, participants/racers, and the charities Bone Frog Challenge donates to. The future of Bone Frog Challenge is clearly bright and they will continue to get bigger and better and donate more to amazing charities.
I also have to mention the obstacle that was constant the entire course, the mosquitoes from hell! I talked to Brain Carney after the race and spilled the beans, he had purchased them off Craigslist Africa and had them secretly shipped a few days before the event!
I am going to end this article with the part of the event that personally means the most to me; Bone Frog Challenge (from this event alone) was able to donate a total of $10,983 to its three charities (31 Heroes, Navy SEAL Foundation, and One Team One Fight). Its important readers are aware of the massive amount of money Bone Frog Challenge is giving back to help our soldiers. The only easy day was yesterday.
Overall event rating:
The course was great, the event and festival area was fun times and positive energy all day, the only area's for improvement would be to make a few of the higher off the ground obstacles safer. I also have to point out on my second Sprint lap, there were very few volunteers on the course and at the water section of the course I did not see any lifeguards in the water, which being a rescue diver and former trainer of water rescue teams is a major pet peeve of mine. As noted above, the course was pretty amazing and all the obstacles were well built and all high end, but I personally feel it didn't completely live up to the pre-race/Social Media hype. I also personally experienced some obstacle delays and was told by others they did as well, but again to be fair; with just about 2000 racers/participants it's almost impossible to have no obstacle delays. Based on all this information, I am rating the event a 4.7 out of 5 stars.
---
Have you done Bone Frog Challenge? Share and Rate Your Experience with us…