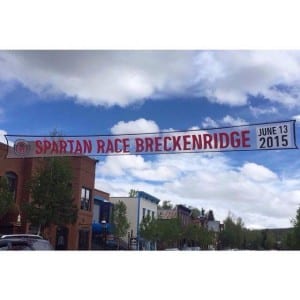 Recently, my wife and I took our first real racecation – a vacation featuring a race that we wanted to run. We've traveled for races before, but almost always to locations that are easily accessible by car, and then we spent a couple of nights before heading home. Las Vegas, Phoenix and Monterey are great examples of this type of close travel, and they tend to be a very fun weekend.
This time was different. We packed up the kids and flew to Denver, CO for the Breckenridge Spartan Beast, and spent over a full week really scoping out the area. We had multiple reasons for doing this; neither of us had been to Colorado before but had always heard great things, and the race was starting at ~9500' above sea level, so we wanted to give our bodies the best chance to acclimate to the altitude before the race.
For accomodations, we were lucky enough to be able to trade our timeshare for a resort in Breckenridge a couple of miles from the starting line, and later discovered that the course for the Beast passed within a couple hundred feet of the pool area and that a few obstacles were very close by.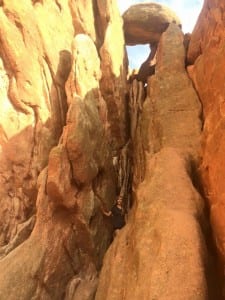 We managed to cram quite a bit of activity into our weeklong vacation; hiking trails above the snowline (in June!), exploring the village shops, restaurants, and local breweries, and taking a couple of road trips to nearby attractions. One day was spent exploring the Manitou Springs area south of Denver, including touring the Cave of the Winds, climbing the infamous Manitou Incline (2000' of elevation gain in about a mile), and wandering around the Garden of the Gods. Another day was spent driving to Rocky Mountain National Park and exploring the Trail Ridge Road with a stop at the continental divide that separates east and west flowing watersheds.
We were also able to volunteer to do packet stuffing for Spartan Race (earning future free race credits), and met up with several friends who had also traveled from a variety of destinations to take on the challenge of Spartan Race's highest venue.
One of the downsides of traveling is that normally if you're going someplace new, you are pretty much alone with your traveling companion(s). You can certainly make new friends along the way, but this isn't always easy for people. On this trip, thanks to social media groups like the Weeple Army and Team SISU, we already knew others who would be in the area at the same time, and it was fantastic to get together over a fine beverage with some of these friends we've made over the last few years who live far enough away to make regular social meetings inconvenient.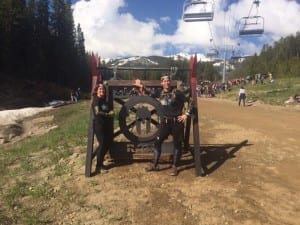 My wife was skeptical of the idea of the racecation, but was quickly won over by the breathtaking vistas on our hikes and the beautiful location in general, and it's now one of her favorite trips in recent history. Of course, capping the week off with a great OCR at a gorgeous venue was the icing on the cake, but the trip would have been fantastic even without the race itself.
For many readers, this idea is nothing new, and they've been traveling to races for years, using the excuse of a race to explore somewhere new that they might not have reason to visit otherwise. For those who haven't tried it, I highly recommend the experience. It's a fantastic and relatively inexpensive (if properly planned) way to see new places and meet new people with similar interests and/or healthy addictions. There are loads of interesting options, whether you stick with Spartan Races and go to Hawaii or Texas, or try out a Battlefrog or the OCRWC in Ohio, not to mention the many international possibilities that exist and are continuing to grow in number and popularity. My advice is that if you are able, take the time to do it right (as opposed to a quick whirlwind visit to race and leave again), explore and get a real feeling for the area you're visiting. You may just fall in love with it.
---
Disclaimer: The viewpoints expressed by the authors do not necessarily reflect the opinions, viewpoints and official policies of Mud Run Guide LLC, or their staff. The comments posted on this Website are solely the opinions of the posters.