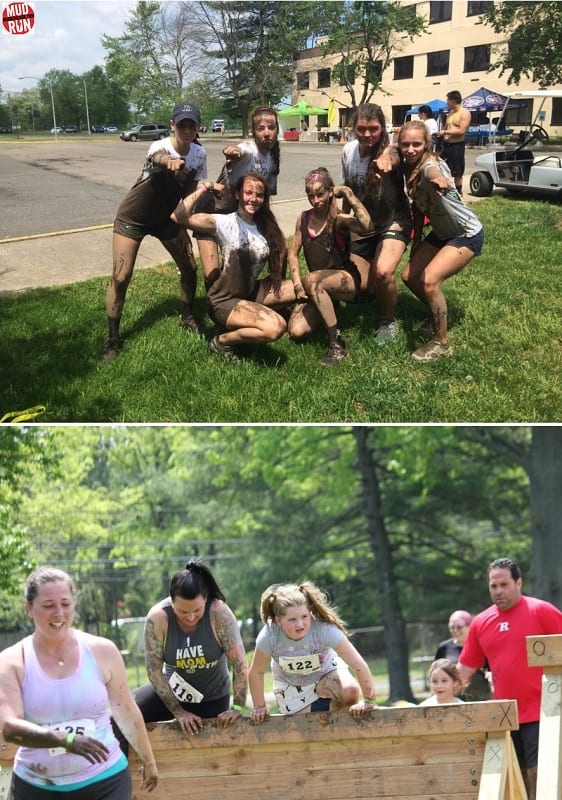 Your first Mud Run is an event normally geared for new athletes to OCR, however it's proximity to Tuxedo, NY coincidence with the Spartan Sprint there as well as charity partner made it an enticing mud run to check out. I wanted to write about an event/race that first time racers would want to try so they had something to read and know what they would be getting themselves into, and most importantly the event/race is put on purely to raise money for the amazing charity Hope for Heroes that funds the life-saving work on childhood cancer and blood disorders at Columbia University Medical Center.
Festival Area:
The festival area was in a parking lot and turnout (at least for the 10 am wave) wasn't massive, but the MC, staff, and volunteers all still were in high spirits and really happy which passed down to racers and spectators and everyone was having a good time. The event brought in a local gym's staff that helped racers stretch and prepare for the start of the race which was a nice touch.
The Course:
The course was less than two miles and started out with a brief run on a walking path from the Purchase College parking lot and made its way to a dirt trail and we came to the first obstacle, which was a mud crawl under a rope. Barbed wire was not used on this course, and nor did it need to be. The course continued on a short trail distance and the next obstacle was a series of water/snow tubes that racers had to hop through. The course again had a brief trail sprint and came to a wall obstacle, the walls were not that high and it was nice to see younger racers getting over them. The course had another short sprint and came to a heavy rope jump rope obstacle which was fun and not something I see at most races. After another brief trail run the course came to a tire or sandbag carry obstacle which went on a path for a decent distance.
The next obstacle was a row of tires to hop through and then after another brief trail sprint a second mud crawl. The course then made its way back to the starting area and just prior to arriving back in the parking lot was the last obstacle/challenge which was 10 pushups & 10 burpees. Just after this, the course turned off the trail and back in to the parking lot and racers crossed the finish line to cheers from everyone in the festival area.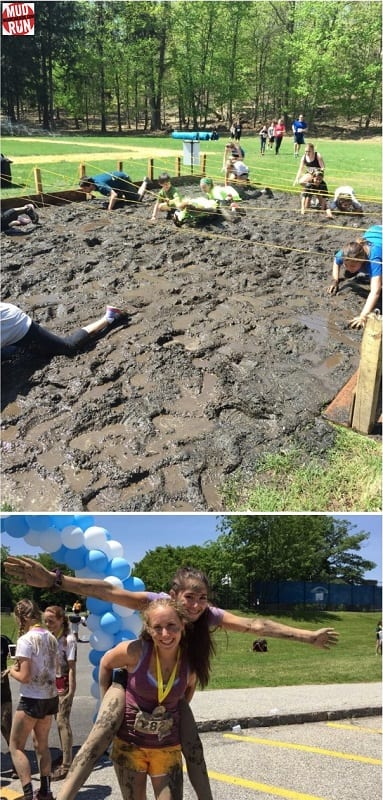 Overall Feelings:
The course was short and a total of about ten obstacles which for someone trying their first mud run and/or little kids racing for the first time is a nice distance and number of obstacles. I found the course to be fun and designed just right.
The Schwag:
The schwag was a really nice finisher shirt and a nice stylish finisher medal, which I am happy to add to my bling collection. I was actually very impressed with the provided shirt and medal awarded.
Final Thoughts:
I had a good time and it was great to see so many people, both young and older having a great time. The most important part of the event is they raised over $10,000 for the great charity Hope for Heroes and I suggest anyone that can race a future Your First Mud Run race/event do so, if only to help raise money for charity. Race director Brad Vaccaro asked me to pass along that charities should feel free to contact Your First Mud Run if they would like to get involved in one of their events or want to start a new event in their area.
Overall Event Rating:
The course was fun and for first timers I think pretty challenging, the staff and volunteers were awesome the entire time I was there, the schwag is really nice, I saw smiles on all racers and spectators faces, and most important of all money was raised for an amazing charity. Based on all of these factors, I am rating the event 5 out of 5 stars.
Rating: 5/5
---
Have you done Your First Mud Run? Share and Rate Your Experience…