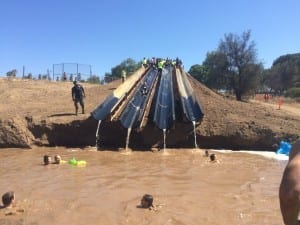 For the past year or more, my focus as an OCR athlete has been on attempting and completing bigger and harder challenges. A Spartan Trifecta in 2013 became 2 in 2014, with a goal of 3 this year. I went from running a half marathon to two full marathons, and am looking to sign up for a trail ultra-marathon soon. I have successfully finished several rucks including a GoRuck Light and Challenge, and recently managed to complete the SISU Iron, a 30h endurance challenge in the hills of Monrovia. I'm not saying this to brag, just to show where my focus has been – on continually challenging myself with harder and more extreme events.
This weekend, I went to the Irvine Lake Mud Run, a semi-annual local event in Southern California. This event makes no claim to having the best, newest, or nastiest obstacles. It doesn't have a huge amount of elevation gain, and there are no penalties for skipped or failed obstacles. There are few shirtless studs or their female counterparts in tight compression shorts and sports bras showing off their spectacular abs to onlookers. In fact, other than a single heat in the early morning, there were no timing chips at all. And boy, was it fun!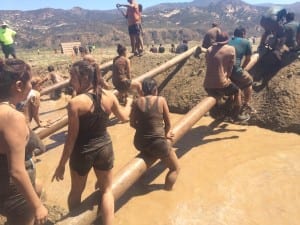 The obstacles were simple; mostly involving various mud pits; rolling mud, crawling under cargo nets, submersing to get under a pole placed across the mud pit, a balance obstacle on telephone poles over a mud pit, and a big water slide into a muddy water pit. Other obstacles included several three foot walls (and I'll admit the Spartan in me was quite amused to watch several people go around these mini-walls), a cargo net stretched over a big rock, and a couple of slightly harder walls.
In many ways, it felt nostalgic, harkening back to simpler and more innocent days, as we were surrounded by people who were making their first foray into the mud run experience. People who were taking a chance and getting outside their comfort zone with their friends or family. We chatted with multiple people who didn't think they could have finished without the help of a friend who kept them going at some point. Parents bringing young kids through the course, who were crawling and back-stroking through the thick mud and looked like they were having the time of their lives.
Last year, I heard multiple complaints about this race, as they ran out of both medals and T-shirts early in the day. I was pleased that they seemed to have these things under control this year, and that this wasn't a recurrent problem. There were a few minor inconveniences; the registration area could have used much better signage as we walked right past it on the way in, and the changing tents were so far from the showers that many thought there weren't any and changed under their towels instead.
These difficulties were minor though; more impressive was that they efficiently handled the start corral, sending small groups of runners onto the course every few minutes, they had multiple food vendors, several varieties of beer for purchase (alas, this entry did not include a free finisher's beer) and a decent live band. These combined with a pretty park setting with plenty of natural shade to make it a very family friendly venue, encouraging people to linger and make a day out of it.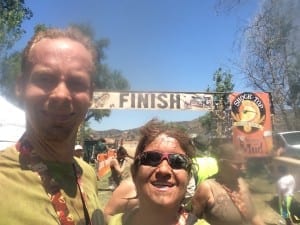 For those OCR athletes intent on testing themselves and pushing to the next level; good for you! Keep in mind, though, that not everything needs to be hard. Sometimes a simple, family friendly mud run, preferably with good friends, can bring you back to where most of us started and may be exactly what the doctor ordered
Rating: 3.5/5
---
Have you done the Lake Irvine Mud Run?
Share and Rate Your Experience and let us know what you thought of the event.