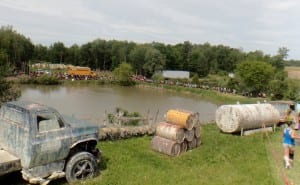 I anxiously jump out of bed early and check to see what the weather has in store for us; this is one of the first challenges when racing outdoors in a Canadian climate. The ideal weather is one that is not too cool so we can reduce our layers and not too hot so we can push through without the worry of dehydration. We were in luck, warm and overcast with the risk of showers later in the evening. We loaded the car and headed off to Commando Paintball in Ottawa.

Location
This was the second year for this event at this location and it is well suited with its varied terrain and interesting structures sprinkled throughout the course. Located just south east of Ottawa, it was easily accessible from the major highways and signage closer to the venue was easy to spot. OPP we set up at the entrance to help with any backlogs getting into the parking area and kept traffic flowing when required.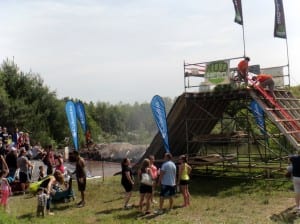 Parking
The cost for this event was $10.00 and they had racers parked both in the upper –gravel lots and the lower –grassy field. Our suggestion would be to have the larger trucks down in the field and the cars in the gravel sections as the crab grass, rocks and ruts were a concern when trying to park according to the parking attendants. Cars were parked in precarious rows and trying to exit was a nightmare with us getting blocked in twice before being told to head back to another location to exit back through the main race venue area. Fortunately, my car was not damaged underneath but the crunching and scraping upon exit was unnerving!
Registration/Race Kit Pick-up
Online registration was easy to follow and emails leading up to the event were frequent and clear to understand. Upon arrival to the event racers were directed towards the main venue area which was set up as a tent village with ample signage to direct participants to the various areas including a merchandise tent, washrooms, change rooms, vendor area and registration/waiver booths.
The line-up for race kit pick up was quick and the new t-shirts are navy blue with traditional logo. Timing chips could be traded in upon completion of the course for a complimentary beverage. Bag check was available free of charge and you self-checked and self-returned based on a numbered wrist band.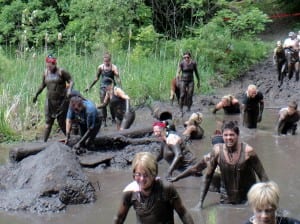 Washrooms
There were washrooms located near the main registration area and food corral. Surprisingly, with the large number of participants there were no lineups (except in the main parking area) for any of the port-o-potties.
Race Details
Our heat began at 11:00 and we were corralled towards the main starting line a few minutes ahead to get pumped up by the enthusiastic MC. Each heat (every 30 minutes) had up to 400 participants with over 7800 racers coming out over the two-day event with 5362 of them being female.
We were veterans of this event, but at a different location, so we enthusiastically signed up for the Ottawa site to compare notes from last year's race in Albion Hills, Ontario. This location did not disappoint. It winded through beautiful wooded areas and had a central water feature similar to the Western venue. An added bonus was the 1KM+ of mud that ranged from slippery slopes to neck deep bogs that racers had to navigate with no shortcuts anywhere to be found. It was fantastic for those who truly LOVE THE MUD!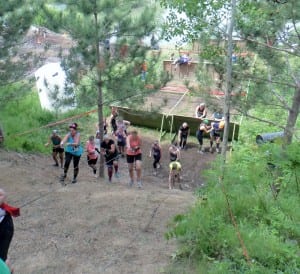 Water stations were well positioned and the obstacles were spaced out evenly to avoid too many open running sections for those of us who are truly there to climb, crawl, swing and slide.
The route was well marked and medics were clearly visible along the course and had radio communication between obstacles.   It was a comfort knowing that medics were available if needed along the route, which is often not the case at some events, where you would have to rely on a racer relaying the message upon arrival to the next obstacle, assuming they had a method to communicate the details appropriately.
Some of the well-built obstacles were the Kong cargo net & wall climb, reverse walls, tunnel crawls, mud slide and teeter-totters –each with a creative name (i.e. Backwards Bullfrog) and various levels to accommodate racers abilities. The final slide is a high-speed 'swoosh' into a deep murky mud bath. Not a favourite of our team as it submerged your head completely underwater and we have had a few racers end up with sinus infections and other bizarre rashes after a few of these types of events. And added bonus was the creative layout of the paintball structures including, buses, buildings, walls, corridors and vehicles that racers could navigate around and over giving it an apocalyptic feel.
Finish Line
After the lengthy mud crawl racers rinsed off briefly in the stream and then launched themselves towards 5 back to back obstacles to the final slide, as noted above, and onto the finish line to receive their medal. It was nice to see that not only the ribbon changed colours this year but the medal itself had a new design with the traditional bottle opener end. Timing was chip timed by Sportsstats.ca and available online shortly after the event and posted live in the main venue area. Water was available at the finish line for each racer along with free samples from some of the sponsors including David's Teas, Gatorade, Mike's Hard Lemonade, SunRype and Good Life Fitness. The hose (shower) station was much better this year with individual hoses being attached to large pumps coming straight from the pond/lake, making the water warm and ample- a necessity to truly get a good hose down before heading to dry off and change. Previous events had dribbling shower ends or trickles of water from overhead pipes which were futile based on the quality/quantity of mud we had experienced. Photos are free for this event –a nice touch.
Food
A BBQ was available on-site however the line-ups were too large for us to wait. We opted to head to Metcalfe, Ontario and ate at the Main Street Grill for some excellent homemade food including pizza, nachos, fish & chips and a variety of gluten free options were available.
Recommended for anyone looking for diner food on a budget!
Recommendations
As mentioned earlier, some consideration for the parking of vehicles would be ideal to help reduce potential damage to cars parking in un-groomed fields.
The final victory shot at the traditional blow up sign was quite a distance from the finish line and you had to trek back towards the main area and then double back to get to the showers and change rooms. Our suggestion is to move it towards the finish line and then have it easily accessible to the shower stations.
We saw salads on a cart but could not locate them in the BBQ area; however we could not get close enough to truly see the overall selection due to lengthy line-ups.
We were keen to see our photos throughout however, with the amount of mud on us even our markings on our arms were not clearly visible and it was very difficult to find any photos of us…it takes a long time to scroll through all the images, to find a rare few.
Closing Remarks
This is still one of our favorite events (third year in a row) and we plan to register again for next year and make it a tradition. It was nice to try a different and much closer location and well worth the 2-hour drive!
Thank you to the volunteers and organizers for putting on a muck filled, fun event. See you next year!
Rating: 4/5 paws
---
Have you done Mud Hero? Share and Rate Your Experience…