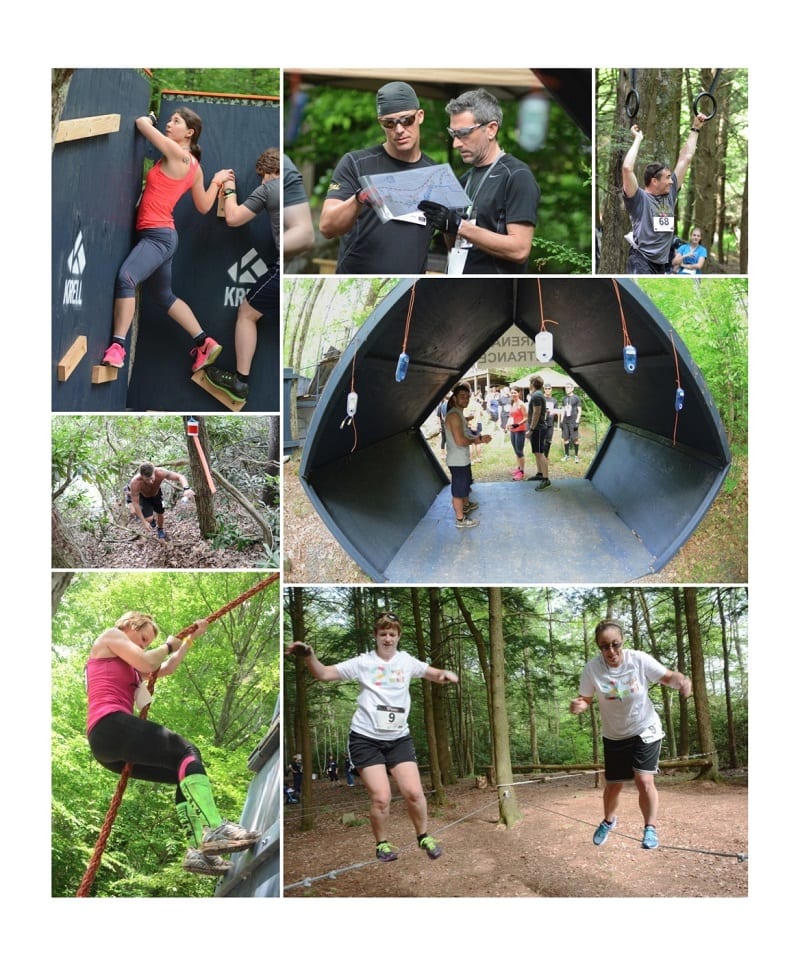 This was my first Krell Adventure Games and I was very excited to be doing the event with my friend Franklyn Newby. The Krell Adventure games not an obstacle course race but something closer to orienteering event or adventure race. The course did include several obstacles as part of the twenty challenges, but the majority of the challenges were challenges, not obstacles. Franklyn and I were pleased with the course and that it wasn't your typical obstacle course race.
Festival Area:
Krell Adventure Games is still growing, so turnout wasn't what you would see at most of the better known obstacle course races, but that didn't hinder the festival area from being fun times with a lot of great energy and from both the staff and racers.
The Course:
The first thing we learned right away about the Krell course was that we didn't have to run/race the course in a specific order. Three challenges did have prerequisite challenges (see course map) so when it came to those we had to make sure to do the prerequisite challenge first, but the rest of the course was open game to be attacked anyway we felt was the best strategic game plan to follow.
We started out by going right to challenge # 1 for two reasons, first it wasn't that far away from the starting of the race and it was a prerequisite to complete challenge # 2. Challenge # 1 was a series of number sequences and we had to select one of three answers. Once we selected the answer, we then were directed to a point on the course. The irony is, Franklyn and I agreed on the answer but based on different reasons. We both ended up being correct and made out way to a point on the course that provided us with a Ziploc bag that had five small red balls in it. It wasn't until about half way to the next challenge "Slingshots" that we both realized the five red balls were paintballs! We arrived to "Slingshots", we had to take a slingshot and hit a target with one of the five paintballs. We were warned by another team, that if we missed with all five balls, we would have to return back to where we obtained them and get another Ziploc bag with five more. Paintball number three was a direct hit.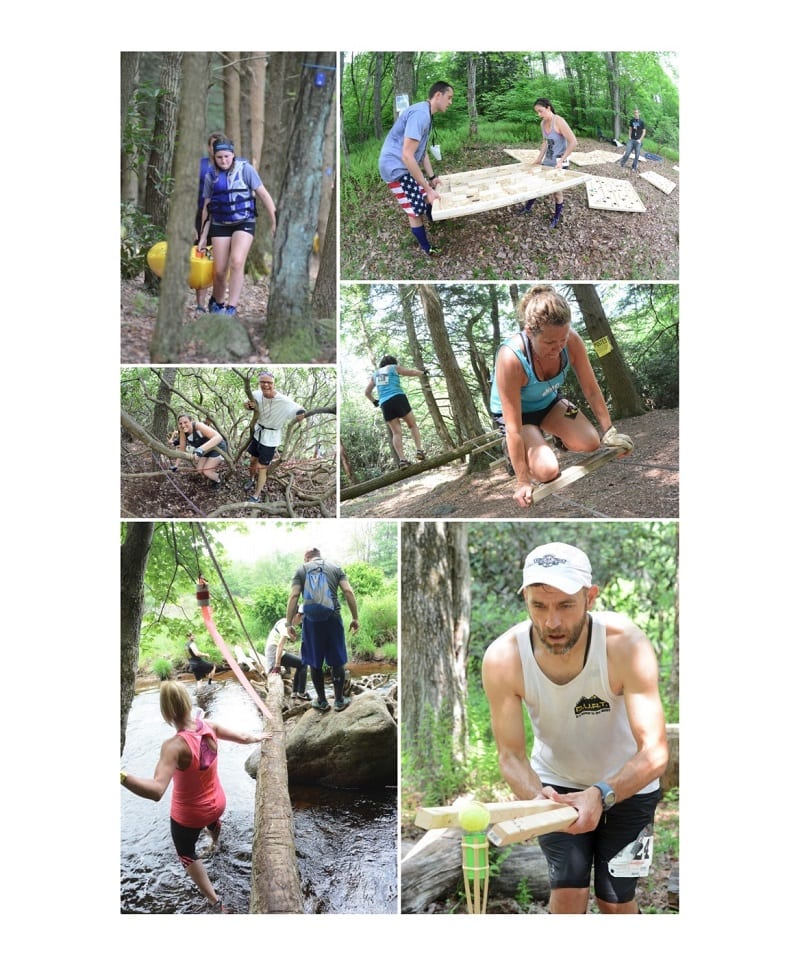 We headed over to challenge # 17 which was a "Bean Bag Launch".  Franklyn was about 75 feet away and using a bungee type launcher, launched bean bags at me. I had to catch one in a fish net. The next challenge we completed was "Ball Maze", a larger maze both Franklyn and I had to hold together and then work a ball through without falling through one of the holes. "Chopstix of Balance" was an interesting task we tackled after an orienteering section. The object was to hold two 1×1's and then pass a tennis ball to your partner, who walked a fairly easy balance beam and placed the tennis ball on a perch. The challenge was figuring out the trick to mastering the task.
"Rope Maze" offered and interesting twist. Franklyn and I were attached together by a short line and then clipped into a rope maze. We had to maneuvered through the rope maze  both attached to the maze and each other. We then made our way down to a rope traverse and crossed it with no problems and completed the next challenge "Island Hop".
We had completed all the challenges on the East side of the course and headed down the blue trail traveling North/West. We headed over and were able to punch our card and chip to receive credit for the challenge "Coasteering". Further down the blue trail came challenge # 10 – "Portage" which was a prerequisite to complete challenge # 11 – "Paddle". "Portage" was simple, Franklyn and I had to carry a two-person kayak back up the blue trail with a full cup of water in the kayak and we could not spill the cup of water below a line. We did well here and spilled almost zero water the entire way! Once we arrived at challenge # 11 – "Paddle" and the volunteer confirmed our cup of water was l above the required line, we both put on life vests and got in the kayak and paddled down stream to a checkpoint to get credit for challenge # 11. Unfortunately during the paddle our punch card fell in the rushing stream and was lost!
From this point forward we had to use a blank punch card for the remainder of the challenges. After the paddle, the first challenge was "Tangram" then "Platforms", which had a platform that Franklyn and I had to stand on together with a two large 2×6 boards and then cross over to the next platform without either the boards or either of us touching the ground.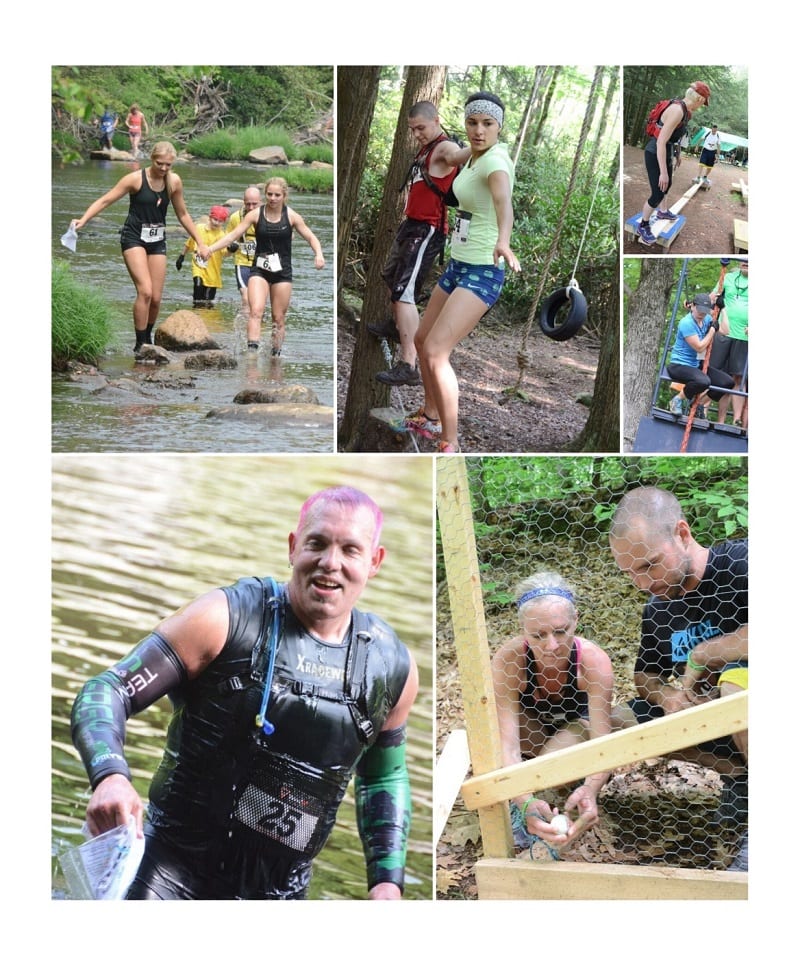 After a rope obstacle we headed east on the blue trail and up a stream trail to completed Challenge # 3 – "Stream Stroll" and obtain a golf ball. Challenge # 3 was a prerequisite to challenge # 4 – "Chicken Wire Challenge" so we made our way South/West up the blue trail and came to the Chicken Wire Challenge", which was a standing net of chicken wire with a hole at the very bottom where the golf ball could fit through. We then had to carefully walk the golf ball up the chicken wire fence with our fingers and around two sections blocked off to stop a simple direct path to the cup the golf ball had to be inserted in. This wasn't really a difficult challenge per say, but it did require 100% attention and concentration to not drop that darn golf ball.
At this point we made our way over to the start of the race and we came to a wall traverse obstacle called "Bondage Bouldering". The wall traverse consisted of three walls to traverse and for those who have raced a Spartan race, it was very similar in design to the current Spartan wall traverse, but with one major twist. Franklyn and I were handcuffed together with a rope bracelet that required us to be close to each other for the entire traverse. I really enjoyed this challenge/obstacle and was very happy to be doing it with a teammate like Franklyn. Just after the wall, was the final challenge/obstacle which was a rope wall climb and descent which was a nice challenge and great end to a really awesome course and an adventure.
Overall Feelings:
Krell Adventure games is not an obstacle course race, but rather much more of a challenge that demands team work, concentration, and challenges both you and your teammate physically and mentally. The course and challenges get you both so involved that at least Franklyn and I had no idea we ended up racing well over four miles to complete the course. I kept thinking how Krell games we be awesome to run with your son or daughter, or significant other, or someone you work with in a team oriented environment.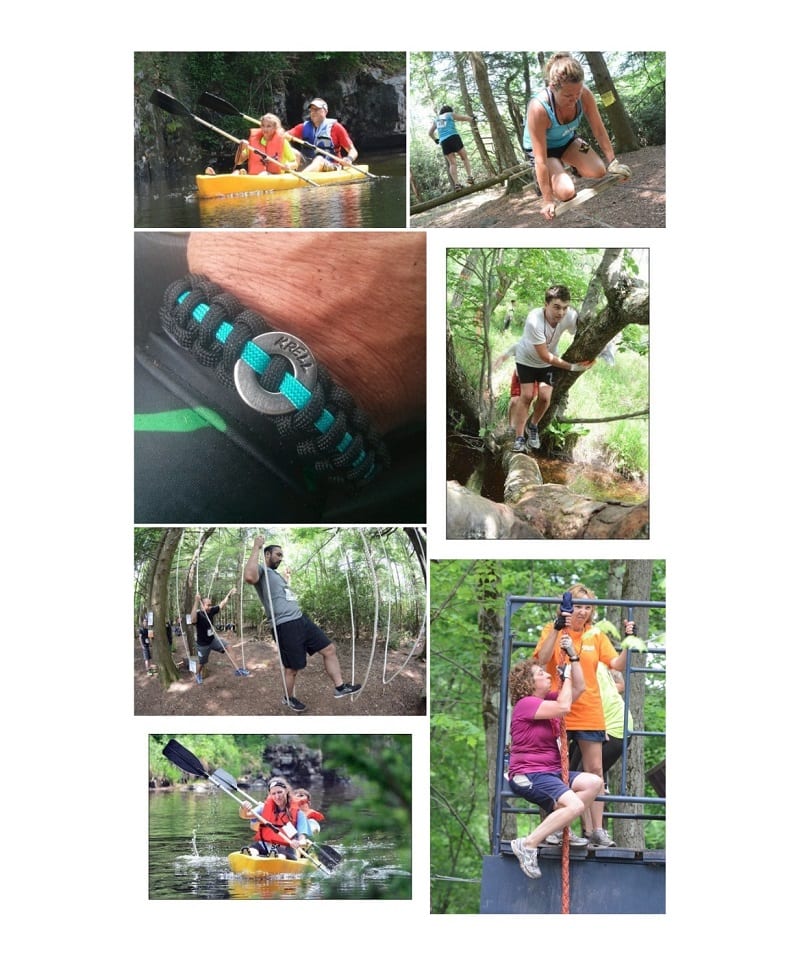 The Schwag:
The schwag was a very nice dri-fit type Krell Adventure games shirt and a very cool Krell games paracord bracelet. I am the biggest #medalwhore I know and I have to say I was very pleased with receiving the paracord bracelet in place of a finisher medal.
Overall event rating:
The event/course was amazing, and although the turnout wasn't massive in size, the energy both in the festival area and on the course was high and good times the entire time. As noted just above, the schwag was sweet and both Franklyn and I had a great time! I am rating the event 4.9 stars out of 5.
Final Thoughts:
We had a great time and both look forward to our next Krell games. I am already signed up for the next Krell Adventure games on August 15th in Montgomery NY and will be running that one with my friend Brian Kellogg and I can't wait! I suggest anyone local to the upstate area with August 15th open sign up for the event as well.
Rating 4.9/5
---
Have you tried Krell Adventure Games? Share and Rate Your Experience…