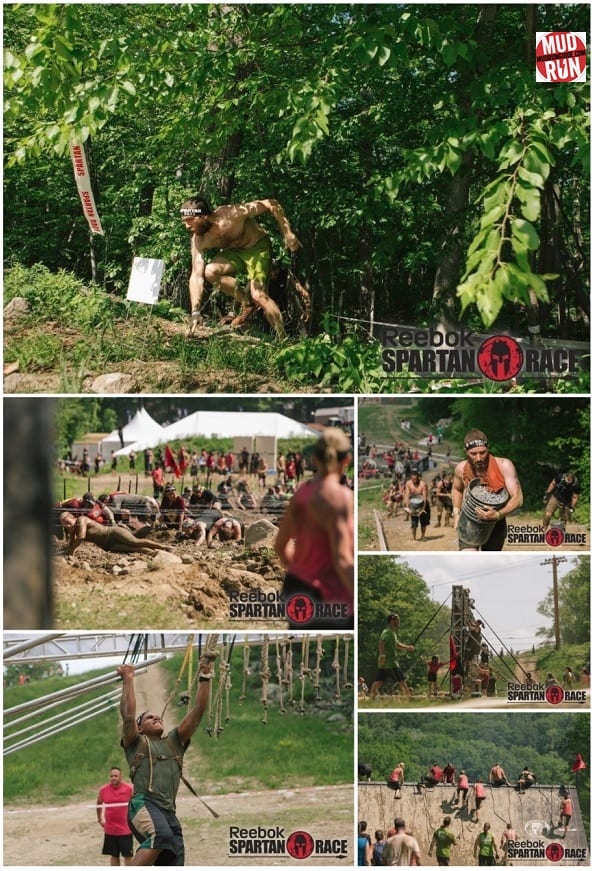 Saturday and Sunday was a truly a tale of two days, Saturday was sunny and a beautiful day from start to finish, but Sunday was the exact opposite with it starting to rain around 9:20 am with the sounds of thunder off in the distance.
Pre-race motivator:
The Tuxedo NY event is clearly very important to Spartan and it showed right from the starting line. Spartan used a different pre-race motivator both days and went with Bishop Garland.  I typically find the Spartan pre-race speech to be boring and the exact same canned speech each and every time when it's been done by Dustin, but Bishop was awesome and really did a great job both motivating and pumping up the racers. I really do hope to see more of Bishop as I have a lot of Spartan races scheduled in 2015.
The Course:
The course started out with an immediate up the mountain trail run that wasn't that long but long enough to get racers moving and the cardio kicking in. The first obstacle was "Over Walls" and then after a short more distance up the mountain the course turned and went back down to the next obstacle "Hay Wall, which wasn't a difficult obstacle to get over. At the bottom of the mountain was the next obstacle "A-Frame Cargo".
Then we turned into the tree line, back up the mountain before arriving to the next obstacle "Hurdles", there were two hurdles to get over and it was sort of fun to watch the shorter racers have to really get a good running jump to get over them. The course then turned and went back down the mountain and if I recall the next obstacle was a metal sled drag, which required racers to pull a heavy sled like obstacle to themselves and then drag it back to the where it originally began.
After passing back through the festival area for the Swing obstacle, we headed back up the mountain and it was time for the first "Barb Wire Crawl" on the course. Spartan seems to always bring one of their most challenging barbed wire crawls to Tuxedo and this one didn't disappoint. The course continued up the mountain and came to "Clif Multi Bars" which is a killer challenge and takes good upper body and grip strength! We eventually came to the "Sandbag Carry", the first half of the carry was nice and easy but the second half went into a wooded area with rocks and loose dirt that was sketchy and really required 100% concentration.
Up next came obstacle "Stairway to Sparta", which I really liked. This was the first time I have seen this version of a climb done at a Spartan event and I think it's a great addition. Just after another barbed wire crawl was "Z-Walls", Spartans wall traverse, which has been a far better challenge since late last year. The course as this point went up the mountain for some time before arriving to the next obstacle, the "Inverted Wall". Up next, the "Spear Toss". I arrived at the spear toss and all the lines where pretty long, so I get on one and wait a good 4 to 5 minutes and up next, well the girl in front of me tried to pull the spear back to herself via the attached rope and somehow pulled down and ruined two targets (lol), so I had to go get on another line and wait a few minutes again and somehow the spear got stuck again and I was directed to a third line! Well the third line was the charm and I was able to nail my spear.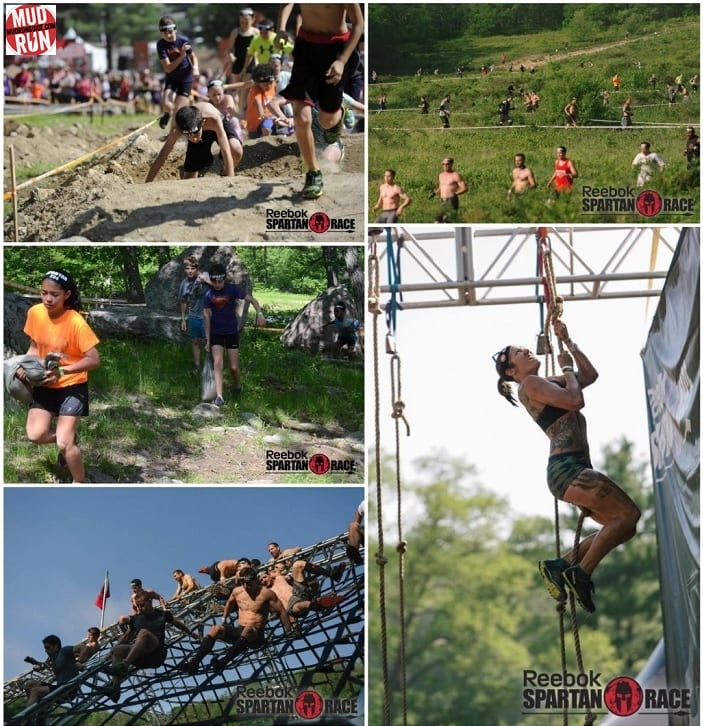 The course went down the mountain for some time at this point and eventually came to the "Bucket Brigade" obstacle. At this point of the course, in the direct sunlight on a hot day and only two water stations, the Bucket Brigade was taking no prisoners and I saw it breaking a lot of racers. After a brief mountain trail run up if I recall it came time to tell a volunteer your bib code, which I actually remembered! The course continued up the mountain only a short time longer and then headed back down to the last two obstacles on the course. Next up was "Slip Wall", which I always enjoy near the end as its nice easy challenge near the end of the lap/course. The course then continued down the mountain a short distance more and last but not least was the "Fire Jump", which was a decent size fire on Saturday!
The Storms:
Sunday was a day with on and off heavy rain storms as well as thunder and lighting. I ran an early wave on Sunday to get on the road early, I was less than a mile from the finish when  I heard the thunder. Spartan staff and volunteers were fast to take action and halted all racers on course. We were initially advised the race was being halted but they were not sure for how long. After about 5 to 10 minutes, Spartan's staff had reviewed the storm's path and decided it was best to halt the race completely until the storm passed over Tuxedo and then wait about 20 minutes to be sure another storm was not following close behind.
The staff, volunteers, and DJ all instructed everyone to clear the festival area and return to their cars and await an update. Overall, considering the amount of people on site and us being New Yorkers, I was pretty impressed with how well the crowd handled this situation.
The storm passed we waited for volunteers to return to the course. The staff re-opened the venue and allowed both racers and spectators to return. Spartan had taken the timing chips from exiting racers during the storm so Spartan explained racers that had already started the race and no longer had a chip had two choices, they could go back to the obstacle they were stopped at and complete the course and get an estimated time, or they could obtain a new chip and start the race again. Other racers were reassigned to new waves.
I was able to get back on course and finish and get on the road. Racers and spectators that had later start times didn't have it so lucky as more storms hit Tuxedo and caused flooding forcing Spartan to cancel the remainder of the event on Sunday.
I personally commend the Spartan staff and security for doing a really good job dealing with an issue that wasn't that easy. However next time I hope, the volunteers are directed to a safe indoor location on site. This would allow the event to start up much quicker and more organized.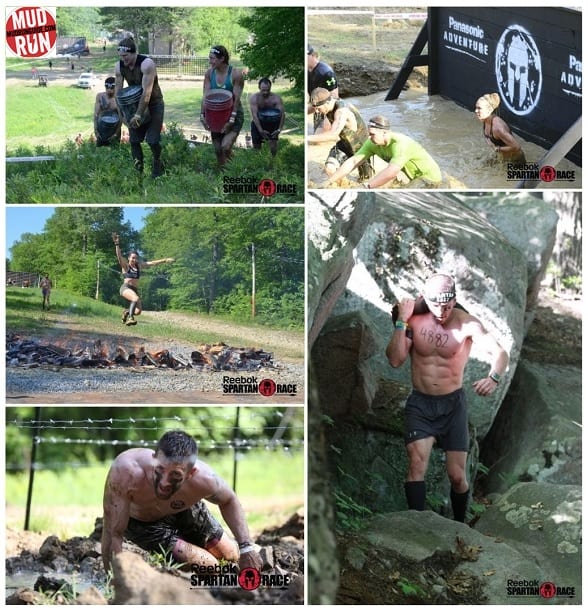 Spartan HQ official statement:
"Due to extreme weather conditions on Sunday, May 31st, Reebok Spartan Race made the decision to end the event in Tuxedo early. Racers effected have received a credit that can be used for any event of their choosing, and we hope to see as many as possible join us at another race this year. Customer service is available to support any needs or questions – us@spartan.com."
Overall Feelings:
Tuxedo is clearly an important race venue for Spartan and they put on a great event, from the pre-race motivator, a challenging course, and good times in the festival area. This is one Spartan location I suggest any Spartan fan to put on next years calendar. I would love to see Spartan put on a Super at Tuxedo if it's possible to get that distance course on the mountain!
The Schwag:
The newly designed medal for 2015 is a nice one and I am happy to add it to my medal collection. It's also a nice touch Spartan went away from one generic finisher shirt and now have a unique shirt for each course/distance. For you #medalwhore's out there, the Spartan Canada finisher medal is a little different, which I personally really like!
Overall event rating:
Other than a storm which Spartan had no control over, I felt the event and course were both great. I can only think of one suggestion I would make about the course and that would be to add at least one more water station. I am rating the event a 4.9 out of 5 stars. I am rating Mother Nature on Sunday a 0.5 stars out of 5!
---
Have you done a Spartan Race? Share and Rate Your Experience…