Over the weekend over 50 obstacle races and mud runs were run throughout the world. Most of these events were mud run and many were run at the local level. Internationally mud runs of all sizes took place. This week we focus on the two most competitive races in the United States over the weekend, the Spartan Race Sprint in Tuxedo, New York and the Spartan Race Beast in Ohio. Be sure to check out the current OCR World Rankings.
---
 Spartan Race Sprint Tuxedo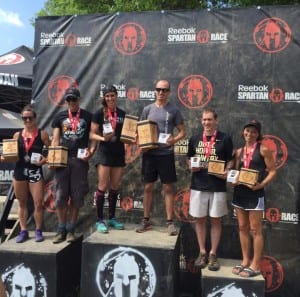 The Spartan Race sprint is one of the classic Spartan Race venues and has been holding races there since 2011. This course located on the Tuxedo Ridge resort traverses up the mountain as well as up and down.  This was the first of two weekends at the venue. Yuri Force would top the podium with Elliot Megquier finishing second and Liam Collins third. On the women's side Jackie Landmark added another win to her resume besting Elise Fugowski and Laura Lunardi.
Megquier commented on his weekend at Tuxedo, "I didn't think I had any Spartan podiums left in me after four full years of obstacle racing, but I dug deep used my pacing experience and was able to get a second [Saturday] and first place [Sunday] in Tuxedo where it all began [for me] in 2011."
Landmark also commented on her win, "Tri-State Spartan Sprint at Tuxedo, I had heard great things about the venue and it definitely didn't disappoint! The race had some great hill climbs, technical trails, and lots of fun and challenging obstacles. Unfortunately, I had to do burpees when I fell off the Clif multi rig and I also missed the spear throw but was still able to take first among some amazing athletes…I think it was a burpeefest for most of us! My kids were there to watch me finish which was the best part for me!  I'm looking forward to racing there again next weekend!"
Next weekend watch for Landmark as she just might go back to back podiums in Tuxedo.
Race Results:
Elite Men
Elite Women
Name
Team
 Time
 
Name
Team
 Time
Yuri Force
 Athletics8
1:00:08
Jackie Landmark
 Oral IV
1:15:40
Elliott Megquier
VPX/Mud Gear
1:06:34
Elise Fugowski
 The Coliseum Strength & Conditioning
1:17:41
Liam Collins
1:07:29
Laura Lunardi
 MudGear/fUS
1:20:12
---
 Spartan Race Beast & Sprint Ohio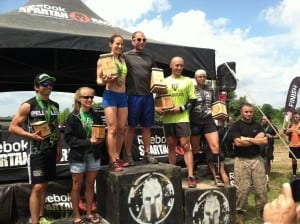 Spartan Race returned to Ohio this weekend for a Sprint and Beast combination weekend. On Saturday the Beast took place with Ryan Woods finding himself on top of the podium blazing by his competitors for a commanding win. On the women's side Rose Wetzel and April Dee battled it out with just over a minute separating first and second place. On Sunday some of the podium looked very similar to Saturday with Woods yet again taking home the win. Wetzel and Dee went one and two as well with Amy Pajcic in third. Team Relentless OCR took home a second place on Saturday with Robert Wilshire at the Beast and third on Sunday with Taylor Clark taking third place.
Ryan Woods won both days and had this to say about the weekend,
"Well it was my first ocr victory. I'd shown some good flashes in my previous races but couldn't put together a complete race… Battlefrog I struggled to finish after having good runs but grip strength kept catching up with me. I did two Spartans this year and late burpees set me back in Montana and Charlotte. I wanted to have a clean burpee free weekend and I figured the running would take care of itself. Saturday I did just that. Even Sunday in the rain I did well. I fell off the Zwall but so did the rest of the top 20 in the rain and mud. That was my only set of burpees. That's the goal for future races… clean on the obstacles."
Rose Wetzel commented on her double win, "I had a blast at the Ohio Spartan Beast and Sprint! The men's elite field at the Beast was over 250, so I got a lot of encouragement and high-fives while passing many of them. The course had a couple of new challenges, including a farmer's carry (with logs) in a pond with a soft, mushy floor. A heavy downpour at the start of the Sprint the next day made many of the technique obstacles far more challenging than usual (e.g. traverse wall). When I got to the slick wall at the end, guys were sliding down it like crazy, as the ropes and wall were oozing with mud. I was pleased to take home the win at a range of distances, with a good competitor like April to push me. (This weekend's wins placed me back at the top of the Spartan rankings, so now I won't cringe on June 8th when I hear myself on NBC's American Ninja Warrior show say, "I'm the top-ranked female Spartan racer").
Second place finisher Victor Quezada commented on the Sunday Sprint,
"The beginning of the race started with rain. It worked in my favor as a technical racer. The slippery slopes helped me. Overall the course was fun and I really enjoyed it. Looking forward to more races like that. The course was over 5 miles and challenging. I drove with friends from southern California so the drive was totally worth it."
Beast Race Results:
Elite Men
Elite Women
Name
Team
 Time
 
Name
Team
 Time
Ryan Woods
 La Sportiva
1:45:13
Rose Wetzel
 Spartan Race
2:12:20
Robert Wiltshire
Relentless OCR
2:00:34
April Dee
 Spartan Race
2:13:44
Jordon Buscemi
 Relentless
2:02:37
Britta Ultz Baxter
2:23:19
Sprint Race Results:
Elite Men
Elite Women
Name
Team
 Time
 
Name
Team
 Time
Ryan Woods
 La Sportiva
42:51
Rose Wetzel
 Spartan Race
52:59
Victor Quezada
 Invigorade Pro Team
45:52
April Dee
 Spartan Race
59:41
Taylor Clark
 Relentless OCR
46:29
Amy Pajcic
1:01:31
---
Other News
At the end of last week Obstacle Racing Media put out an article announcing Hobie Call's retirement from obstacle racing. This had the internet buzzing and many posted on Call's Facebook wall comments, photos and memories of racing with obstacle racings living legend. Call's announcement comes after a series of unfortunate business deals with several race companies over the last couple of years. We reached out to him to see if he really has hung up his shoes for good. Call told us he will be at some races in the future but is no longer supporting his family financially through racing. We spoke to Call after his second day of work back doing HVAC repair. We look forward to seeing him at a race or two in the future.