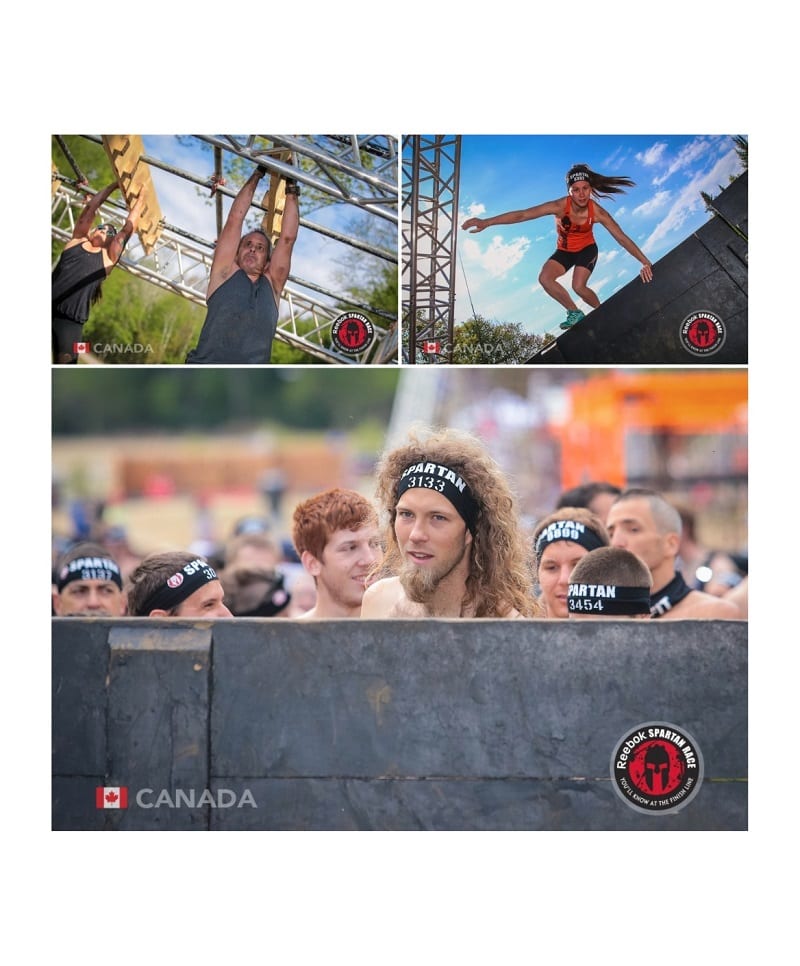 My experience with Spartan Canada has been awesome and I had very high expectations for this race weekend. The drive from Upstate NY to the Mont Tremblant area was a long one (over 320 miles each way), other than an hour and half delay at the Canadian/USA border entering Canada the drive was a good one.
The first thing that caught my attention on race day was how fast and organized Spartan Canada was with registration. When you register online, the online system provides you a per-completed registration form with a bar-code unique to each racer. Print out this registration form and sign and date it and you are all set. At registration I handed them the form, they scanned the bar-code and then scanned my bib number and I was complete. The whole process took no more than three minutes.
Pre-race motivator:
Right away, I was very impressed with the Spartan Canada pre-race announcer Pierre-Luc Siméon, even through most of it was in France, I was very impressed with passion and energy throughout his entire pre-race motivation speech. Pierre-Luc is by far the best Spartan pre-race motivator I have heard to date at a Spartan Race with Anthony T.C. Carson a close second.
The Course:
The course immediately started out going up Mont Tremblant and it was a good distance up the mountain before we came to the first obstacle, which was a simple log hurdle. After another decent trail sprint up the mountain came another log hurdle that was a little higher than the first one. The course continued up the mountain for a little longer and then more than half way up to the top turned to the right and started its way back down the mountain. After a short sprint down a dusty and rocky trail came the next obstacle which was an over wall, under wall, and last but not least a through wall. The course then went for a short trail sprint and came to the first water station. Not far after the water station was a barbed wire crawl, the crawl was nice long distance and in a very mushy and deep mud which rocked.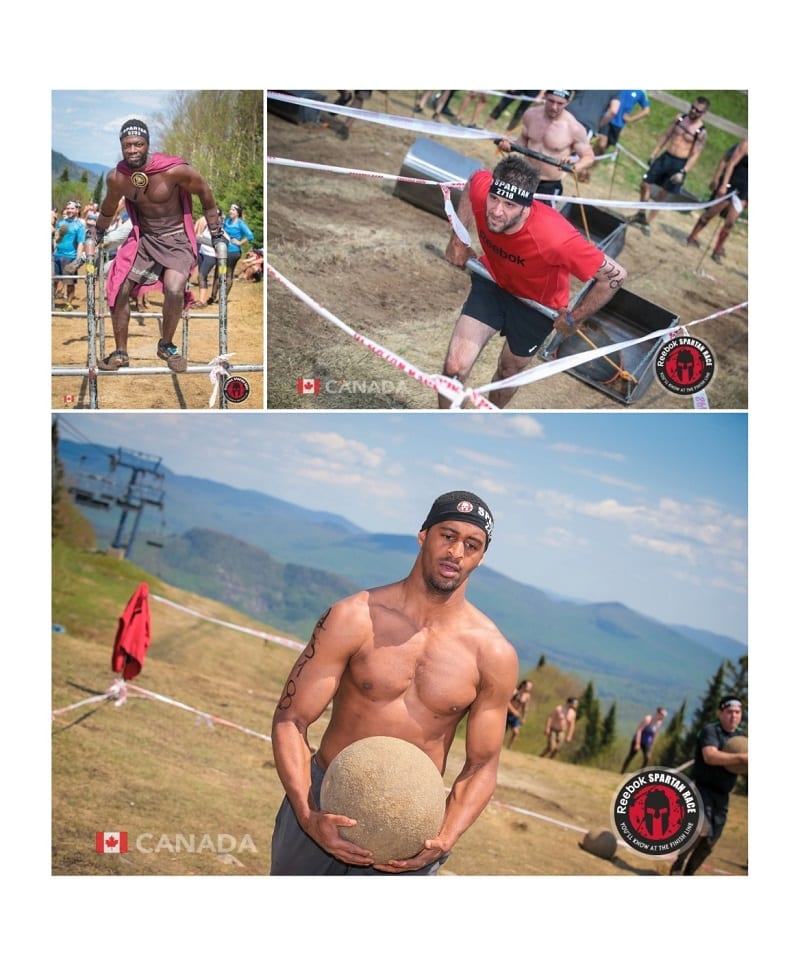 The Spear Throw I was very disappointed about because I went five out of six over the two days and six laps, missing it that perfect race weekend by one. Just down a short trail from the spear throw was a tall wall climb, the wall had inserts on one side for racers wanting a little assistance with this one. A short distance later came a tire flip and like the Spartan races in America, the tires varied in size. The course then almost immediately came to an obstacle that required having strong grip strength to complete and then literally just after it was a monkey bars obstacle that combined back to back required strong upper body strength. The course then made its way past the starting line and over a high cargo net crawl which was over the starting area and over some of the racers waiting to start their waves.
At this point the course started to make its way back up the mountain and after a short distance came a slanted wall obstacle which offered various versions of difficulty. The course again continued up the mountain and came to a green mesh net crawl which was a decent crawl distance and lower to the ground. I hated this obstacle as my hydration pack got caught in the netting on all but two laps. The reason it didn't get caught up in the netting on my last two laps was, I decided to do the crawl just to the right of the net, this ended up being a win and lose decision for me, I was no longer getting caught up in the netting, but I was now also in the direct sunlight and I could feel the effects and as well the ground wasn't as well prepared for the crawl under the net and I got a few scratches.
After more running and obstacles the course eventually made its way to the bottom of the mountain and back in to the festival area, and the first obstacle was the Platinum Rig. Almost immediately after the rig was another high cargo net climb and a very short distance later was a rope climb, the Canadian version of a Spartan rope climb has no knots in the rope and was not over the typical 2+ feet of water, but rather had bales of hay to cushion falls and prevent injuries. I was very happy that I was able to climb to the top of the rope and ring the bell on all six laps. A very short distance later was the herculean hoist and I did something on two of my laps I have always wanted to attempt. I hoisted up two of the male versions at one time. The course then had a sand bag carry, on my first lap on Saturday this sandbag carry went higher up the mountain and into an area that still had some snow, but by lap two they moved the path down to not include the snow covered part. By my sixth lap on Sunday the path was mega muddy and slippery and required taking it slow and cautious. Up next came the standard wall traverse and then a just after the wall was a group of tires to happy feet through and then over a knee high hay bale and a few more tires. The course made a snake turn to the left and up next was a slanted wall traverse with a rope, the catch on this wall was it was a completely constructed out of metal versus the traditional wood. After this all that was left was a very short ascent up a not to steep trail and then came the last obstacle of the course, the fire jump and finish line.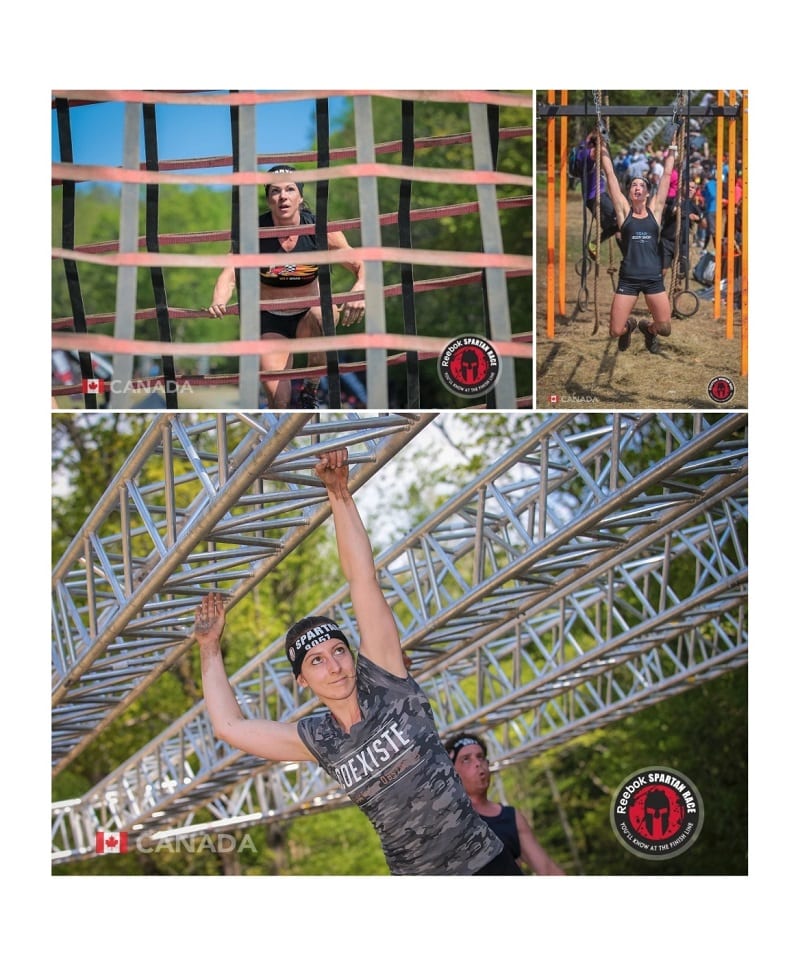 Overall Feelings:
This was a hard Sprint when you combine the obstacles and the killer Mont Tremblant Mountain. The course was good times all weekend and I am very happy and proud of myself for completing a total of six laps over two days (three Saturday and three Sunday), but I have to admit I failed a few more obstacles than I am typically used to failing which has bruised my ego a little. The volunteers were all amazing and the minute they realized I didn't speak French did their best to communicate to me in English. Several of the volunteers were aware I was attempting to do a total of six laps over two days and they were all encouraging me the entire time which was a huge help to boost my drive and determination to complete my goal. I have to be honest, three laps of this Sprint on this mountain was at least for me a far harder challenge then the NJ Beast just a few weeks earlier.
The Schwag:
The newly designed medal for 2015 is a nice one and I am happy to add it to my medal collection. It's also a nice touch Spartan went away from one generic finisher shirt and now have a unique shirt for each course/distance.
Overall event rating:
The course was awesome, the staff and volunteers were awesome. The registration process both days was fast, easy and flawless and something I think Spartan America really needs to take a look at! I spent a lot of time over two days on the course and came across only one obstacle (the wall traverse on lap # 2 on Sunday) that had more than a five minute wait/delay the entire time. I also unfortunately witnessed a racer require medical attention late on Sunday and it was amazing to watch the Spartan Canadian staff rush to that persons aid which was an amazing site to watch. The only minimal complaint I could find the entire day was the very last water station, just before starting the last descent of the course ran out of water later in the day. I am rating this event a 4.9 out of 5 stars.
Final Thoughts:
This region of Canada is gorgeous and well worth the distance to travel by itself, so I suggest if any of readers want to complete a Spartan race in Canada they strongly consider this one. I also want to point out this race weekend was Memorial Day weekend and the prime reason I wanted to run a total of six laps was to dedicate each lap to a branch of the American Military. I cannot say in a words or a sentence how proud of all our armed services and the sacrifices our soldiers and their families make for us each and every day. I dedicate my weekend and laps to: Army, Air Force, Coast Guard, Marines, National Guard, and Navy. The only easy day was yesterday.
Rating: 4.9/5.0
---
Have you tried a Spartan Race in Canada or anywhere else in the world? Share and Rate Your Own Experience…