Recently Spartan Race Headquarters announced their annual Spartan Race Combine will take place this weekend in Palmerton, PA on July 14 & 15th. This combine is designed to benchmark an elite group of Spartan competitors with vigorous tests such as the rope climb and bucket carry and ultimately better understand their training needs ahead of this year's World Championships in Lake Tahoe on October 3rd and 4th. Spartan Pro team members including Brakken Kraker and Orla Walsh, and a select group of Spartan Elite from around the globe have been invited to participate in this event. Deanna Blegg boarded a plane the other day to the US so we expect to see her part of this competition as well. This annual combine will be a marquee event in the Spartan Race calendar and give rising stars in the sport a platform to show their skills.
"As we look at the exciting evolution of our sport coupled with our mission to be a part of the Olympic Games, we realize it's time to further invest in the development of our athletes," said Spartan Race Founder and CEO, Joe De Sena.
"This combine, modeled off what you see each year before any professional sports draft, will help us better understand our current athletes and their training. The combine also gives us a platform to better understand which mainstream sports have the most synergy with ours, helping us to identify our next generation of Spartan Elite. Using these results, we'll be able to evolve our tailored training programs to continue propelling the sport forward."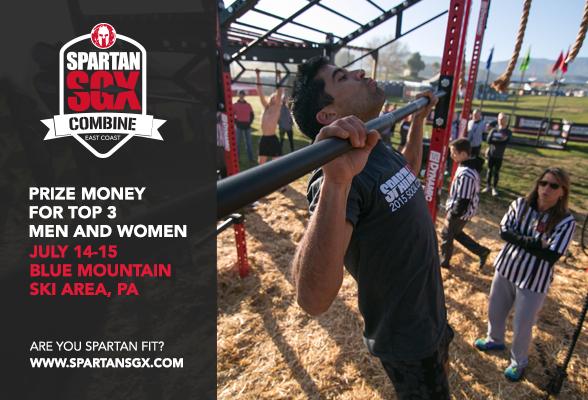 Athletes attending the combine will participate in multiple Reebok Spartan Race challenges, including the barbed wire crawl, spear throw and wall traverse, in addition to more traditional events like the vertical jump and 40 yard dash. In addition and for the first time, advanced sports science will be an integral part of the combine. InsideTracker, a personal health analytics platform that analyzes the 30 blood biomarkers most associated with a variety of health and performance functions will be on site providing Spartan Pro team members with detailed analytics and score cards based on their personal biochemistry. This analysis will also be used by Spartan's SGX training team to further develop future training methods for the sport of obstacle racing that will optimize elite performance.
"InsideTracker brings the power of advanced bioscience to help professional athletes and performance-driven consumers understand what is going on from the inside," said Rony Sellam, CEO of InsideTracker, "For years, our analytics engine has been used by pro athletes as well as fitness and wellness enthusiasts. As a new frontier of elite sports demanding optimal levels of endurance, strength and power we are delighted to be working with Spartan Race. Applying our learnings and smart algorithms we look forward to providing the 'core data' that will help their Pro team and the next generation of racers achieve even greater results."
The Spartan Combine will be split into two half day events. The first day, Tuesday, July 14th, will take place at the Palmerton High School track (located at 3525 Fireline Rd., Palmerton, PA) from 5:00pm ET to 8:00pm ET. The second day, Wednesday, July 15th, will take place at the site of the Palmerton Super, Blue Hills Mountain Resort (located at 1660 Blue Mountain Drive, Palmerton, PA.) 8:00am ET to 1:00pm ET. For more information on Reebok Spartan Race please visit www.spartan.com.