Most of the major OCR's, like marathons and other large scale races, can cost a runner well over $100 to enter the race. Add to the entry fee: the food and drink after the race in the festival area for you and your family, a shirt or souvenir, gas to get you there, maybe a hotel if you've travelled a while to get to your event, etc., and you can easily spend $500 on race weekend.
But it doesn't have to be that way! You're on your own for what you choose to buy post-race in the festival area and there is plenty of advice already on the Internet on how to save on gas and hotels. What I am about to show you is 5 easy ways to minimize your race entry fees or even run for FREE in some cases if you're willing to do a little work or plan ahead.
Register Early – Do some research – a little planning pays off big. If you can commit to run a race several months in advance it can save you big money. Savage Race, for example, starts their pricing a few months before an event and you can save about 30% on your entry fee. If you wait until the week before the race, they charge you their "Procrastinator Entry" fee. Most other regional and national races all offer similar discounts the earlier you commit. Pro Tip – most races are non-refundable so only commit early if you're sure.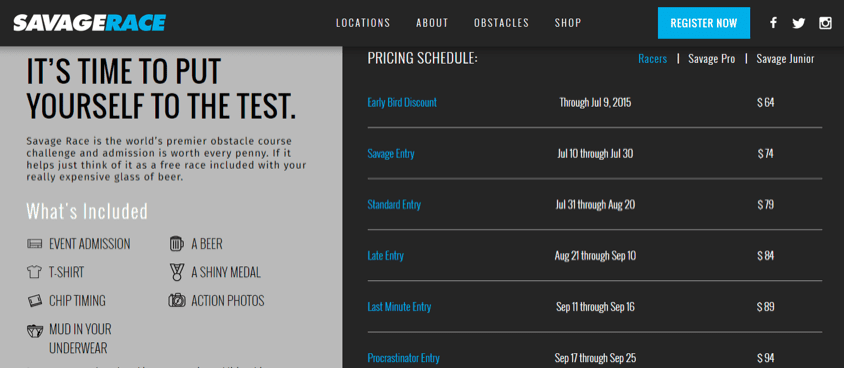 Use a Discount Code – Mud Run Guide offers discount codes on almost every race in the country. See our massive discount page HERE. We even made it alphabetical to make it super easy to save cash on your race of choice. Full disclosure – we're not the only game in town. There are other (less awesome!) websites out there that offer comparable discounts on nearly all OCR's as well. If you can't commit to race early as suggested in tip #1 above, don't settle for paying full price. Ever. Search out mud run discount codes. Google it. The money you save will buy you a beer and a falafel and maybe even a t-shirt in the festival area with the "free money" you saved using a discount code.
Recruit your Friends – some races offer free entries if you refer a certain amount of friends. Rugged Maniac recently offered a Groupon that not only gave you a steep discount on the race entry, if you referred three friends your Groupon entry was free. Other races occasionally offer multi-friend discounts and sometimes offer cheaper entry per person if you form and race as a team. Spartan Race also runs a nationwide Workout Tour. Grab a group of friends, get a free 2 hour group workout led by Spartan certified fitness coaches and get a free t-shirt and discount codes to local Spartan races at the end of the workout. Pro Tip – Spartan generally has a stop on the workout tour a month or two before a local race. If you missed the early registration pricing for the race, look for a workout tour date and commit to a Spartan workout to get the best discount available.
Volunteer – all the major races and most smaller local races rely on volunteers to run everything from the registration tent to water stations to overseeing the obstacles and they compensate you in a variety of ways – including t-shirts, other schwag, free meals, free parking, and discounted or free race entries, either for the race you volunteered at or a future race. Check out Spartan and Tough Mudder's volunteer pages. Almost all other races reward you for volunteering as well. Pro Tip – volunteer spots fill quickly, so the earlier you can commit the more likely you'll land a good assignment.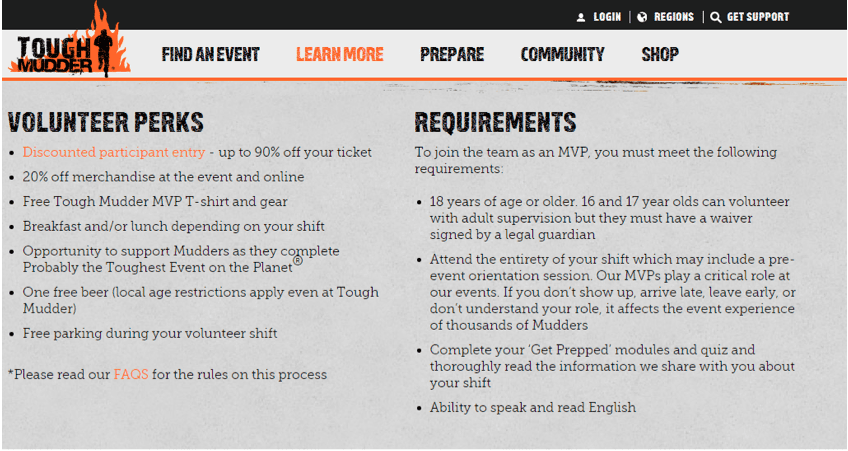 Join a Team – The major OCR's all have grassroots teams they rely on to help draw runners to their local events. Spartan has their Street Team, Tough Mudder has their Mudder MVP's and there are others out there By joining these teams you can earn free races, free gear, and some have unique rewards systems. Pro Tip – pick a race series you love and that offers multiple races in your general area that you'd be willing to travel to. Really focus your efforts on promoting that race – you'll likely never pay for an entry fee if you do well on the Team. Joining multiple teams from multiple races can be more distracting than it is productive in my experience.
So there you have it. 5 easy ways to run your favorite obstacle races as cheaply as possible. If you're like me, I'd rather pay for my races by trading some of my time and a little work instead of shelling out a hundred bucks per race. If that sounds like you, click on some of the links in this article and start your own journey as a volunteer, team member, or the early bird that gets the (cheaper) worm.
---
Disclaimer: The viewpoints expressed by the authors do not necessarily reflect the opinions, viewpoints and official policies of Mud Run Guide LLC, or their staff. The comments posted on this Website are solely the opinions of the posters.