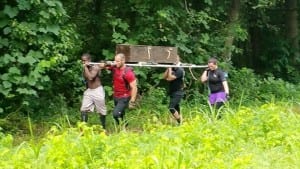 The Green Beret Challenge is not a traditional Obstacle Course Race and surely not a Mud Run. If you're looking for a bubble foam-fest color run, keep on looking. This is a true endurance test of your fitness, mental toughness, and ability to adapt in order to conquer the challenges as they are laid out before you.
It is a smaller series that has only two other events scheduled for 2015, Dayton, Ohio on August 30, and Dade City, Florida on December 5. Green Beret Challenge is not looking to take over the world, just provide a unique opportunity to see what certain people are made of. Created and run by former Green Beret Special Forces members, they're not really interested in staging something "everyone can do". It's a team based event whereby you are only as good and as fast as your least prepared teammate, so everyone steps it up to help get that team get across the finish line.
"Logs, tires, sand bags, litters, sleds, telephone poles, and definitely water, combined with the most intense terrain each venue has to offer, will create your own personal hell on earth. We promise the pain will be legendary, but the sense of accomplishment will last forever." Is what GBC has to say about themselves on their Facebook Page, and they delivered. Other Slogans are "Building Better Humans" and "8 Miles of Hell". This weekend it laid out to be more than 10 miles on the course and they said the 2 extra miles of hell was a free bonus for the participants. Some people joked that a more apt slogan would have been "10 Miles of Carrying Heavy Stuff Through the Woods".
Venue and Festival Area
Fort Yargo State Park is a lovely wooded area with a beautiful lake nestled in Northeast Georgia between Atlanta and Athens. Parking costs $5, or if you have an annual pass for Georgia Parks it was free. There's ample parking by the picnic areas along with permanent restroom facilities that boasted showers. No portajons and cold water hose offs – Bonus!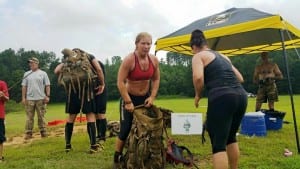 There was not really a "Festival Area" along the lines of a big OCR or road race because this just isn't that type of event. The fastest time posted all weekend by the "Fantastic Four" was 3:13, with most of the teams out on the course from 4-6 hours, so once the waves left the starting line there really wasn't much to do for spectators, friends, and family for quite some time. There was a playground nearby for the kids and relatively shaded picnic tables, but no food or beer trucks, blasting music, or activities. Again, this just isn't that type of event. Good Protein Shakes were sold at a tent, but that was about it. There are permanent grills at the venue and for next year I'm planning on packing a cooler with drinks and a picnic lunch along with meats and a bag of charcoal. People looking to participate in a GBC need to be prepared ahead of time.
The Race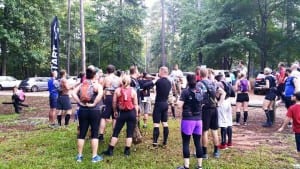 Teams of four were sent out onto the course in waves to prevent bottlenecks at the challenges. Saturday saw 40 teams compete, and because of the popularity of the event, Sunday was offered with 22 more teams going out. Teams were assembled by the participants and ranged from all male and all female to co-ed teams of varying makeup. Women fared surprisingly well because the strength obstacles were not gender separated and the women bore the same loads as the men. First place on Sunday and 3rd overall for the weekend was captured by an all female team, the Fembots.
Running along through the woods presented the challenges of negotiating the roots, rocks, and ruts normally associated with trail running, but the true tests occurred when the teams came upon the physical challenges that set this apart from an OCR.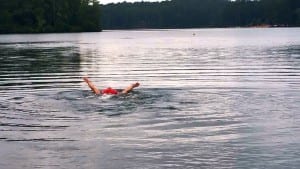 Racers carried incredibly heavy ammo cans, sandbags, rucksacks, and even a coffin on poles weighted down with sandbags. They filled their own sandbags at times, and answered Green Beret trivia questions that determined the difficulty of their burdens. They zig-zagged up and down embankments while weighted down, teams split up whereby some swam out to a buoy in the lake while others carried heavy stuff, and they dragged weighted sleds along the ground through the woods. Nothing was easy. Thoughts of failure and quitting went through many racers' minds. But reaching that finish line kept the majority slogging through until the end.
The Mid-summer heat and humidity took its toll on bodies and brains. Racers were encouraged beforehand to wear hydration packs and some people followed the advice while others relied upon the two water stations. It should be recommended that there be more hydration provided during the race simply because of the length of time people are out there. Unless you are used to doing this kind of thing in these conditions, bring your hydration and nutrition with you.
When the racers finally approached the finish line, there was one more water crossing, and it was a nice way to end a race. Cool, cleansing water allowed the battered runners to at least feel semi-human as the medals were hung around their necks.
After the Race and Impressions.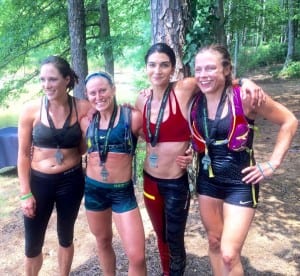 The medal is a nice piece of bling, but since this is more along the lines of a ruck, or suck, or death race there has already been talk of coming up with a patch that participants can sew on their rucks or camelbacks to proclaim that they had what it took to complete a Green Beret Challenge.
The race had an ample amount of volunteers that were stationed in various areas to help out, but the medical and event staff has to be commended for their attention to the racers. One participant locked up from dehydration right at the end before the final water crossing and from the time the first calls were made for "Medics!" it was only about 30 seconds before he had professional assistance rush to his aid. Well done, GBC.
The post race comments from the runners were all overwhelmingly positive. Folks just knew that they'd accomplished something remarkable, and some were actually bewildered that they'd been able to dig down deep enough to come up with the strength and fortitude to finish. But the realization that you're tougher than you thought you were can be a beautiful thing.
I highly recommend that people looking to challenge themselves physically, mentally, and even emotionally consider creating a team to participate in a Green Beret Challenge. With the right preparation and team you might just be able to accomplish something truly remarkable.
---
Have you tried Green Beret Challenge? Share and Rate Your Experience…