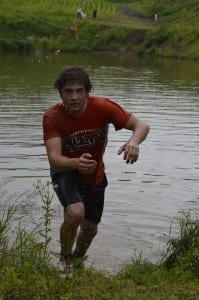 This was a new event that first came to my attention in May. Chris Reese, a Steve Austin's Skull Buster challenge participant, happened to be at another local race with me and filled me in on his upcoming event. Chris' OCR background and contacts give him a good insight into putting on an event. I was not going to do this race initially because it fell on a Saturday and I figured I would have to work. After realizing it was the Fourth of July and my work was closed, I signed up for the Elite heat last minute and was excited.
After a small hiccup with Website showing one location and registration showing another, we found our way to the venue. It is set in a small Southwestern PA town about an hour east of Pittsburgh. The flyers promised a challenging affair and upon arrival you could see some of the obstacles laid out in front of you. A quick registration process allowed for time to chat with other racers before the start of the race. Chris actually came over and let us know we were going to start late due to the soaking rain the night before putting the event behind schedule.
The Race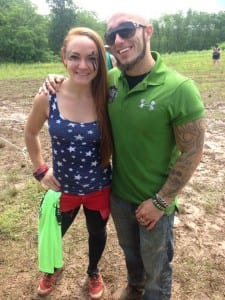 At 8:30 AM, The elite class was on the line getting our instructions and we listened as Laura Messner sang the National Anthem. Chris had told us that morning he had some challenges laid out before us and he did not disappoint. First challenge was a 40-50# sand bag carry right out of the gate up a small but steep hill. We then went through some familiar climbing obstacles as well as a small uphill barbwire crawl.
Then the first of a couple twists the race had was laid before us. What looked to be a normal tire flip had a little flair. Flip it up hill till reaching a post at the top, then pick the tire up and put it over the post, pick it back off and flip it back down the hill to start. From there it was a couple of normal obstacles we are all used to including a cinderblock drag uphill on a rope, bucket carry full of gravel, another cinder block carry with a Tire climbing obstacle thrown in for variety.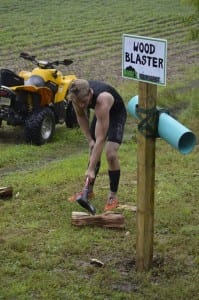 One of the craftier obstacles or series of obstacles of the day was up next. We were to pick a log and start carrying it around a farm road. I was lucky enough to see across the field, the leaders splitting logs and choose my log carefully. Because sure enough after close to a mile carry, we split the log into small enough pieces to fit through a certain diameter pipe on a post. From there we ran to the rope climb which was approximately 25-30 feet then back down the hill to the giant rope traverse. This thing was LONG. Chris told us between 300-400 ft approximately. Nobody made it while I was there as most opted to fall in the water part way across and swim through the pond underneath. From there it was a short run to a hoist obstacle and some running through the woods till we arrived back at the festival area for the final obstacles of the run which finished in an ice bath.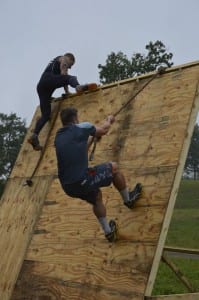 Reactions
For the very first race it proved to be a pleasant surprise. He challenged us with strength obstacles and kept the running short and hard, usually up or down hill. There were a few problems with course markings and bottlenecks along the course, but I am sure those will be addressed at the next event on Oct. 31st 2015. We got the usual swag of finisher's shirt and medal (not originally planned in the ads). It was a good small town event though and great for a beginner. The volunteers were all helpful and pleasant and were making sure people had a good time.
Ranking
Rating 3.5 out of 5: Could have been higher if the course marking was better and bottlenecks eliminated.
---
Have you done this event? Share and Rate Your Own Experience in your own words with us…