Spartan Canada founder Selica Sevigny and I spoke a few weeks back and she promised the Canadian Ultra Beast course that would be harder than last year's Vermont Ultra Beast. Spartan Canada is taking this Ultra Beast very seriously and they want to put on an event that will be known as one of the hardest Spartan races in any country to date. As the Ultra Beast approaches, I reached out to the Ultra Beast race director Dan Luzzi and find out everything I could about the course and maybe get some good pre-race Intel that would help those of us running the Ultra Beast course.
Interview with Dan:
For those not familiar with your resume, please provide a brief background and history of your obstacle course resume, and previous race courses you either designed or assisted in designing.
Dan: I have been involved with Spartan Race from Day 1 in the first race, Williston, VT. I have worked over 100 Spartan Races and have been a RD for 25 Spartan Races. I helped design the 2013 and 2014 Spartan World Championship races with Norm Koch, as well as races in; Dubai, Italy, Spain, France, and Eastern Canada.
What is the actual distance of the Ultra Beast course?
Dan: The approximate distance will be around 50K. My goal is to make the race an ultra distance, incorporating many different disciplines of trail running and obstacle course racing.
How many obstacles will the Ultra Beast course have?
Dan: Around 70 obstacles total for the UB.
I researched Mont Saint Marie and it's not even half the elevation of Killington and almost eight hundred feet less than Mont Tremblant. Have you designed the course in a way, to make up for that difference in elevation? 
Dan: I don't think anyone will complain about not enough elevation change!
How will this Ultra Beast course compare to last year's Vermont Ultra Beast?
Dan: I ran last year's Ultra Beast in VT; it was an eye opening experience. I think this race will be very similar, but not as commercial as the VT World Championship. Every mountain has different characteristic, and I am trying to find all the unique and challenging spots Mont Ste Marie has to offer.  There will be different obstacles as well.
Will this course be spectator friendly?
Dan: Yes, there will be viewing areas will be located in the festival, and around Lac Fournier. Anyone brave enough to hike up the mountain certainly can, but I ask they do not interfere with the racers on course.
Will the course have mile markers on it
Dan: No.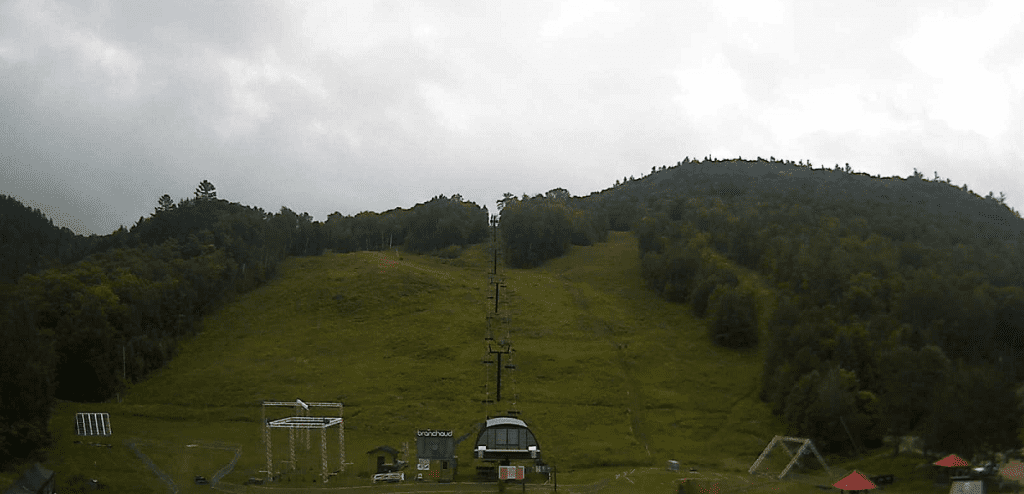 Do you really expect only about twenty to twenty five percent of the racers to complete the course?
Dan: There are so many factors at play for the finisher rate its hard to put a percentage on it.  I know the Killington UB finisher rate was around twenty five percent last year, I expect something similar to this.
I know typically Spartan Canada does not release or provide a course map. Will an exception be made for the Ultra Beast?
Dan: No exception this year, I believe part of the allure for Spartan Race is the unknown. Why spoil that!
Anything else you think readers want/need to know?
Dan: Make sure you come prepared, bring enough water, electrolyte replacements, and calories with you out on the course. Just to give people an idea, some of my personal favorite refueling and electrolyte replacement items are; S caps, Skratch (hydration mix), bananas, and granola bars. Everyone is different, and likes to eat different foods during races. Personally, after the first hour out on course, I consume at least 200 calories every hour. There are many different ideas and theories behind refueling during races; it comes down to trial and error and finding out what works for you.
Definitely pack an extra pair of socks, and trail running shoes, this way you can change mid way at the drop bins. And don't forget to bring something to lube up with to avoid chaffing.
Are there any last statement/words you would like to say to our readers?
Dan: Review the rules and time cut offs, make sure you include this in your race plan. Everyone should devise their own race plan specific to his or her goals and ability levels. For some people the goal will be just to finish before time cut offs, and others to place top 25, or to win. Everyone has different ability levels, but should be prepared to change plans according to circumstance.
Have fun and keep a positive mindset. There will be some dark moments during this race, your ability to cope with these hard times will have a direct impact on whether or not you finish! Good Luck!
The Ultra Beast is now less than a week away and I have to be honest and say, I am nervous and somewhat obsessed with completing the course. Most of all I want to wish all my friends and other fellow racers to be safe on the course and kill it!