As the emails started to roll in, our interest was piqued!  The advertising for SuperSplash 2015 kept us informed yet teased us as to what to expect at the upcoming event.  We had booked our hotel rooms well in advance at Mont Habitant and were excited to head up early and enjoy the town, the food and the beautiful mountainside with lakefront properties.
Location
Mont Habitant is in the town of St Sauveur and has an elevation of 551'/168m and the top at 1300'/396m with 10 trails available with various levels of difficulty.  Our rooms were on the lower level and in hindsight; I should have requested the upper level to avoid any disturbances during the night from footsteps overhead. The lower levels have the added luxury of walkout patio doors and small sitting areas where you can enjoy your breakfast overlooking the lake.
Parking
Parking was $10.00 per car for non-hotel guests and there was plenty of room for a few hundred cars.  Racers could come and go with ease to their vehicles throughout the day. We parked in the hotel lot and saved the extra fee.
Pre-Race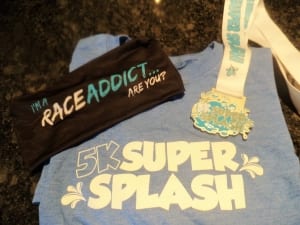 Registration was easy and online and confirmations were received quickly. Race kit pick-up was available the day of the event only and the registration desk opened at 0730 a.m.  Included in your race kit was a brushed cotton t-shirt, headband, and wristband.  The blue wristband was worn by racers to allow them on the course. Bag check was available for a nominal fee and was located near the main ski lodge. Most participants did not require the use of the bag check due to close proximity of the vehicles.
Washrooms
There were washrooms available in the main ski lodge and we had the added advantage of our rooms nearby so we could come and go throughout the day with ease.
Race Details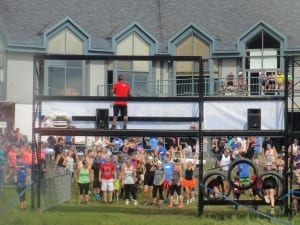 This was a very family friendly event.  They had set up a Foam Zone where kids –both young and old, could come and play in the foam machine, dunking tank, bouncy slides and rooms to their hearts content.  Throughout the festivities the MC kept the music going and the beat intense to motivate racers from start to finish.  We got to enjoy the music starting up at 06:30 a.m. as we rose from our comfortable slumber, quite the wakeup call!  I wonder if something was said to them, as it quickly got turned down, to a slight dull roar, until around 07:30 a.m…
Once our race kits were picked up we headed back to our rooms for a light breakfast and were back down to the start line for 08:50.  Our heat was to begin at 09:00.  There was good signage this time and you could clearly define the different areas.  The vendor area had a variety of items for sale including race merchandise and they had some fun activities for racers as they awaited their heats.  A drone circled overhead to catch the action from a bird's eye view.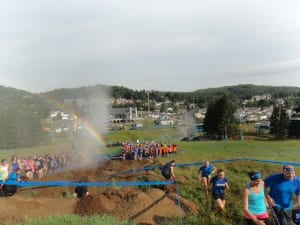 The race started on time with two 'blue' girls helping the M/C cheers racers out of the starting area.  We crossed a manmade moat and headed up the mountainside towards the first obstacle a nice over-tube crawl and then instantly into the freshly dug pits snaked up the hill and filled with just the right amount of oozy, muddy greatness.  Fire hose fountains could be found throughout the course to keep everyone cool (temperatures were already in the high 20s (85 degrees)) and to add that perfect slip and muddy mess that we have come to expect.
Water stations were ample and the volunteers were a hoot, some shooting you with water cannons and others cheering you on with whoops and hollers in both official languages!
The course had the best markings we have seen to date with clear blue or yellow tape marking the entire course as we snaked up through the beautiful wooded trails for the first 1.5KM climb.  This is where some of the younger racers started to falter as they casually dotted the course sitting in the cool and trying to catch their breath.  I had a selfish sense of pride at this moment as us 'old gals' continued to climb with grace and a steady pace.  There were a few walls to climb, some mud pits, cargo net crawl and tire obstacles dotting our way up the slope.  Once we were near the top, the 'bubble men' approached us and bounced you backwards with some force to deter you from making it up the next small hill….it was such fun to be bounced around and you couldn't but giggle as you were tossed backwards.  As we snaked our way across the top we had some of the more creative obstacles like the port-o-pottie pathway, where you opened the door and descended INTO the port-o-let to then crawl your way under strategically placed fencing that kept you just above the murky waterline as you mazed your way towards the second set of port-o-potties to climb up and out of…..this was a photo opportunity not to be missed and one for the books for sure! Back down the hill we went and the obstacles increased with slides, foam pits, crawls, tubes, fences, tires, rivers, streams and more fountains spraying racers with liquid energy.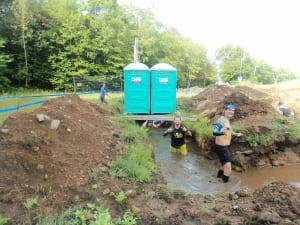 Near the bottom of the mountain spectators could see racers coming and going and we even traversed scaffolding that snaked OVER the registration desk to show racers what they had in store as we smiled, dirty and wet from head to toe, continuing on, determined towards the finish line.
Other notable obstacles were the roped river crossing, dinghy- river crossing under waterfalls, bubble bounce in the lake and two fast and long water slides as you shot down the mountain towards your next short climb back up again.  At the time we raced, there were no lineups so we had the added advantage of doing the water slides more than once! Also, the photographers took advantage of this location from some fantastic action shots!
Finish Line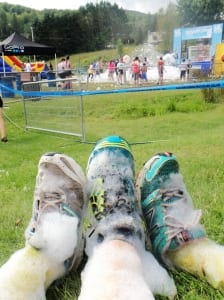 The finish line was well positioned so spectators could cheer on their friends and family and there were adults and children participating in giving out the medals to finishers as they crossed the line, wet, muddy and smiling from ear to ear.
Food
There was a vendor on site for BBQ treats and we had the advantage of our kitchenette where we had brought our own snacks until we ventured into town for a full sit down meal after the race.  Upon arrival to St Sauveur we headed over to Moe's Deli & Bar for some pizza and pasta and then for supper we headed back into town to the Baton Rouge for a fantastic full course meal with hamburgers, sandwiches, fries and soup.  Both restaurants were conveniently located and offered a wide variety of foods; they even modified the menu choices for gluten-friendly options.  Recommended if you are in town and looking for a reasonably priced meal.
Merch/Entertainment etc…
The vendor and entertainment areas were well laid out and could be easily accessed with little to no line ups.  T-shirts were available for sale on site as were sleeves, bracelets, headbands and they had some great 'race addict' gear and compression wear from various sponsors of the event, each offering discounts if you purchased them on site.
The entertainment was a DJ/MC and he kept you going, as mentioned above, for the entire day!  Great sound that could be heard even when on the mountain and they had smaller sound systems throughout the course to coax you onwards!
Recommendations
We would like to have V neck shirts for the ladies and we recommend you repeating this event next year so we can come with a larger group!  We also loved that it was not timed so our first time racers could truly enjoy the event with no pressure!
Closing Remarks
We absolutely LOVED this race and have added it to our 'to do again' list for 2016.
The photographs taken were excellent provided by epicactionimagery.com and were made available quickly online with the classic race logo across the front including the great "I'm a Race Addict, Are You?" tag line that we love!
Thank you to the volunteers and organizers for putting on a fantastic event from start to finish.  See you in 2016!
Thanks to Kevin, Gary & Brian for reminding us why we love this sport so much!
Rating: 5/5 paws