Rugged Maniac returned to the Georgia International Horse Park in Conyers, GA and once again showed that they are making moves to become one of the big players in the OCR world.  They staged the event in a familiar venue where Spartan, BattleFrog, and Merrell Down and Dirty have staged races in the past; yet used their imagination to make sure they stand apart from the others.
Venue and Registration
This is where the equestrian events at the 1996 Olympics were held, so there are plenty of hotels, restaurants, and ample parking in the vicinity.  Parking at the venue was $10 and some of the lots were far enough away that you got a nice warm up walk as you made your way to the festival area, but anything beats races where you have to shuttle in.  And you can bring all your gear in with you because bag check is free.
Registration went very fast as bibs numbers were assigned when you checked in, and your wave time was written on a detachable tab on your bib that you had to hand in to get into the start corral at the appointed time.  The free beer ticket was a bracelet that was put on your wrist, but many of us took it off to be safe and secure in our bags until after the race.  A vast majority of runners were here for the fun and challenge of it all, so they passed on paying extra money for the optional timing chip.  And the nice T-shirts were passed out ahead of time so that you didn't have to worry about carrying it around after you've gotten filthy.
Festival Area
Outsider tents and chairs were allowed to be brought in, and many teams staked a claim for a day of play.  Vendors were set up and people promoted their products and causes, and there were activities shagged throughout the day to keep the spectators and racers busy when not out on the course.  Beer Stein holding contests and a Mechanical Bull are a few of the more inventive things to do that you just don't see every day.
There were a good amount of obstacles set up in and around the festival area so folks could watch, take pics, cheer, and even join in whenever a group of friends came close.  Some runners ended up doing several of the more fun obstacles multiple times just because they were able to play and mingle at will.
The Race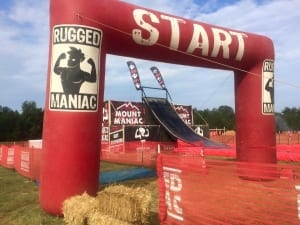 It was listed as a 5k (3.1 miles) and most GPSs logged it between 3.3 and 3.5 miles.  This is pretty close course layout and delivers what was advertised.  There were 25 obstacles and the faster runners who were competing for podium spots ran at a blistering pace, with 28:50 being the quickest time.  The terrain is moderately hilly, so these times are just remarkable to me because that would be my 5k PR and possible only if I were running straight downhill with a strong tailwind and no obstacles.
This was one of the few races where the first wave didn't start until 10am.  I personally liked having the availability to stay in bed a little longer on this Saturday versus other race days where we're all out of bed at Zero-Dark-Thirty.  After handing in their wave time tabs and entering the start corral, the racers were urged on to have fun and enjoy the challenges and camaraderie.  No blood in the water screaming and comparisons to battle – just go have fun like a bunch of kids doing something slightly crazy on this hot, humid summer day.
The runners wound through the festival area and under Mount Maniac as they made their way out into the woods to see what was in store.  The obstacles were spaced out well and there didn't seem to be very many long, drawn out periods of running before getting to tackle the next interesting challenge.
Easy short walls, vertical slatted walls, A Frame cargo nets, and other more common obstacles were broken up with some creatively fun ones too.  Two sets of see-saws (or teeter-totters) had to be run up, then when counterbalanced, run back down.  This is physically easy but mentally challenging for a bunch of people.  Afterwards when some of the "scaredy-cats" completed it and realized that it was actually fun, they went back and tried it again.
As the race unfolded the obstacles all were a nice mixture of challenging, yet do-able if you were creative or had teamwork going.  The sandbag carry was fun because it was so short you could play around and show off if you wanted to.  There were tubes that you slid down into a muddy barbed wire crawl and then had to climb back up through the tubes.  There were trenches to jump over that were kind of fun to hang out at and watch people misjudge their leaps and crash.  Sometimes the misadventures and discomfort of others can be funny from afar.
The most fun and often repeated obstacle of the day was "Antigravity".  Wooden A-frames were set up with cargo nets and trampolines between them.  You jumped down onto the trampoline and tried to catapult yourself into the cargo net on the inclined wall without face planting too hard.  Then climbed up and over for another trampoline bouncing experience and another cargo net wall.
The Gauntlet was a set of balance beams over water with large "heavy bags" blocking your way.  Uninformed people plowed into the bags expecting resistance, then were surprised to find that they were merely big balloons and not nearly as frightening as anticipated.  The shrieks of surprise and the following splashes were pretty funny.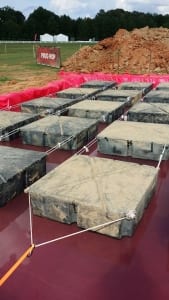 The Frog Hop was a set of floats tied together over water.  There was a huge bottleneck here because some of them had come loose and needed to be re-tied, and many people were just plain hesitant and scared.  People sprinted, walked, and crawled across but an even greater number of people took theatrical spills into the water.
There was a great set of rings to cross over water and it was fun to be up there while easier for a lot of folks than traditional monkey bars because the rings were close enough together to make for a fun transition.
This was the first race I've done where I noticed that the water in many of the obstacles was treated with chlorine.  The chemicals were not harsh, and they made for a pleasant water experience that is far different from the horse and cow poop smelling water that many of us have come to know and hate.  Hanging out in the water and just playing around was a great way to cool off without worrying about catching diseases.
And the final obstacle was Mount Maniac.  A quarter pipe ramp with no ropes that led to a cargo net that went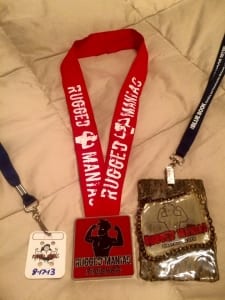 down and then up to a waterslide.  The lack of ropes scared some people who are used to the ropes a la Tough Mudder, Savage, and Battlefrog, but the wooden particle board offered more traction and allowed people to run further into the outstretched arms of people offering to help.  However, the rough surface also made failure particularly brutal with scrapes and bruises for those who missed and fell.  After conquering the quarter pipe or taking a ladder to the next platform you climbed down a loose cargo net and then back up until you reached the top of the water slide.  Sliding down and then crossing the Finish Line was a fun way to end the day of good racing.
After the Race and Impressions
The influx of money for Rugged Maniac with the well publicized sponsorship from Mark Cuban of Shark Tank allowed them to provide their first finisher's medals at the end of last season, but this was the first Atlanta race where we were given this handsome, heavy red medal.  No more homemade bling by drilling holes in timing chips or doing arts and crafts with random lanyards.
There was a good setup of showers for folks to clean up, changing tents that were hot but not set in runoff mud holes, a reasonable food tent, and Harpoon Brewery sold and provided the free post-race beer.  The beer lines got a little lengthy at times in the warm Georgia sun, but they offered both a free IPA and UFO White that may have meant something to beer connoisseurs, but I just cared that it was cold and tasty.
All in all this was a very fun race to run.  It was refreshing to see the improvements that Rugged Maniac has made in their own operations to provide new and interesting obstacles on a course that was set up to give everyone an enjoyable race whether you've run this race before, a hundred races, or this was your first OCR.  I would recommend Rugged Maniac to anyone who loves this sport or is looking to try their hand at something that is just a tad bit out of the ordinary.
Rugged Maniac is a 5 Star race for sure.
---
Have you done a Rugged Maniac? Share and rate your own experience…