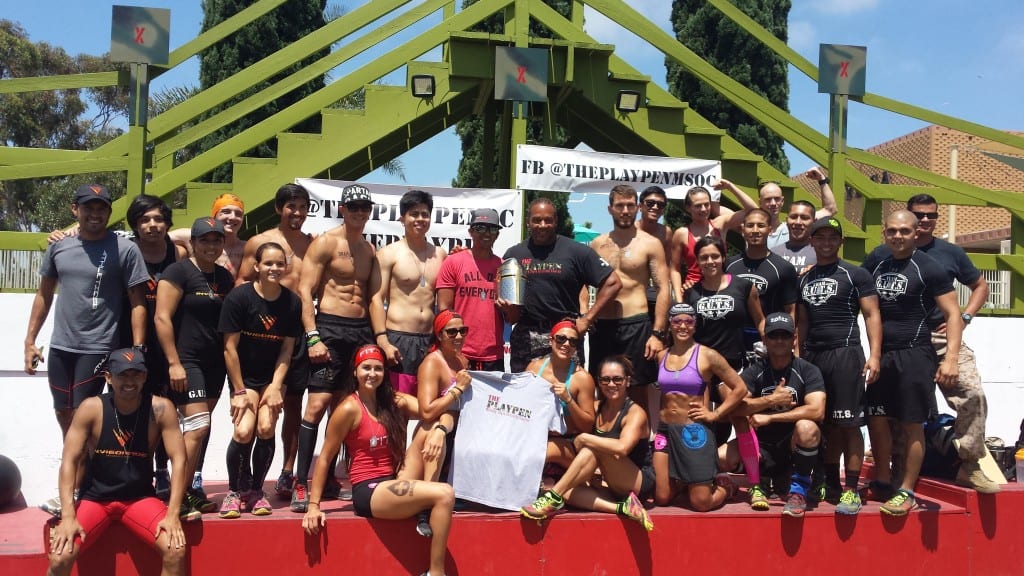 The Play Pen is a relatively new Obstacle Course Training Camp that opened in November 2014 and is operated by Coach Quentin Pullen or Coach "Q" as he is known in the OCR Community, an SGX certified trainer and works in conjunction with The YMCA Located in beautiful Newport Beach overlooking the lagoons of Orange County. The camp is open daily and holds boot camp/ CrossFit sessions regularly throughout the week. The Play Pen includes obstacles such as tire jumps, a gut checker, an 8ft wall, hurdles, rope climbs, a cargo climb, a multi rig and a low crawl. On August 2nd, The Play Pen held its inaugural event "Battle on The Bay". Six OCR Teams from the Southern California area came together to go head to head to see who is the baddest OCR Team in West.
The competition is unique in that it was divided into three legs releasing teams in waves of six, one member from each team. The first leg was a 3/4 mile sprint out and returning back to the Play Pen. Upon returning to the Play Pen athletes began the second leg of competition, the Gauntlet, where racers had to complete all 8 obstacles consecutively. Failure to complete an obstacle resulted in burpee penalties. The third leg of the competition was a CrossFit challenge which included 50 reps of the following exercises: ball squats, burpees, pushups and box jumps. There were plenty of coaches for each athlete that enforced strict form in completing each challenge. Any deviation from the enforced form would result in a do over. This is the part of the competition that was the most interesting because it required overall strength endurance over running endurance as we traditionally see in obstacle course races. This definitely was not a runner's course. Athletes were allowed to encourage and cheer their teammates on the course, aid with hydration, but not allowed to assist in obstacle completion or challenges.
Awards were given to the top male and female finishers who completed the course in the fastest time to Frank Franco of team OCR Grinders and Yanet Urciaga of Team Invigorate OCR. Awards were also given to the top three teams. OCR Grinders took first place, Invigorate OCR 2nd and Team G.U.T.S for 3rd.
The event drew a substantially sizable crowd of spectators and was exciting to watch athletes up front and close. The format of the course is similar to that of Hobie Call's spectator friendly arena that he has envisioned. The event was very exciting to watch. I can best describe it as an OCR meets CrossFit without the long running stretches.
I spoke with Coach Q about his inspiration for The Play Pen.
"Through my time in the military I decided, hey, it would be good to this kind of thing to train on. I'm a Spartan SGX Trainer; I've been doing personal training for over 20 years. I brought this concept to The YMCA and we opened in November. We do boot camps here we do training for all different races: Spartan Races, Tough Mudders, Epic Series. We're kind of like a one stop shop for anything that's training."
Coach Q not only welcomes the OCR Community to The Play Pen, but anyone looking to better themselves whether you're looking to lose weight or have little to no athletic ability. The PlayPen, is built entirely out doors and is an ideal place for anyone who is looking to brush up on your obstacle techniques or for anyone who is new to obstacle racing and wants to familiarize themselves with some of the basic obstacles like the rope climb, wall jumps or just build a foundation for strength and endurance by participating in one of the boot camp/CrossFit classes. I look forward to seeing The Play Pen grow in the OCR Community and especially look forward to participating in the next competition. Maybe I'll suggest a 50lb Wreck bag carry instead of solely running for the first stretch of competition. Or mix it up with a 1/2 mile bucket carry.