Race Recap – Udder Mud Run 2015
FFA-FCCLA Camp – Covington, GA
Saturday, August 8, 2015
By Tony Ferrante
This is the third year in a row that I've participated in the Udder Mud Run and this wonderful local OCR keeps getting progressively better.   It is a fairly challenging race that every athlete or just a "fun runner" of any fitness level can complete while enjoying a family friendly event that's a blast for everyone.
The Venue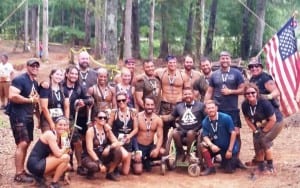 Located about an hour east of Downtown Atlanta, the race is hosted at the FFA/FCCLA Camp on their permanent obstacle course that's built on their property.  Future Farmers of America/Family, Career, and Community Leaders of America (for those who have to look up the acronyms like I did) use this facility to build character and leadership abilities with their young people, and this race benefits their endeavors along with the Wilderness Camps and training that they sponsor.  The home-grown nature of the event allows the staff to tailor their permanent obstacles and terrain into a challenging and fun course that stresses teamwork because there are several obstacles that require assistance for just about everyone.
The Festival Area
Tents were welcomed in a semi-shady and spread out area with picnic tables where the Start and Finish Lines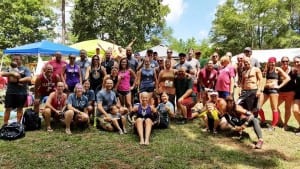 were easily accessible so that spectators could cheer for their racers.  Free Chobani Greek yogurt and Mayfield Ice cream sandwiches were passed out to the droves of people wanting cool sweet treats on this hot summer day.  The concession stand offered good and healthy food at a reasonable price.  There were a decent number of clean portajons to keep the lines to a minimum.  As an extra added bonus, if you were clean and not covered in mud you could use the permanent restrooms at the FFA Camp.  Yeah, porcelain flush toilets may seem trivial, but they beat using a portajon every time.  The local dairy even had a trailer with a giant plastic cow on display that overzealous obstacle racers had to be restrained from in order to keep us from climbing on top of it.  (guilty)
The Volunteers and Staff
There aren't many races that can boast a greater crew of volunteers and staff who bend over backwards to make everyone feel welcome and a part of the family.  Volunteers assigned to obstacles worked incredibly hard to personally boost and carry people up and over walls, shout encouragement, and make sure everyone was safe as they completed their tasks.  Checking in was a breeze and the organization was so good that the staff was smiling and having a good time, not stressing about dealing with emergencies.
The Race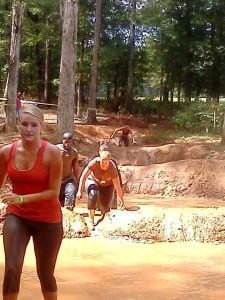 The course was advertised as a 7K (4.34miles) and my RunKeeper GPS logged it at around 4.5 miles actually run, which is pretty good course planning and a benefit to people who appreciate knowing beforehand what's going to be expected.  Beginners and veterans alike lament "5k" races that turn into almost 5 miles to run, or 10K races that only go 4 miles. The course was a little longer than last year's race with a total of 37 obstacles, but most of the running was on dirt trails and the scenery was beautiful.
Competitive runners were sent off in the first Heat with no timing chips, so the first 3 Finishers were chosen in the order that they came across the Finish Line where they were awarded with coveted buckets of prizes like stuffed cows.  Evenly spaced waves to prevent bottlenecking were sent off with the rousing BOOM of a cannon.  Some people out running in the wilderness remarked that every time they heard the cannon blast they looked to the sky to see which Tribute had been eliminated.  May the odds be ever in your favor.
The obstacles and hills were fairly challenging, but not too difficult.  There were some balance obstacles, pond crossings, and plenty of muddy water and tubes to crawl through.  There were two ice bath obstacles that weren't really all that cold, and a fire "jump" with a safe path through it so you could feel the heat without actually being in any peril.  Some very tall walls and ones that came out of muddy water caused folks to rely on their teammates and the volunteers in order to complete.  There were slick pipes to balance and scoot over, a suspended tire to jump/crawl through, and a cargo net over muddy water that you had to slide under on your back while trying to breathe.  The monkey bars were very slick and a true challenge.  The most fun obstacles of the day were the water slides.  People were seen going back and doing these more than once, even though the second one had some hidden rocks poised to create plenty of "OCR Love Kisses" – Bruises.  Then as you approached the Finish Line there were a series of rolling mud pits to see just how much energy you had left, and get you wet and dirty for post race pictures.
The Kid's Race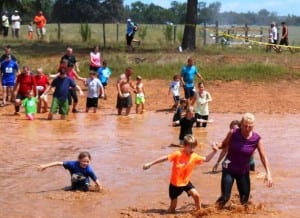 Children of all ages were welcomed to run with their parents and friends on a 1 mile course that was an
incredible experience.  They got muddy, they got to do some fun obstacles, and they got to ride a water slide.  The smiles on people's faces were infectious and remarkable.  The Kid's course even joined with the actual Adult's course in spots so the children got to participate and feel like "grown-ups".
Adaptive Athletes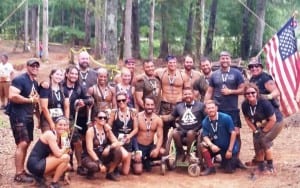 If you are an Adaptive Athlete, or know someone who wants to get out on a race course, this is a wonderful event to participate in.  More Heart Than Scars, I AM Adaptive, Fearless and Adaptive and many others worked with racers and race organizers to make this an event that teams could complete no matter what their physical limitations might be.  People raced in wheelchairs, with crutches, through painful nagging injuries, and with vision and hearing impairments.  All were overcome just like the obstacles so that everyone could have fun and enjoy life to its fullest.
After the Race and Impressions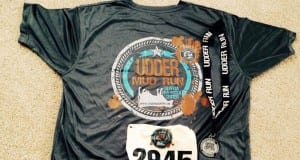 The Finisher's medal is a nice medallion that is colorful and says "Udder Chaos" with an upside down cow.  There was a nice t-shirt too as well as a swag bag.  After you got your muddy and wet photos there were good showers with ample water pressure.  It was here that just the little things stood out.  They supplied soft soap and shampoo for the racers to really get the red Georgia clay washed off.  It was a small expenditure on their part, but it just made cleaning up so much better than at other races.  And the changing tents were intelligently placed uphill from the showers so that no one had to change in a mud puddle (other Race Directors, please take this hint).
Overall this is a very good Obstacle Course Race that hopefully will continue to grow in popularity.  Being a permanent course could possibly allow the Camp to stage events at other times during the year if they were so inclined, and that would be an even better way to raise money for their camp.  If you live in the area or have the ability to travel for this event, I highly recommend it to everyone who loves racing, fun, mud, and maybe a little ice cream.
The Udder Mud Run gets a solid 5 Stars.