Spartan Race uses the warriors of ancient Sparta as the inspiration for their events, so it is only fitting that Operation Enduring Warrior pitted itself against this Obstacle Course Race that tested determination, strength, commitment, and loyalty. Saturday's race at Ft. Bragg was an incredible display of every positive quality that can be attributed to Veterans, Adaptive Athletes, and those who support them. I've now run in 16 Spartan Races and over 60 in total so far, yet running this course on this day with these people made it one of my best experiences ever.

What is Operation Enduring Warrior?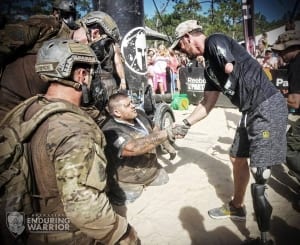 OEW is a Veteran founded 501(c)(3) nonprofit organization whose Mission is to honor, empower and motivate America's wounded military service members. Our physical, mental and emotional rehabilitative cycle is modeled to overcome adversity and hardship through innovation, teamwork and perseverance; ultimately enabling Wounded Warriors' lives to go in directions they once thought impossible. Relying on donations and the sales of OEW gear, all money collected goes directly toward supporting Veterans and the OEW programs. This is a very transparent Charity and their practices and funding procedures are above reproach.
Who are those Masked Men (and Women)? And Why?
The Masked Athlete Team (MAT) is composed of active duty and retired military members who run together as a team in full battle gear including gas masks, to honor their fallen and wounded comrades. Masks, boots, and uniforms signify the burden that all Veterans bear. They're running with these hardships because wounded Veterans live with hardship every day.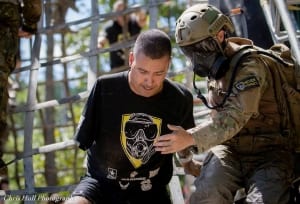 They also wear the masks because it makes breathing difficult. So it represents their brothers and sisters in arms who gave their last breath for us. And the purpose of the Team is that it is more important than the individual, so we do not see their faces or know their names.
They go by callsigns such as Courage, Dedication, Sacrifice, Unbreakable, etc. and answer only to those callsigns when they are in uniform. Athletes who don the mask have each gone through a rigorous selection process known as Warrior INDOC. This process is composed of fundraising as well as a 48 hour physical and mental endurance component where candidates will don the mask and complete a series of challenges under the close supervision of team members. Upon completion, candidates may then be invited to join the ranks of the team.
How can people support and run with OEW?
OEW Community Ambassadors (OCAs) are individuals who feel strongly about supporting our Veterans and OEW's Mission. Civilians who choose now to "serve those that served" work alongside active duty and retired military personnel to raise funds and awareness for OEW while running in OEW gear. Each OCA has a donation page created where donations are accepted for OEW through a charity organization.
Biggest Team, Biggest Celebrities
Saturday's Race saw OEW capture the Biggest Team award with over 170 people registered to run. The MAT ran alongside Adaptive Athletes who were invited to run with the team. Amazing athletes in wheelchairs, on crutches, with prosthetic limbs, with missing limbs, suffering from PTSD and TBI (Traumatic Brain Injury), people with service dogs, and folks with other assorted injuries all competed together with the support of the OCAs and people who chose to run with us.
Joe De Sena, Spartan CEO and Founder, came in for the event and donned an OEW shirt as he sent us off from the Start Corral and ran with us. Lt. General Stephen Townsend, Commander of Fort Bragg, was there in support. And Mister Dancing With The Stars and Men's Health Coverboy, Noah Galloway (who had his flight delayed), was there at the Finish Line to hand out the Medals and congratulate each Finisher.
Tackling this course as a Team
From the moment everyone assembled at the Biggest Team Tent we knew this was going to be much, much more than a "normal" 5k OCR. Friends from all over the country were delighted to see one another and the excitement kept building. Armitron Watches, a huge supporter of our Veterans and the organizations that help them, donated beautiful watches for everyone who ran with OEW. Their generosity and support was highly appreciated. It was funny later in the day to hear someone ask a group what time it was and then see 30 or so OCAs all look at their watches simultaneously.
OEW was presented with an impressive wooden trophy for Biggest Team, and then the preparation began. The MAT went and masked up, getting into their anonymous personas. OCAs had team leaders with radios to coordinate the almost 200 people who would be moving en masse through a 5.4 mile racecourse in the woods through many obstacles and a swamp. Medics with kits were assigned positions and responsibilities were assigned. Then the assembled team got into formation of two by two and were led across the festival area by a colorguard complete with bagpipes. The crowds cheered and there were already goosebumps and emotions that ran high.
Helping the Adaptive Athletes enter the Start Corral by climbing the wall was the first indicator of the displays of courage, determination, and strength that we all were about to be blessed to witness and be a part of all during the 4 ½ hours we were together on the course. There are so many unbelievably miraculous things witnessed that day that I cannot separate each life-changing moment into a narrative without this being a novel to rival "War and Peace".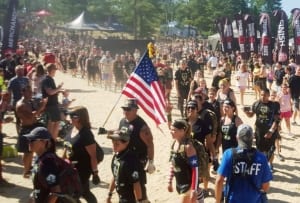 Seeing wounded veterans in wheelchairs get out of them to crawl, or hobble, or use a cane, or lean on a teammate to complete an obstacle will erase any doubts you might have about the resilient nature of the human spirit. Going up and down hills and through water obstacles and swamps with people who are missing limbs, or having to use crutches, or walk on prosthetic limbs kind of makes you feel silly thinking about any pain or discomfort you might have in your legs at that time. Every obstacle presents challenges to "able-bodied" racers so seeing people with injuries and supposed limitations crush each struggle without complaint reminds us that most excuses are invalid.
Many of us carried the American Flag with us, and the shout outs and high fives from the people who sped past us or stopped to chat or just lend some support was very heart warming. These (and all) Veterans are the people who volunteered to serve our country and fought for our freedom. Patriotic displays of pride should be normal and not the exception. Everywhere.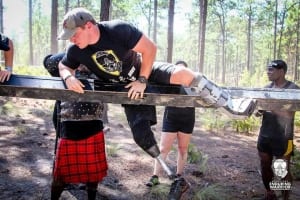 The varying speed of the racers caused our Team to string itself out between obstacles, but we formed up and took them all head-on together. Moving 200 people through the trails was like Moses leading the Israelites out of Egypt, and our Exodus was a beautiful thing to witness.
As we approached the Finish Line we could hear the cheers from the crowds and once again emotions were running high. Spectators were scrambling for their cellphone cameras so they could capture what was about to happen. The Team and Adaptive Athletes climbed the ropes and rang the bells, some carried flags to the top with them. We got up the slip wall and down the other side, then jumped over the fire together, as a Team.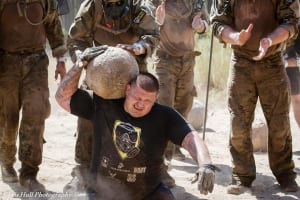 Crossing the Finish Line was a life changing experience for so many people. Having Noah present you with a Finisher's Medal was cool, then we all jumped in the refreshing lake and splashed around and played and posed for pictures. There were re-enlistment ceremonies right there in the lake where service members pledged to continue defending our Country through military service.
The Internet and Social Media has been flooded with images and videos and stories of what we accomplished on Saturday, but the enormity of it all has taken a while to settle in. What we did for ourselves and our teammates was wonderful and fantastic for every person who was at that race. But it's the many thousands of Veterans, injured folks, and depressed people out there in the world that we want to reach. To show them through our examples that they can do anything they want to do, and there are people out here who want to help. A person's injuries, or struggles, or scars do not define them; what they do to work past all of those things is what makes them who they have the potential to be. Life is beautiful, and no matter what you may be going through right now, you can get out there and mix it up and have fun and experience all the beautiful blessings that life has to offer.