Friday, September 18th I headed south to Salem, Oregon from Spanaway, Washington to participate in a newer obstacle run. "The Inferno" named for it's time of year is is the companion to the winter "The Freeze." The distances are of your choosing, 26.2, 13.1, 6 miles and 3.1. I went for the 6-miles for the only reason besides being relatively short it had a 200-meter swim with excited me.
Heats and Race Distances
Besides different race distances, there was also a competitive heat with prizes and an open heat. This race also claimed there would be no mud, no mud crawls, and as they declared that mud is not an obstacle. As a veteran of 100 obstacle races including, Tough Mudder, Spartan Trifectas, OCRWC, I beg to differ. Mud is an obstacle. The interesting thing about this was our very first obstacle was 30 burpees. That is not an obstacle as neither are box jumps in my opinion, which came up later in the race.
Location
The race took place on at Zena Springs Farm, a cow farm in Salem, Oregon. The terrain was varied and uneven, watching your step became an obstacle.  The Entrance of the event was not well marked, and several of us missed it and had to turn around. Parking was $10 but and only a short walk to the start. Packet pick-up was so close to parking you were able to get back to your car after getting your packet. It was a smaller race with over 300 in all distances throughout the day.
Race and Obstacles
My heat started at 9:15 with about 50 of us in the start. Our first obstacle was "burpees". To me, a real obstacle race is one that test your strength, your endurance, your agility, balance, mental toughness. So maybe burpees would be considered that as most people hate them but it is hard to classify it as a stand alone obstacle.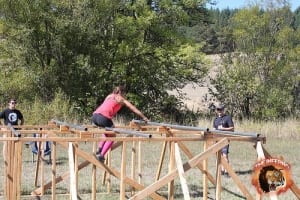 The obstacles were a mix of new and classic ones on the course. We had an interesting tire carry that I am pretty sure went for at least ½ mile up a hill, through the woods and back again. The trick was to figure out how to carry your tire for that distance. The race at times lacked in marking, we were unsure where to go more than once.
The obstacles were spaced quite far apart which made for long running sections. I prefer races to be obstacle dense. The course was obstacle dense towards the finish, however, long sections of running felt like miles on end to get there.
The course was dense with log carries, tire carries, bucket carries, block pulls and more making it a test of strength. A tall wall proved challenging to many. There was a tire hoist pull that we had to do five times, as well as a traverse wall. A very nice weaver with metal bars that was straight not at an incline like other races. There were cargo nets and walls and a zig zag balance boards.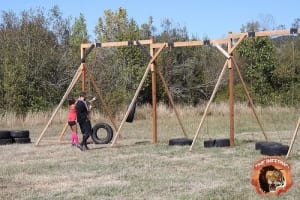 About 4 or 5 miles in we had the 200-meter swim. I have never done this in a race before and was looking forward to it. It was great. If you opted not to do it, you had to do 50 burpees. The water was cold and refreshing. The hardest thing was getting myself on the dock once I finished.
The 6-mile race ended up being 7.7 miles when factoring in all the obstacles. A bit longer than I had hoped but there were enough obstacles to make up for the added distance. The finish was fun; the race built their version of a rig with many different sections to get through. Tires suspended, monkey bars, and various other upper body and grip elements.
Overall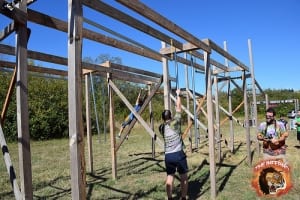 I liked this race and the different options for people. With the four distances as well as open and competitive heats, there was a race for everyone at all levels. I took home a nice medal and a great t-shirt. The obstacles were a mix of old and new and they used them to challenge the participant. Parking was easy as was packet pick up.
I would be very much interested in trying "The Freeze" in the winter. But I don't think I would take the swim option if that is presented. I would stick to the 3-mile race. I look for a challenging race, with dense obstacles and safe construction when choosing races. I like being able to attempt an obstacle more than once and prefer time penalties for failed obstacles. With this in mind, I would recommend this race to anyone. I also think it was a good starter race if you chose the 3-mile version
I give this race a 4.5 rating.
---
Have you done the Inferno Run? Leave your own Inferno Run review and feedback…