Yep-this 53-year old grandma does get dirty. I guess you could say I'm a late bloomer…
Backing up a bit- I am a mother of 7 children- the youngest is 11, and oldest (who has given me three grandkids) is 28. I started running when I was 46 in response to my mom enduring a hip injury that landed her in assisted living. I didn't want to be "that grandma". So, off to the "cute running clothes store" I went and came back to run 3 miles, my first day. It wasn't pretty, but a month later I did my first 5k race. Then a 10k. Then triathlons, half marathons, and marathons. I was officially a "sort-of-kind-of-racer".
Many people would argue, "Oh, you're a runner." And I responded, "Well, I sing in the shower, but that doesn't make me a singer." I seemed to do well in a few races with a few podium appearances, and I freely admit, I'm all about the medals.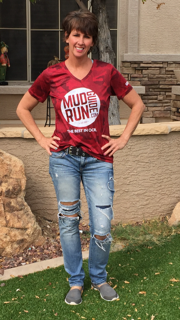 After a race one day, a flier on my windshield introduced me to mud/obstacle races. Intrigued and one for extreme sounding events, I registered. Many more OCR's followed and when I did the Phoenix Spartan Super in 2012, I knew I had met my match. (Those walls were relentless!)
My first OCR year (2012), I completed a Spartan Trifecta. 2013 and 2014 yielded one Spartan race each for me, as I competed in several other various events as well. But only one race held the exhilarating power of a Spartan contest- and that was Spartan!
In April of 2015-I decided to think big- I wanted to "set a world record for the most Spartan Trifecta's in the Granny Age Group." I figured next year might be too late. So I looked at the calendar and reasoned I could travel to 21 races (7 Trifecta's). A little insane courage and a couple beers later, the decision was made, and I was signed up for the first 11 races.
And I told everyone in the gym that's what I was going to do. That was stupid. But accountability was critical.
By mid-June, I had completed those 11 races- Vegas, Colo Springs, Montana, Austin, Ohio, Monterey and ending in Breckenridge for the long haul up the snowy mountain. (Who-da-thunk snow in June?) Confession- I didn't think I could do all 11 races in nine weeks' time, but I didn't tell anybody that. The biggest challenge was Montana- a Founder's race (I didn't even know what that was) which boasted steep climbs and descents that made me plead to be airlifted off the mountain. But I wasn't about to quit. I had already told everybody at the gym I was doing this. Dang it. That was stupid.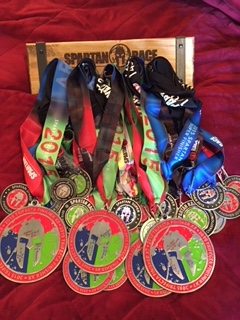 With a well-earned 3 week break from OCR, I enjoyed seeing my family who up to this point didn't even know I was gone on weekends anymore. When I arrived home after a race, they would look up from the tv and say, "Oh, were you gone? Because there is dirty, laundry piling up…" Grr.. I just wanted them to be proud.
Soon I was bringing home the Trifecta bling- medals that got bigger with each count. (That started getting my children's attention). And I decided to up my goal from 7 Trifectas to 9.
Having been warned about the Pennsylvania Super, I flew off in July to my second east coast race ever, fresh off that 3-week break. Can I just say brutal? A third of the way through this double black diamond ski monster venue, I had tears in my eyes and wanted to go home. I did. What a stupid goal. But I told everyone in the gym I was doing this. There was no turning back. Dang it. Stupid gym people.
Determined, flying and running I went – Washington, Hawaii, Virginia (yikes), Asheville, NJ (another very tough course) and then the big mama- Killington, Vermont. Legendary and for good reason- two miles straight up to the summit, right out of the gate. Then more climbs, up and down, punishing my every desire just to finish this race. You can bet I bragged to the stupid gym people about this one.
By this time, I had upped the goal to ten Trifecta's, as the calendar offered that many. The Trifecta medals were getting quite large. (Did I mention I love medals?)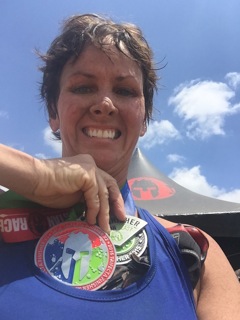 After Vermont was Temecula, then the World Championships in Tahoe and a quick stop in the Georgia red clay mud before my last brief break until goal completion.
Tahoe was beautiful, but the race was ugly. The weather was windy and cold, and many people were removed for hypothermia. I decided to do the Beast (long race) both days, thereby eliminating one of my out of town trips. The second race day was particularly brutal, but I made a terrific friend on the course who helped me finish strong, and I helped his quest, as well. I think he was an angel.
Off to Atlanta-and by the way, the Georgia red clay is hard to get off. After my shower, I still looked like I had just gotten a spray tan….)
Those races in August-September-mid-October were a huge contest of grit for me. Ten weeks and 15 tough races would test my ability to persevere and determine what I was made of. I am grateful for God's grace and protection as I finished that schedule. I was even grateful to the stupid gym people.
Only a few more races to go. I can see the light at the end of the uphill barbed wire crawl.
Dallas back-to-back Beasts await me at the end of October. And then completion of the goal. TEN TRIFECTA'S!! (Cue the angels singing)
Sadly, there aren't world Trifecta records that are officially recognized or kept. And sadder still, is the fact that several super athletes have completed more Trifecta's than I have, and I didn't know that until my 26th race.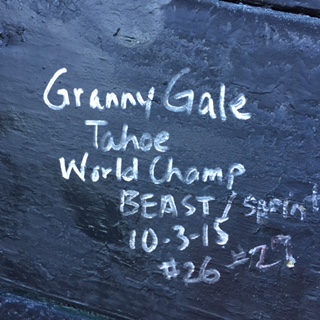 But I learned the real blessing of this journey wasn't about setting a record, or proving grannies can do this crazy sport, or even ending up #1 in the World and Country in my age group (which I am dismayed to discover does NOT come with a medal…)
It has truly been the excellent people and places I've encountered along the way – racers in the start corral, fellow Spartans in airports, folks seated next to me on planes, spectators I've chatted with, the awesome volunteers I've worked alongside, photographers/writers for some of my media coverage, those who helped me over, under, through and around walls-thanks guys!, even my stupid gym people (who have been perhaps my biggest cheerleaders and supporters).
I also got to visit many relatives and meet new ones, too. Blessing after blessing. The east coast is gorgeous, and I've loved seeing parts of the entire country I never thought I'd see. Getting to experience pockets of people and their regional personalities has been so endearing!
Maybe the most meaningful experience in this quest has been encouraging and inspiring others to give a "wild hair idea" a whirl. Remember it only takes twenty seconds of embarrassing bravery to register for a race… By years' end, I will have completed my 100th career race…
Take Aways For Me:
You are NOT too old, too young, too big or too small to do something outside the box.
Don't let the crowd say you can't.
The miracle isn't that you finish, it's that you have the courage to start. (John Bingham)
My husband and children are proud of me. Even if they leave the dirty laundry for my arrival home.
* Readers, it's not that I'm that great. But I am great at getting out there to do these. Grit has carried me farther than I thought I could go. And perhaps those stupid gym people.