Obstacle Racers are known not just for getting muddy but for helping others on and off the course. Spartan Race is coming up in Glen Rose, Texas this year the Lone Star Spartans are giving back in a big way with The Guardians for Heros Charity. Sean L. Valigura penned the letter below regarding this effort. 
Chris Kyle was born and raised here in Texas. After a stint as a professional bronc rider, Chris joined the US Navy. After completing what is considered by many to be THE most difficult military training on the planet, Chris was given his Budweiser and assigned to SEAL Team 3. Four tours of duty later, including Ramadi and Fallujah, Chris had amassed a total of over 150 sniper kills…as well as surviving six different IED explosions and being shot twice himself. He is now widely considered to be the most prolific sniper in US military history.
After leaving the US Navy and the Teams in 2009, he returned to Midlothian, TX with his wife Taya and two children. He started a company called Craft International and served as its President. He also started a foundation called FITCO (now named the Guardian for Heroes Foundation) to provide personal training and life-coaching to in-need veterans with disabilities and those suffering from PTSD.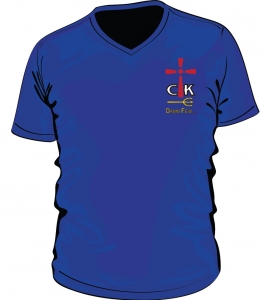 Despite some personal hesitation, he released his autobiography, "American Sniper", in 2012. It was a blunt, raw, and painfully true depiction of not only what war is like in the modern age, but also the unseen effects on the family of service members. For those of us that have been there and done that, regardless of branch of service, it struck a powerful chord.
Then, on 02-Feb-13, while on a shooting day-trip to Rough Creek Ranch-Lodge to help a former combat Marine suffering from severe PTSD, Chris and his friend Chad Littlefield were shot and killed by the man they were attempting to help.  Chris' memorial service was held in Cowboy stadium, attended by over 7,000 people…governors…business executives…teammates…and brothers in arms.  The funeral procession stretched over 200 miles all the way to Austin with thousands of citizens and veterans lining the bridges and overpasses of I-35 to wave flags and hang banners of support for a man who only ever flinched when he was called a hero.  Chris was laid to rest in the honored section of the Texas State Cemetery known as "Statesman's Meadow" on 12-February-2013…not even a stone's throw from the 9/11 monument.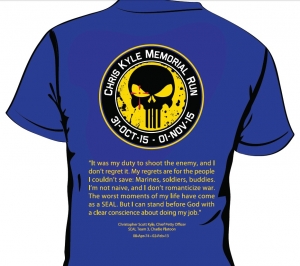 So it was in June of last year that I had just completed the Austin Super and Sprint weekend as my initiation to the OCR universe.  After a bit of recovery, I started looking for the nearest Beast event to finish off my first trifecta.  I immediately found the Dallas Beast was being held in late November/early December and signed up immediately.  But, as I started to make hotel reservations I found that the exact location of the race was just outside the small town of Glen Rose, TX.  Being a Navy veteran with ties to Naval Special Warfare, this immediately struck a bell in my head.  When I dug a bit deeper, I found that the race venue was…Rough Creek Ranch-Lodge…the same location where Chris and Chad were shot and killed.
I brought these facts to the attention of the leadership of my race team, the Lone Star Spartans.  They, knowing my background, asked me to chair an effort to pay tribute to this great man and patriot.  I owe a great personal debt to Chris and those men like him.  This is MY way of trying to pay back a tiny amount of that debt. To that end, one piece of this charity strives to raise funds for The Guardians for Heroes.  Like last year, we are selling limited edition, commemorative t-shirts designed with the help of Chris' younger brother Jeff…who will be running the event with us BOTH days this year!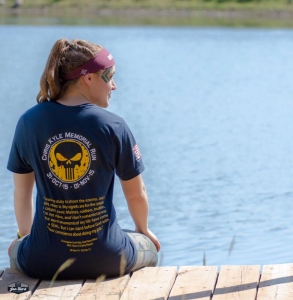 Additionally, this year we have also introduced unique patch and decal designs.  Our second goal is to raise awareness for PTSD and all our brothers and sisters that may have returned from the war, but, also left something of themselves back there…whether physical or otherwise.
We humbly thank you for your support.
http://www.lonestarspartans.com/shop/
Sean L. Valigura
Chairperson – the Chris Kyle Memorial Run
Look for Sean and the rest of the Lone Star Spartans during the 2015 Glen Rose Texas Beast on October 31st. For more information about that race click here.