In a secret location north of San Antonio, there is an annual 5K Mob Run and a unique one at that. It's set up in an active rock quarry, meaning that every year's course can be completely different from the year before. There are some permanent obstacles, but each year the race directors look for new ways to challenge the competitors. I was able to ask the race directors, Laura and Kevin Tift, some questions about ThunderDash.
How did the idea of ThunderDash come about?
The idea of doing a mud run is multi-faceted. We started out as participants in cycling and then gravitated to triathlons and half marathons. Like so many participants, we began grading the events and thinking about how we could do it better and taking in all the good things that other events did. We knew what we liked and didn't like and before we knew it; we became involved with logistics with a variety of sporting events over the last ten years in our spare time. It was always in the back of our mind that we would someday develop an event of our own.
The name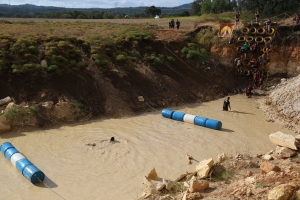 ThunderDash tries to walk the fine line between sounding challenging yet doable for the newbie. This is the reason we give folks the ability to "take the longer way home" that is the ability to go around a more daunting obstacle but takes longer than it would to simply do the obstacle. We want it to be fun for all athletic levels.
What is it like to have an event in a working rock quarry?
Not only is it an active rock quarry but also a working farm, ranch and hunting lease that always starts two weeks before our race date. An active quarry guarantees that the course will always be a little different and we do not finalize the course and obstacles chosen until as little as two weeks before the event. All parties are accommodating and flexible. It is a perfect situation.
You have some unique obstacles. Where did the ideas originate?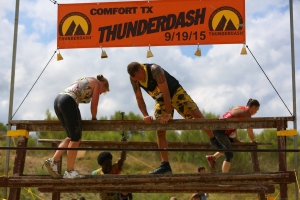 We are blessed with a varied and natural terrain. It is always in the back of our head throughout the year "what can we do with that fallen tree or creek. We think our event is unique in that our event is location-specific and cannot be replicated anywhere. Kevin figures out how to engineer an idea and Laura figures out how to make it look cool in pictures and then we just start building. Some of our obstacles are built and never moved which allows us to build some really heavy duty obstacles. (Plus Kevin has a mind that is a little bit engineer, a little bit 10 years old and then is called MacGyver by many.)
How do you entice volunteers to help?
Many of our volunteers are high school and college service groups. It is a win/win. They raise money for their group, then get fed a nice lunch AND then they all get to participate in the volunteer wave once all the paying participants have completed the course. They also all get the regular swag and t-shirts. Our service group folks have so much fun that they come back year after year even after graduating and moving to other states. We have been told that they feel appreciated, and that is the most important thing to us. We use over 125 people the day of the event.
The service groups this year are:
• Boerne Community Theater Teen Troupe
• Boerne High School ROTC
• UTSA FAME Society Pre-Med Students
• STAT MultiSport
• Hill Country Daily Bread/Geneva Schools
• USAF Battlefield Airmen
• Marshall High School Photography Class
• Our very loyal friends and family that luckily get amnesia each year and keep coming back!
What are your plans for next year?
Right now we are focus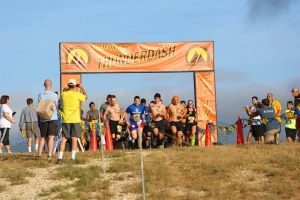 ed on this year's event but rest assured we will always come up with something to surprise our loyal past participants. We want to grow the event and hope that word of mouth will kick into gear next year. We hope to market and include another group of athletes with our fitness challenge that runs simultaneously for those athletes that don't
want to do obstacles and mud.
Is there anything else you would like us to know about ThunderDash?
Factoid: In setting up our first trial event that we organized in April of 2013 one crew set up the "Spiderweb" obstacle late Friday night in the dark. Another crew completed design and marking the course at 3 am Saturday morning and could not find Spiderweb! Saturday afternoon during teardown some of the volunteers found the obstacle buried in the woods 120' off the course! We hope our race is unique to OCR in the  U.S. We are local and encourage one on one communication with our participants. We hope that every level of athlete and non-athlete leaves the event saying I can't wait to come back next year. Our year-round focus is to make this one event better than the last one. We are local race directors, using local vendors, benefiting local charitie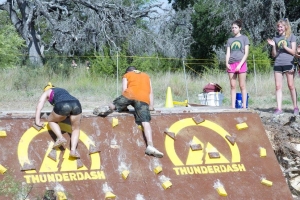 s and service groups.
Whether you are a seasoned racer or just getting into the sport of OCR, this course is challenging and fun for all. They have three different course options, 5k Mud Run, a mud-less fitness challenge and the 10k fitness challenge with mud run. This year they added food trucks for your dining pleasure. All racers are timed so you'll be able to have bragging rights with your friends.
ThunderDash is still a fairly new race but is growing each year. If you are looking for a 5k fun run, this one should make it on to your race schedule.
Photo credits by Marshall HS Photo Students.
Michael Land