Recently, Bill Brumbach decided to see how training exclusively for OCR would translate into running a marathon. This is his story.
When I first pitched this idea to Mud Run Guide, I had already begun to write the narrative in my mind.
"Training exclusively for OCR more than adequately prepared me to run a marathon AND run a qualifying time for Boston"
All of my predictive workouts indicated I was more than prepared to run a sub 3-hour marathon. My Yasso 800 workout predicted a 2:53 marathon time. My "long run" of 10 miles on a flat, concrete surface was completed in under 70 minutes and my heart rate never climbed above 80% of it's maximum. I was convinced that I was ready to achieve a goal I set for myself 9 yeas ago (and abandoned almost 7 years ago).
OCR Training
For the past two years, I have exclusively trained for Spartan Race (and by default, *any* OCR). In my daily workouts, I have used interval training and trained to master Spartan Race-specific obstacles (i.e., spear throw, double sandbag carry, and even the presumably-extinct tractor pull). I've been working with Yancy Culp of Yancy Camp to take my game to the next level.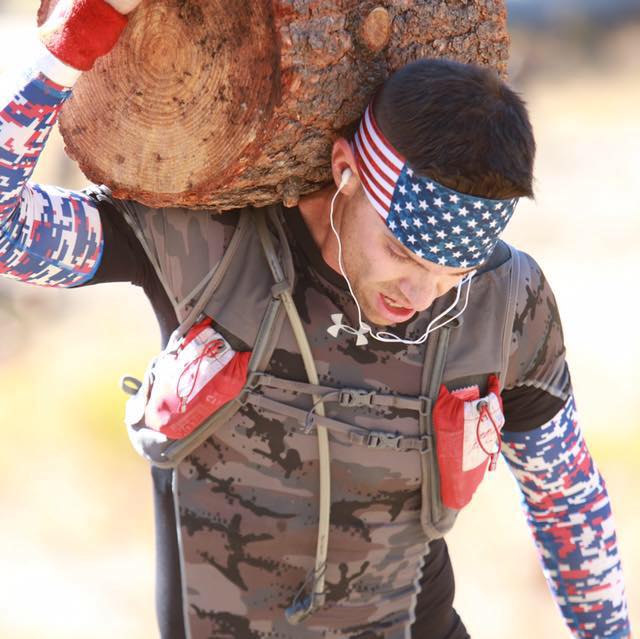 Here is an important detail; of all the training done over the past two years; I've never ran anything over 15 miles during that time. In fact, I only got close to that distance a couple of times (once on a true long run and another time at the 14.5 mile Spartan Race World Championship).
I'm no slouch in OCR. At any particular race, I expect to finish in the top 25 of the elite male racers. I will never go so far as to say that I'm one of the best OCR athletes on the circuit, but I will say that my competitive nature drives me to train hard and place well at these races.
I've had a decent amount of success this past year, especially in longer distance events. Endurance is one of my strengths.
My OCR season ended on a relatively high note, with solid placements at the Spartan World Championship and OCR World Championships, I was happy. I've never been one to rest on my laurels, so I decided a new challenge was in order.
Indianapolis Marathon
I decided, on a whim, that I would enter and run in my first marathon since 2008. I wanted to see exactly how well training exclusively for OCR translated into other "extreme" endurance events. My performance at this race would undoubtedly shape the direction my off-season training. If successful, would I train almost exclusively for Spartan Beasts and Ultra Beasts? The answers would come soon enough.
On race day, I wore attire that is no different than what I would wear for an OCR, sans a pair of road running shoes and a single 20 ounce water bottle in my Ultimate Direction hydration vest, instead of my normal bladder full of water. I also switched from my OCR nutrition strategy of a single sleeve of Clif Bar Shot Bloks to a half-dozen CarbBoom gels. 
I remember feeling cocky; my hubris fueled from the success I achieved this year in OCR. I remember the optimism at finally achieving a qualifying time for the Boston Marathon.
Off they sent us to run the 26.2 miles. I paid close attention to my heart rate intending to keep it around 80% of it's maximum rate, squarely in the aerobic zone as prescribed by Coach Yancy. I could sustain this level of work for an extended period of time. I locked in my pace of 6:45 and 7:00 min miles during my solo long run, and felt confident. As the race started, I was squarely on pace to meet my target. 
However as the race continued I found myself preoccupied, not by the typical scenery of a trail run or music in my ears but something else. Both the music and the autumn scenery of downtown Indianapolis (my home for the past 8 years) could not take my mind off the pain from pounding pavement and the previous night's disagreeable pasta dinner. That dinner helped to add about 4 minutes to my race time after TWO different emergency bathroom breaks.
With the exception of the GI distress, I felt that my body was adequately prepared to run a marathon and that my pace was on target to smash my previous PR of 3:30.
The Wall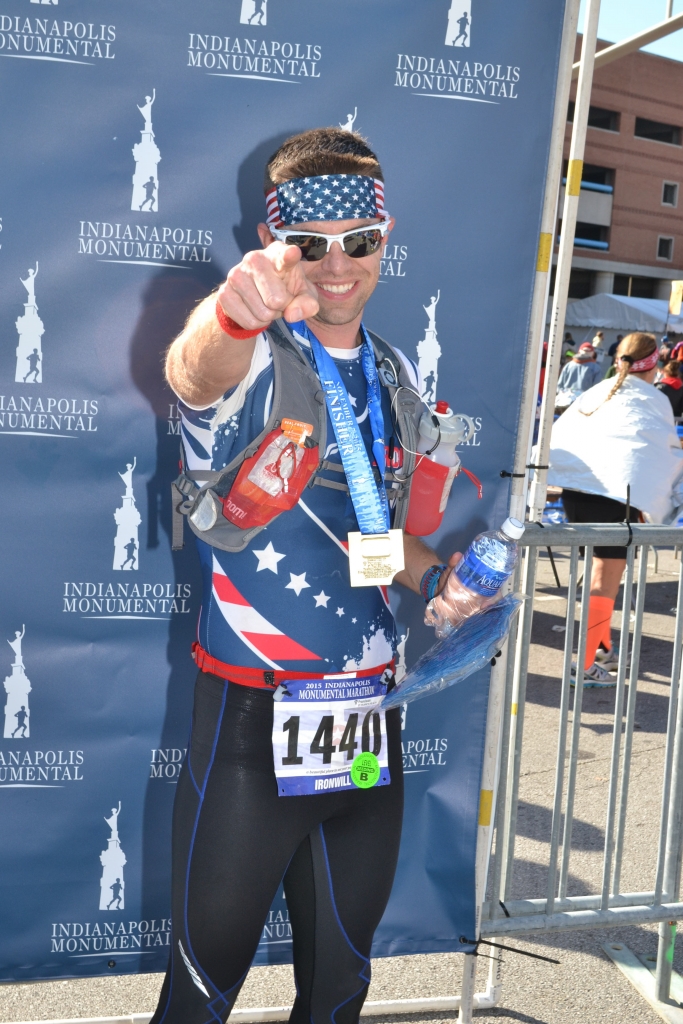 And then mile 20 happened. The famed "Wall" that so many people fear when it comes to this distance. "The Wall" is defined as that point in a marathon where things go from being pretty hard to being really, REALLY hard. This is the point where runners describe they are both physically and mentally tested. I've never experienced "The Wall" in my previous marathons. My nutrition and hydration strategy have always been set up to avoid this challenge.
At mile 20, my legs just decided to go stupid on me.
To put it metaphorically; there was gas in the tank, the engine was purring, but the wheels just fell off. My legs didn't want to move but they certainly DID want to cramp. I ate as many gel packs as I could. I drank water and Gatorade. I even used the mustard pack trick. These actions helped me endure, but never entirely alleviated my inability to move my legs properly.

The Verdict
If you want to know how well training exclusively for OCR will prepare you for a marathon, let me tell you this; it won't. It will improve your aerobic fitness. It will improve your running. It will improve your overall health. My training got me to mile 20. What got me through that last 10k was the grit I developed while running OCR.
OCR has taught me to persevere through the worst of circumstances. It's made me obstacle-immune.
That last 10k hurt (and it hurt bad) but I finished and still managed a personal record of 3:24 in the marathon. It's a far cry from the 3:05 I was shooting for, but having only ran 15 miles twice this year, I'll gladly take it.
And maybe next year, I might actually train a bit before I try a marathon again.
---
Disclaimer: The viewpoints expressed by the authors do not necessarily reflect the opinions, viewpoints and official policies of Mud Run Guide LLC, or their staff. The comments posted on this Website are solely the opinions of the posters.