Sean L. Valigura Chairman of  The Chris Kyle Memorial Run penned this story after the recent Spartan Race in Glen Rose, Texas. Here is the story of the Lone Star Spartans and the Chris Kyle Memorial Run.
So…I've sat here for the past 72 hours starting at a blank MS Word document off and on that is to be this article. My friends and family would tell you all that I'm not the type of guy to have trouble finding something to say. But, the swirling emotions of that weekend make it exceptionally difficult for me truly capture what's happened. I could tell you all about the layout of the course, how Norm found new and ingenious ways to scurry us up and down game trails that even the local wildlife don't use anymore. I could rant about the weather and the, evidently, 17 varieties of mud that can be found in the Texas Hill country. But, none of that captures the spirit and essence of what this year's Glen Rose Beast was to me and many others.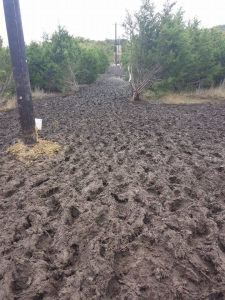 Some of you know me as the Chairman of the Chris Kyle Memorial Run that we hold every year in conjunction with the Spartan Beast in Glen Rose, Tx. The reason we do this at THIS race is that it's held, every year, at Rough Creek Ranch, the same location where Chris and his friend Chad Littlefield were shot and killed in February of 2013 while trying to help a former Marine suffering from severe PTSD. This year, we had the additional honor of having Chris' younger brother and Recon Marine in his right, Jeff Kyle, join us for the event!
And on Sunday, November 01, 2015 at 0920 we set off to pay tribute to Chris and Chad. Some of us had run the day before on the shortened course that was about 3.5 – 4 miles less than the full length. A modification that we would quickly learn was necessary for everyone's safety (rumor was that Norm even got a Gator stuck Saturday morning scouting the course to see what areas were safe/unsafe).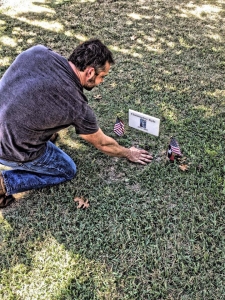 What Jason Barnes, Race Director, and Norm Koch hadn't bothered to tell me was that the course wound itself right by the range where Chris and Chad were shot. So, right around mile three I look up and immediately get the wind knocked out of me. My friends and teammates around me picked on it immediately and asked if this was "the place". I could only nod. I dropped my camelback…and made my way over to the range. Only one other man on the planet knew it at the time, but inside my camelback was a handful of sand. And not just any sand…about 4 weeks before the race I got in touch with a retired SEAL buddy of mine in San Diego. I asked him to go out to Coronado to the Navy Amphibious Base where Naval Special Warfare is headquartered and where the infamous BUD/S school is conducted, walk out to the water line…and grab a handful of the sand, then send it to me. Originally I had planned to lay that sand down at the finish line on Sunday. But, it was immediately clear that this was meant to be in some way. So, I took out that sand, opened the ziplock bag, and walked to the spot where he and Chad were shot on February 2, 2013. I knelt, said a few words privately, and sprinkled that sand on that spot.
A few hours later, Rob Davince, Spartan MC extraordinaire and Marine veteran himself, would come over to our tent after I was finished and describe what Tony Matesi and the Hurrican Heat did on Friday night to pay tribute to Chris and Chad. They all brought carved pumpkins to the range…in a torrential downpour (Glen Rose got 12″ of rain Friday night)…and as soon as they arrived, the rain and wind fell away. And, for the next 10 minutes as they paid tribute to those men, the elements abated themselves as if paying their respects. Then, the very minute their ceremony was completed, the attacking weather resumed until morning. (Rob has video of this)
For a lot of people there that weekend, it was the completion of their race year and a personal triumph in earning their trifecta. Or, if your name is Joe Forney, your 12th or 13th trifecta for the year (sorry Joe, but I lost count my friend!). But, for some of us, it was a way to visit our friend and pay our respects to him in a way I know he'd appreciate. It's funny, but that Sunday morning as Jeff Kyle and I were walking over to the LSS tent, I asked him how he was feeling. He immediately knew what I meant. I wasn't talking about how he felt physically… I was talking about what he felt in his heart, in his soul. Jeff looked me straight in the eyes and said, "I made peace with this place a long time ago. Chris loved this place…he was happy here." With Jason and Norm teaming up on course design, I'm not sure that I'll ever "love this place"…but each year that I return I find myself able to make peace with it a little bit more my friend…
Until we ride again…
For those downrange.