Spartan Race brought a new obstacle to South Carolina this year – the freezing cold!  As I approached Carolina Adventure World where this race is held every year, my dashboard thermometer read 31 degrees.  Seriously.  31 degrees.  In South Carolina in November.
Northern Spartans may not think this is an obstacle, but in an area where the average low is in the mid 40's this time of year, we southerners weren't exactly looking forward to the first water obstacle.  It was so cold that Spartan put several fire pits in the festival area that people huddled around all morning.  OK, the whining about the cold is over.  On to the race…
Compared to years past, Spartan reversed the direction of the course in Winnsboro this year and made some welcome changes to the order of the obstacles.  This likely had to do with adding more races this year at this location.  In previous years, Spartan offered only the Beast on Saturday at this location.  This year they had a Beast on Saturday and then another Beast and a simultaneous Sprint on Sunday.  According to Spartan's website, over 9,000 Spartans participated in the weekend.
The Obstacles
In the days leading up to Winnsboro, I saw a lot of Facebook chatter regarding the Spartan rope climb.  Traditionally,non-elite racers have always had the option to use the knotted rope.  Not this year.  No knots anywhere on the ropes.  For me, this was a welcome change, but I saw a ton of people failing the ropes – way more than usual.  My takeaway – Learn the J-Hook or S-Hook technique and practice it.  Rope climbing is way more technique than strength.  Trust me.  I have a rope hanging from my 12-foot garage ceiling, and I can sit on the ground and climb the rope with only my arms for reps – however, when you're tired, cold, and dehydrated it's nice to be able to rely on technique instead of strength.
This brings me to my next point, the order of the obstacles.  Wintergreen and Winnsboro last year, Ft. Bragg and Asheville this year all had the rope climb in the last few obstacles before the fire jump to the finish line.  This year at Winnsboro we hit the rope climb in the first ten obstacles.  This was pretty cool because Winnsboro is traditionally a "runner's course".  Throwing the rope climb followed by a cargo net climb followed by the Z-Wall (all grip intensive) into the first ten obstacles was a nice change of pace.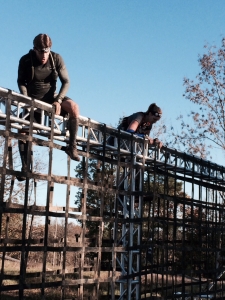 Spartan introduced a couple new obstacles to the Winnsboro venue with mixed success.  The log hop obstacle, which is just like it sounds – hop from one stump to the other at varied heights about 8 logs across.  This is easy for many people.  You see it at more entry level obstacle course races like Rugged Maniac.  It seemed more like a filler obstacle.
The other new obstacle to this venue was the Tyrolean Traverse.  Again, technique plays a vital role.  Many people rely on calf sleeves to reduce friction burns and drag themselves down the ropes with their arms using little to no leg technique at all.  I've done this obstacle in other races, BattleFrog most notably, and have had success by going foot over foot (similar to the motion of your hands on the rope) and just using my sneakers to contact the rope.  It works for me every time.
The Festival Area
The festival area was typical of most Spartan Races.  You had your typical SGX warmup area, vendors selling food and drink, the Marine Corps pull-up challenge station, etc.  One area that is usually pretty crowded is the gear tent.  This was the last Beast of the year for those looking to get a Trifecta.  Many people wanted their Trifecta swag – shirts, hats, rims, etc.  The problem was that by noon on Saturday they were out of everything except small and extra small t-shirts.  This was a huge disappointment to a lot of people.
In Spartan's defense, the volunteers working the gear tent said that they were expe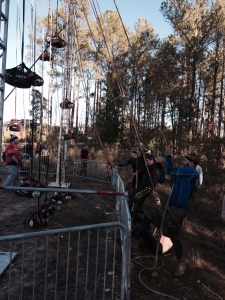 cting another truck sometime after 2 pm with more shirts.  The volunteers mentioned that the shirts and rims and other swag would be available online – and they were happy to sell you the $75 Trifecta hoodie if you were unwilling to chance that the truck would have more t-shirts in your size.  But honestly, shame on Spartan.  They knew it was the last Beast of the year.  They know the Trifecta is a huge accomplishment for many people.  For them not to be overstocked with everything Trifecta related is a shame.  If it were your first Trifecta, you shouldn't have left the gear tent feeling dejected.
Summary
Aside from the cold (which isn't technically Spartan's fault but if Norm could bring the cold with him, I think he would) and the lack of merchandise available, Spartan put on another great race.  They mixed up the usual order of obstacles; they made some harder, and they introduced some new obstacles to the venue.  You can't ask for more than that.  Spartan has built a loyal following in a growing sport.  Putting on events like this one is the reason why.
Rating
4 out of 5 stars.  They lost a full star from me for running out of Trifecta merchandise, but the course was fun and challenging for many of the Spartan Nation.  Well done.
---
Have you done a Spartan Race?  Leave your own Spartan Race review and feedback…